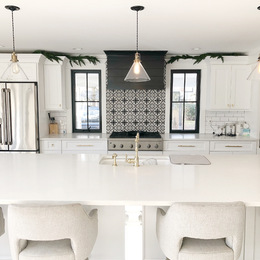 Natural Wonder
Through their efforts to modernize, expand, and refine their New England saltbox home, a Bucks County family enjoys the near-seamless connection between indoors and out. 
In late February 2020, Sarah Cornwell was preparing her Bucks County home for a rather special event: welcoming visitors to peruse the property, inside and out, as part of Bucks Beautiful's 26th annual Kitchen & Garden Tour in Doylestown. Cornwell had been involved in the prior year's tour as an artist—she has an eponymous line of handcrafted jewelry—and was excited to showcase her lushly landscaped and recently renovated New England saltbox home, now styled in "modern farmhouse coastal chic" decor.

Then the pandemic intervened to scuttle the tour.

Sarah and her husband, Eric, a Realtor, purchased the house more than five years ago. Their goal: to "bring the house back to life" after the prior owners passed away.

"I was obsessed with this house [before we bought it]," Sarah recalls. "One day I drove by and saw a 'for sale' sign out front. It's a simple, plain, clean house, and that's what caught my attention—the lines and the cleanliness. It had a very traditional feel, but you could see how you could modernize it."

No stranger to renovations, the Cornwells—Sarah and Eric, along with their three young children—enlisted the help of a Doylestown builder, Kinyon Custom Construction, to better reflect the family's style and lifestyle. For example, they added a walkway that connects the primary living space to the garage, above which rests a 300-square-foot studio space that serves as the base of operations for Sarah's flourishing jewelry business.
"We also redid the kitchen and opened up the downstairs, which was cut up into these smaller rooms," she says. "We put in sliding doors and opened everything up, with tons of windows and a lot of natural light. It still has a New England feel, but it also has a very modern feel to it.

"It's been an adventure," she continues. "One of the neatest stories involves the pool, which hadn't been open for 20 years. When we removed the cover, we found it had turned into an ecosystem, with vines from top to bottom and filled with tadpoles. We removed a bunch of frogs and started driving them to a creek in back of the neighborhood. The next summer, some of them came back."

Doylestown-based Indigenous Ingenuities has helped the family reshape the home's landscaping using locally sourced materials and native plants. The Cornwells have continued to find more opportunities to make the most of the property's outdoor spaces: a fire pit and other hardscaping; a vegetable garden that Sarah intends to make into a cutting garden; and an enclosure built for Saturn Joe, the family's Russian tortoise.
What Sarah loves most about the home is the near-seamless connection between indoors and out. She's particularly fond of her jewelry studio. Her business has done so well she might outgrow her home studio sooner than expected; she's considering whether to secure studio space closer to the borough of Doylestown, perhaps in the borough itself.

"It's a beautiful place to work, with lots of natural light and tall ceilings," she says. "I have really been embracing being home, and I've been doing everything I can to make being home more comfortable. It's nice to look around and see so many pretty things. The whole house is very bright and very open. … We're very lucky to live where we live."

More than two years after the pandemic cancelled the tour of her home, Sarah will finally have the opportunity to welcome visitors as part of Bucks Beautiful's Kitchen & Garden Tour. This year's tour is set for Sunday, June 12, from 11 a.m. to 4 p.m., rain or shine. Tickets can be purchased through bucksbeautiful.org.
Photograph courtesy of Sarah Cornwell/Bucks Beautiful
Published (and copyrighted) in Suburban Life magazine, April 2022.