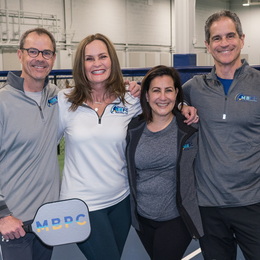 Quite a Return
Rather than using their retirement to slow down, a local foursome launched a flourishing business built around one of America's fastest-growing sports.    
"Retirement" has not been quite what Becky Gabriele and Sharon Voelzke expected. For starters, the two Bucks County neighbors did not expect to become business partners.

At a pandemic-era Halloween party in Yardley, Gabriele and her husband, Frank, connected with Voelzke and her husband, Bob, over a shared interest: pickleball. They soon found themselves volleying on a makeshift court taped to the asphalt of their cul-de-sac.

"It was a perfect pandemic sport, and we could play it with a portable net right in the street," Voelzke recalls. "We got pretty good at it, but then it got really cold. We went a few times to a club about 45 minutes away, because we were desperate to play. One time after we got home I said to Becky, 'I think Bob and I want to open a pickleball club,' and she said, 'I think Frank and I want to open a pickleball club.'"

Naturally, the foursome decided to open a pickleball club. They did their due diligence and, in August 2021, won the lease on the 26,000-square-foot, climate-controlled space in Ewing Township, New Jersey. Construction began a few months later. In February 2022, the owners hosted a grand-opening event at their new venture,
Mercer Bucks Pickleball Club
.
The community's response has been overwhelmingly positive.

"We softly announced on social media that we would be opening; we never had to place an ad for help because people wanted to get involved," Voelzke says. "We had 510 members in 10 days. It has exceeded our wildest expectations. Bob and I are great entertainers, but we didn't expect [6ABC] Action News to show up."

For the uninitiated, Voelzke describes pickleball as "a combination of tennis, badminton, and ping-pong—life-size ping-pong," usually played on a court measuring 20 feet by 44 feet. Pickleball was invented in 1965 on a small island near Seattle, according to USA Pickleball. It has since become one of the most popular sports in America; in 2021, the sport grew to 4.8 million players in the United States, a two-year growth rate of nearly 40 percent.

"Our tagline is 'Where Fun and Fitness Meet on the Court,'" Gabriele says. "We have beginners to pros and everyone in between. Some members never picked up a paddle before coming here, but you can pick up the game after an hour of playing. It's a great workout."

To her point, anyone can play the game—young and old, novice and expert. Gabriele, who describes herself as "an advanced beginner," says the cushioned playing surface is forgiving on the body despite the game's fast pace.

"It does tend toward the 50-plus range, but we did our first under-30 event, and it was fully sold out," Voelzke adds. "Pickleball does not discriminate against gender, size, age, or body type. We have played against our husbands many times and we've beaten them. I like the equality of it."

Each member of the ownership team brought his or her prior experience to the new venture—marketing, financials, leasing and contracts, etc. Considering how quickly Mercer Bucks Pickleball Club has taken off, the foursome is already talking about future growth.

Quite an impressive feat for a modest post-retirement project.

"We're not going to get to the point where we're frustrating our members because we're so busy that they can't get time on the court," Voelzke says. "There must have been 10 people who reached out to us, from Green Bay to Pittsburgh, all wanting our 'secret sauce.' … People are even asking us to franchise, but we need to catch our breath."
Everything Under the Sun
Whether you intend to open a fledgling enterprise or simply kick back and explore what comes next, where you choose to spend retirement can make a big difference. The area's finest retirement communities offer countless amenities, opportunities to socialize, and the ability to nurture one's health and wellness through first-class fitness services and the continuum of healthcare services. Residents can pursue the lifestyle they have always imagined, while benefiting from the reassurance that comes from knowing they are in caring, capable hands.

Acts Retirement Life Communities
Brittany Pointe Estates in Lansdale, Fort Washington Estates, Granite Farm Estates and Lima Estates in Media, Gwynedd Estates in Ambler, Normandy Farms Estates in Blue Bell, Southampton Estates, and Spring House Estates in Lower Gwynedd
actsretirement.org

Arbour Square of Harleysville
Harleysville
arboursquare.com

Artis Senior Living
Huntingdon Valley, Yardley, and Princeton, New Jersey
artisseniorliving.com

Atria Senior Living
Atria Center City in Philadelphia and Atria Lafayette Hill
atriaseniorliving.com

The Attleboro Community
Langhorne
attleborocommunity.com

Brandywine Senior Living
Dresher Estates, Haverford Estates, Longwood in Kennett Square, Senior Suites in East Norriton, and Upper Providence in Phoenixville
brandycare.com

Chandler Hall
Newtown
ch.kendal.org

Cornwall Manor
Cornwall (Lebanon County)
cornwallmanor.org

Dunwoody Village
Newtown Square
dunwoody.org

Five Star Senior Living
The Devon Senior Living, NewSeasons at New Britain in Chalfont, and Forwood Manor in Wilmington, Delaware
fivestarseniorliving.com

Friends Home & Village
Newtown
fhvpa.org

Garden Spot Village
New Holland
gardenspotvillage.org

HarborChase of Wilmington
Wilmington, Delaware
harborchase.com/harborchase-wilmington

HarborChase of Princeton
Princeton, New Jersey
harborchase.com/harborchase-princeton

The Hearth at Drexel
Bala Cynwyd
thehearthatdrexel.org

Heartis
Warminster and Yardley
heartis.com

Hershey's Mill Villages & Golf Club
West Chester
hersheysmill55plus.com

The Hickman
West Chester
thehickman.org

HumanGood
The Mansion at Rosemont, Rydal Park and Rydal Waters in Jenkintown, and Spring Mill Pointe in Lafayette Hill
humangood.org

The Manor at York Town
Jamison
themanoratyorktown.org

Masonic Villages
Lafayette Hill and Warminster
masonicvillages.org

Meadowood Senior Living
Worcester
meadowood.net

Merrill Gardens
Arbour Square in West Chester, Eagleview Landing in Exton, Mercer Hill at Doylestown, Merrill Gardens at Glen Mills, The Pinnacle in Plymouth Meeting, Truewood by Merrill in Glen Riddle
merrillgardens.com

Oxford Enhanced Senior Living
Langhorne
oxfordenhancedseniorliving.com

Pennswood Village
Newtown
pennswood.org

Pickering Manor
Newtown
pickeringmanor.org

Pine Run Retirement Community
Doylestown
pinerun.org

Pleasant View Communities
Manheim
pleasantviewcommunities.org

Priority Life Care
Symphony Manor of Feasterville and Independence Court of Quakertown
prioritylc.com

SageLife
The 501 at Mattison Estate in Ambler, Chestnut Ridge and Plush Mills in Wallingford, Daylesford Crossing in Paoli, Echo Lake in Malvern, and Ovation at Riverwalk in Princeton, New Jersey
sagelife.com

The Solana Doylestown
Warrington
thesolanadoylestown.com

Springton Lake Village
Media
springtonlakevillage.com

Sunrise of North Wales
North Wales
sunriseseniorliving.com

Symphony Square
Bala Cynwyd
symphonysq.com

The Watermark at Bellingham
West Chester
bellingham.watermarkcommunities.com

Waverly Heights
Gladwyne
waverlyheightsltd.org

White Horse Village
Newtown Square
whitehorsevillage.org
Photography by DonnaLovelyPhotos.com
Published (and copyrighted) in Suburban Life magazine, April 2022.