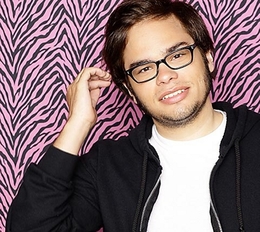 Hanging Out
In character with Charlie Saxton, Bristol native and co-star of HBO's stirring series, "Hung"
"There are worse ways to spend a day than hanging out with Anne Heche," says Charlie Saxton, who spent his high school years roaming the halls and classrooms of Bristol Junior Senior High School. Now he spends his early mornings in the makeup trailer, getting into character with the likes of Heche, Jane Adams, Eddie Jemison and other celebrated actors.
A Bucks County native and self-professed "East Coast boy at heart," Saxton has since relocated to Los Angeles for the production and filming of "Hung," a provocative and expertly written HBO dark-comedy/drama series now entering its third season. In "Hung" he plays Damon Drecker, the 17-year-old fraternal twin struggling to find his identity, and also the son of central characters Ray Drecker (played by Thomas Jane) and Jessica Haxon (played by Heche).
Somehow the show's third season will squeeze even more "holy-crap moments"—Saxton's words—and edgier plot lines into each episode. That's saying a lot considering the show's titillating subject matter, which revolves around a divorced and financially struggling high school basketball coach (Jane) who moonlights as a gigolo in order to make ends meet. Yet the show is surprisingly thoughtful and, one might say, tender.
"It's funnier this season, too," Saxton says. "The show has a nice human quality about it. When you strip it all down—no pun intended—it's about a guy who's trying to provide for his family and make sure he's still close to his children. In a way it's a family show, but families should not watch it together."
Most TV series don't live as long as "Hung" already has, which speaks volumes about the show's cast and content. In the same vein, most actors aren't fortunate enough to get to know their characters as well as Saxton has gotten to know Damon, and watch him mature beyond the "chubby kid that doesn't know if he wants to wear Goth clothes or not."
"In the second season, Damon was trying anything he could to make friends and make his own path, as any teenager is," he says. "I like [his character] too because if you look at most other shows that have teenagers in them, the teenagers are very pretty and wear nice clothes and are sort of perfect, and I love that he's not necessarily any of those things."
In addition to his cable TV work, Saxton's résumé includes roles in blockbusters such as M. Night Shyamalan's "The Happening" (2008) and Peter Jackson's "The Lovely Bones" (2009), on which he worked with the likes of Mark Wahlberg and Academy Award nominee Stanley Tucci. Saxton enjoys performing in television and movies alike, though he believes filming an HBO series has more in common with making a major motion picture than starring in a network TV show.
"It's almost like filming a very long movie," he says. "You've got multiple cameras going at once, and it's the same feel as if you were making a movie; we're trying to be that good. Most of the writers are playwrights, so the dialogue seems so natural, and there's a personal feel to it. We're able to drive an entire show with just dialogue," rather than with car chases, bank heists and explosions.
"If I were shooting 'Friends' or something like that, maybe there'd be a bigger difference," he adds. "If we were filming a sitcom in front of a live audience who were laughing at every joke, it would probably also make me a lot more nervous."
Saxton started acting at the age of five, essentially growing up in "the family business." His mother was a professional actress who worked primarily in New York and Philadelphia, while his father, also an actor, eventually switched to behind-the-scenes work as a stage manager and set designer. Early on, Saxton considered his acting jobs a legitimate excuse to skip class rather than the start of a budding professional career.
Saxton, now 21, received his "big break" when he signed with Creative Artists Agency, the premier entertainment and sports agency whose client list includes Will Ferrell, Tom Hanks and Julia Roberts. Soon after that he booked the pilot for "Hung," which HBO quickly picked up. Although he lives in Los Angeles he remains loyal to his Philadelphia-area roots. Example: He has a Pennsylvania flag in his living room and keeps an Eagles banner tacked above his bed.
"Compared to Bristol or Philadelphia, it's a different universe out here," he says. "I miss the rain and having all four seasons, and when I'm back in Philly driving home from the airport I love that I can smell Rohm and Haas from miles away. And of course I miss being with my friends and just going into a Wawa so we can pig out."
Filming "Hung" keeps him rather busy, mostly from February till late June. Call times are as early as 6 a.m., but on a typical day—"if we get it right," he says—he and his fellow cast members are usually wrapped by 3 p.m. Apart from his role on "Hung," he continues to build upon an already impressive body of work. Last year, for example, he and some colleagues self-produced an independent film called "I Am Ben," which was shot primarily in Maryland and New York, and co-stars Creed Bratton of "The Office" fame.
Up next for Saxton? In addition to doing his part to make "Hung" a long-running series, he's also trying to earn a role in a rumored third installment of the "Ghostbusters" franchise.
"Every audition I go to I wear a 'Ghostbusters' shirt," he says. "I wasn't even born when the first one was released, but when the second one was out in theaters my mom was pregnant with me when she saw it, and she said I was kicking the whole time. … You can't go wrong with Bill Murray. It's an action-horror-comedy, and it's so well done. It's hard to come by something that makes a great movie out of all those ingredients."
Follow Charlie Saxton on Twitter at @charliesaxton.