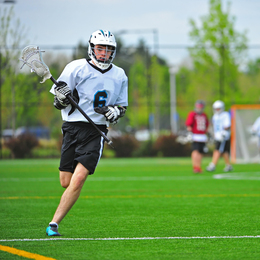 In It to Win It
Sports help students hone their athletic skills and learn how to lead, persevere, and prepare for life in the "real world."
Marie Capuano, a 40-something mother of three who lives in Montgomery County, grew up in Northeast Philadelphia in the 1980s. She remembers her childhood mostly as a time of discovery, freedom, and possibility.

While she admits her memories may be clouded by nostalgia, she says her three children are growing up in a much different world, in many ways better, in other ways far worse. She says school athletics—soccer, track, ultimate frisbee, etc.—have been a wonderful outlet for each of her kids, especially as they have grown older.

"All three of them have done a lot of growing through sports," she says. "I played softball when I was in school, and it really helped me build my confidence. It also kind of kickstarted my social life. My oldest daughter learned that she had some really strong leadership qualities, and my son learned a lot about patience and perseverance, especially when the pandemic threw a wrench in his season."

Capuano's two oldest children graduated from high school in 2018 and 2020, respectively. Her youngest daughter will start high school in September. She hopes her daughter continues to participate in track and field. She also likes the fact that the more time her daughter spends at meets and practices—more time in "the real world," as she calls it, making new friends and discovering new aspects of herself—the less time she is likely to spend on her smartphone.

"I think playing sports helps kids find their way in the world," she adds. "Kids today have a lot more options than we did, and for the most part I think that's a good thing. That applies to athletics and other extracurricular activities; you wouldn't believe some of the clubs schools have now. Not every girl wants to be a cheerleader and not every boy wants to play football. In that sense, they don't have a lot of the same limitations we grew up with."

Even though the school year has begun to wind down, that doesn't necessarily mean students will take a break from the sports they love. These days, some students train and play all year long, hoping their efforts pay off as they prepare for college. Many area schools, including Salesianum School in Wilmington, Delaware, offer a raft of coeducational summer camps rooted in athletics—from baseball to wrestling, from football to soccer, and from basketball to lacrosse.

"Our athletic camps cover almost every age, from six to 18, and every skill level," says Gene Delle Donne, the director of Salesianum's summer sports camps. "These are not elite camps for the top 10 percent in the state; basically we're helping kids have fun and build a foundation to take with them into the fall and winter. Kids go to summer camp to learn something new, develop their skills, and have fun. That's what we're really after."

Editor's note: While many of the camps from local schools and other organizations have likely already reached capacity, anyone interested in signing up may still find some available spots. School websites will provide more detail about camp dates, availability, and registration, as well as information regarding safety protocols for COVID-19.
Published (and copyrighted) in Suburban Life magazine, May 2022.