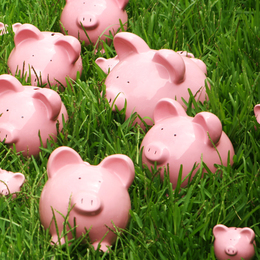 Bonded
Community banks play a vital role in helping local families and businesses thrive.
Interest in all things locally based has continued to flourish—farms, restaurants, and, yes, banks.

During the pandemic, many people rediscovered the importance of supporting community banks, many of which helped local families and business owners navigate an unsettling time. For example, small businesses turned to community banks to access funds through the Paycheck Protection Program, which helped them keep their doors open and their employees on the payroll.

The pandemic revealed the fact that local banks foster connections, and therein lies their truest value. In other words, the symbiotic relationship between a community bank and its client base means that when one does well, so does the other. A number of locally rooted banks have since reported tremendous growth.

Banks grow not just by bringing in more deposits but also by helping customers make informed decisions at different stages of their lives—giving advice to those who are saving for retirement or borrowing for a second home, offering guidance on the most appropriate investment vehicles, and by providing some degree of safe harbor during times of economic instability or recession.

Community banks also strive to serve the customer however and wherever they prefer to be served. In many cases, that means online and mobile banking services that are largely on par with that of large banking institutions. Many community banks also continue to expand their local footprints, adding new branch locations that reimagine the modern service experience, staffed by employees trained to offer guidance, not just facilitate transactions. Others have expanded their product-and-service offerings, both in person and online, while maintaining the strong personal connection that local banks are known for. Nearly all have doubled down on their efforts to uplift families, business owners, and other constituents throughout the communities they have chosen to be part of.

Perkasie-based Penn Community Bank, for example, closed its branches and office locations at 1 p.m. one May afternoon so the organization's more than 300 employees could volunteer at community organizations across Bucks and Montgomery counties for its first-ever "Day of Service." Likewise, Malvern-based Meridian Bank has contributed millions to local charitable organizations and civic institutions since its inception in 2004, ranging from the Chester County SPCA to the Conestoga Youth Wrestling Association to the Owen J. Roberts Education Foundation.

Community banks help communities grow, expand, and stay healthy. Parents plan to save for a child's education. Small-business owners procure the loans they need to take their enterprises to the next level. Young families receive mortgages to acquire their first homes. Future generations learn about saving, investing, and other aspects of money management through in-person and virtual programs to promote financial literacy.

The more than 30 banking institutions listed here are based locally, support local causes, and reinvest time, money, and energy back into the communities they serve.
2022 "Best Banks"
Ambler Savings Bank
amblersavingsbank.com

The Bank of Princeton
thebankofprinceton.com
BHCU
bhcu.org
C&N
cnbankpa.com
Centric Bank
centricbank.com
Citadel Credit Union
citadelbanking.com
County Savings Bank
countysavingsbank.com
ESSA Bank & Trust
essabank.com
The First National Bank & Trust Co. of Newtown
fnbn.com

First Resource Bank
firstresourcebank.com
Harleysville Bank
harleysvillebank.com
Hatboro Federal Savings
hatborofed.com

Huntingdon Valley Bank
hvbancorp.com
Inspire Federal Credit Union
inspirefcu.org

Iron Workers Bank
iwsb.com
Malvern Bank
mymalvernbank.com

Meridian Bank
meridianbanker.com
Mid Penn Bank
midpennbank.com
Penn Community Bank
penncommunitybank.com

Philadelphia Federal Credit Union
pfcu.com
Princeton Federal Credit Union
princetonfcu.org

QNB
qnbbank.com

Reliance Federal Credit Union
reliancefcu.com
Republic Bank
myrepublicbank.com
Riegel Federal Credit Union
riegelfcu.org
Sharon Bank
sharonbank.com
TD Bank
td.com

Tompkins VIST Bank
vistbank.com
TruMark Financial Credit Union
trumarkonline.org

Univest Bank and Trust Co.
univest.net
Victory Bank
victorybank.com

WSFS Bank
wsfsbank.com
Published (and copyrighted) in Suburban Life magazine, May 2022.