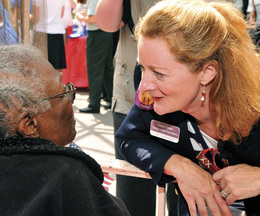 Miracle Workers
Twilight Wish makes dreams come true for deserving seniors
Cass Forkin just knew it had to be miracle.
The founder and executive director of Bucks County's Twilight Wish Foundation, which makes wishes come true for senior citizens who have served others, was looking for someone to give a wonderful elderly woman from Florida—Margarette Kirsch—a ride across the country in an 18-wheeler. Kirsch had distilled her eight decades of know-how into life lessons and wanted to share them with others as she traveled from one coast to another.
Forkin had AARP interested in publicizing Kirsch's dream coming true. Such attention, she knew, would help Twilight Wish attract new donors and fulfill more wishes for senior citizens in need.
But how would she find a driver to commit that kind of time?
Fortuitously (some might say "miraculously"), Forkin received an e-newsletter from Circle of Miracles, in nearby New Britain, and noticed that one of its instructors, Annabella Wood, used to drive the big rigs for nearly 30 years. Wood, also a minister and songwriter/performer, even recorded a song called "Truck-drivin' Mama." Wood has since committed to helping Kirsch realize her wish.
Twilight Wish is now looking for corporate and individual sponsors—for as little as a penny a mile—to help subsidize the 6,000-mile trip, which will begin in Bucks County at the Dublin Diner this May.
The diner is where it all began, after all, in 2003 when Forkin saw elderly women counting their coins to pay for lunch. She asked the server for their check. When the seniors learned what she had done, they came to thank her, with tears in their eyes, saying they didn't know people still cared.
The event inspired Forkin to start Twilight Wish Foundation (TwilightWish.org) as a way to celebrate seniors and make their late-in-life wishes come true. The charitable organization serves seniors who are over 68 years old and have an income of less than twice the poverty level annually or who don't have the means to realize their own wishes by themselves.
"It is a way we can say thanks, show respect and make wishes come true in the twilight years for those who have spent their lives making wishes and dreams come true for others," she says.
Although the experience has been rewarding, the road hasn't been an easy one. Forkin worked for four years with no pay. And the economic meltdown of 2008 caused major sponsors to put funding on hold. But miracles—Wood's fortuitous contribution, for example—have continued to occur.
"Sometimes, we can reunite a family after 50 years, arrange a motorcycle ride for a 100th birthday or take a lifelong fan out to the ballgame," Forkin says. The most popular wish is taking a lifelong fan out to the ballgame and meeting a fan favorite such as Philadelphia Phillies second baseman Chase Utley.
But these days, most wishes are simpler in nature. Recently, volunteers provided dozens of pairs of shoes for veterans in need, dentures for a Pennsylvania woman who could not properly chew her food and a hearing aid for a North Carolina woman who couldn't hear her preacher.

Giving Back
Based in Doylestown, Twilight Wish now has nine chapters in eight states, with volunteers in all 50 states. The 501(c)(3) nonprofit granted its very first wish in 2004 to Margaret Turner, a local nursing-home resident. Turner had spent her life raising her sons, keeping an eye on neighborhood children, feeding homeless people in her own kitchen and being an active church mother. The death of her son in June 2003 devastated her, both emotionally and financially. Her family could not even afford a headstone.
That's when Twilight Wish stepped in.
Since then, Twilight Wish has granted more than 1,500 wishes—about one every other day. Like Turner, the seniors Twilight Wish serves have a history of giving back to their communities.
Take, for example, Muffin Letham, a disabled 71-year-old Californian. Twice widowed, Letham raised her children alone and was a foster parent to 41 children over the course of nine years. She lost two of her sons and then also forfeited part of her left foot to cancer. Seeing former Major League Baseball superstar Cal Ripkin on "Oprah," who was helping the disabled succeed in sports, made her realize her lifelong wish to hit a baseball. Thanks to Twilight Wish and the Sacramento River Cats, which is the Triple-A affiliate of MLB's Oakland Athletics, she got her wish—and four hits!
Maria Martino Evans is a writer and PR professional in Pipersville.