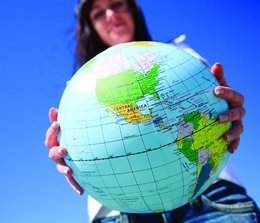 All Abroad
More local students are venturing far afield, and in more fields of study, than ever before
Glenside, it turns out, is the center of the universe for international study. Arcadia University's College of Global Studies has the top undergraduate participation rate in the nation—132.2 percent—higher than any other college or university; the number exceeds 100 percent because of how it is calculated.
"About two-thirds of our undergrads study abroad," says Dr. Warren Haffar, the university's dean for international affairs. Nearly all curriculums through graduate school incorporate foreign study. The university also sends about three times more students abroad and offers 40 more international programs than it did in 2003.
Studying abroad, according to Dr. Haffar, "enhances [a student's] education to experience a geographic or thematic interest [such as Latin America or human rights] first hand. It's much easier to bring things to life than abstractly discussing them in a classroom."
Another incomparable benefit of studying abroad is picking up another language and understanding the culture by immersion in that country.
"Being friends with people in a different culture really broadens students' horizons, making them more tolerant and capable of critical thinking," he says. "And broadening their understanding of complex problems translates into their ability to be competitive in the job market. Increasingly, employers are not looking for certain skills but those who can solve problems."
The director of a conflict-resolution program, Dr. Haffar took several classes to Rwanda where they studied the legacy of conflict and the aftereffects of genocide. "The 'aha moment' for me," he says, "was seeing the genocide museum and talking with victims, then having the students engage in unprompted discussions."
Now he is convinced the best way to get through to students is to take them to Northern Ireland (for conflict resolution) or Costa Rica (for sustainable development) and look at problems directly.
"I have yet to see a student who travels overseas who doesn't say it's eye-opening, and maybe they'd like to pursue that career path," he says. "As a direct result of what they saw in Rwanda, students were really interested in resettlement policies, especially Liberians resettled in Philly and Lost Boys [from Sudan] in Iowa. Several graduates got a job in that field. I think that says it all."
'Things Have Changed'
In November 2010, The Open Doors Report on International Educational Exchange, which recognized Arcadia, reported that more than a quarter-million American students studied abroad for credit during the academic year 2008-09.
"A generation ago, usually those students who were in advanced classes in secondary school were interested in studying abroad," says Dr. Christopher M. Brown, an international-relations expert from Horsham and principal of the political consulting firm 3:13 Group. "Part of this was related to the sheer costs of studying abroad, as well as the competitive nature of the limited spots in the existing programs.
"Things have changed in a number of ways," he adds. "The proliferation of programs has made study abroad—although not cheap—certainly more affordable. Also, the study-abroad programs have expanded into different learning environments as well as new locations to address broadening student interests."
For example, Arcadia has forensic students doing comparative work around the world, and others can now do clinical rotations for physical therapy or physician's assistant programs.
Everyone has the opportunity for global studies, according to Dr. Haffar, "and most take us up on it," as Arcadia subsidizes some overseas travel.
Where Do They Go?

In 2008-09, more than 60 percent of Americans studying abroad went to Europe, 15 percent to Latin America and only 7 percent to Asia, but nontraditional destinations are increasing in popularity. In recent years, 14 of the top 25 destinations have been outside Europe, and 19 out of 25 were destinations where English is not a primary language, according to the New York-based Institute of International Education Inc. The Asia numbers in particular are rising due to the ubiquity of anime and other Japanese cultural icons, according to Dr. Brown. However, there's no telling as to how the wake of the recent tsunami, and the resulting nuclear crisis, will affect future travel to Japan.
Many students want to study abroad to discover their own heritage, he adds: "Historically, [the combined area of Bucks and Montgomery counties] was comprised of Anglo, Irish, Italian, German and French ancestry, and study-abroad programs reflected this."
Although the United Kingdom and Australia are popular as well, destinations are increasingly more diverse, according to Dr. Haffar: "Students are looking to get off the beaten path."
Arcadia in particular offers opportunities to study in Tanzania, East Africa; Athens, Greece; and New Zealand, to name a few newer locations. Regardless of destination, students are studying abroad for relatively short periods of time; most students go for eight weeks or less, and only 4 percent stay a full academic year.
Some students—and their parents—worry about safety, or something terrible happening to a student who's so far from home. But security concerns and food- safety issues are not unlike those in the United States, according to Dr. Haffar: "It's more the perception of a lack of safety" that makes people anxious.
"There have always been areas that are wise to avoid, especially if by virtue of who you are makes you a target," Dr. Brown says. "That is one of the reasons people should go overseas. We are ambassadors of our culture and way of life. Just by being overseas, we are demonstrating our commitment to learning about others."
Travelers should be mindful of the cultural "dos and don'ts" and have a general awareness of where they are, but "that is much different than being 'on alert,'" Dr. Brown explains.
"As the world becomes more interconnected, local issues become global," says Dr. Brown, an adjunct professor at local universities such as Arcadia, Drexel and Temple. "And globalization has the potential for both conflict and cooperation."
The lessons are so much broader than the curriculum.
"Studying abroad is as much an opportunity to learn about oneself as it is to learn about the host culture," Dr. Brown adds. "Students [and their parents] should remember that study abroad is an experience of a lifetime. It is an opportunity for serious thought, as well as a chance to have fun."
Maria Martino Evans is a writer and PR professional in Pipersville.