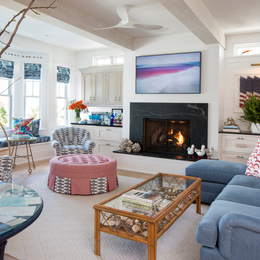 Shored Up
For one local family, life by the water in Stone Harbor is a balance of sophistication and comfort.
Some of Jackie Szafara's fondest memories tie back to summers spent down the Jersey Shore with her family: the salt air, the gentle roar of the ocean, the laidback lifestyle.
Approximately twenty-five years ago, when she and her husband, Steven, had an opportunity to buy a house by the water in Stone Harbor, they did not hesitate. They had found their sanctuary, a place where they could boat, waterski, or simply entertain friends and family.

Then came the winter of 2012, when Hurricane Sandy pummeled the shoreline and devastated countless houses up and down the coast.

"After Sandy, we had to make some decisions," Szafara recalls. "We thought: It's time."

The Szafaras, who had purchased the property adjacent to their bungalow, decided to rebuild the house from the ground up in light of new zoning regulations. The addition of a second floor would expand the home to approximately 3,900 square feet, significantly more than that of the bungalow.

"My one daughter lives in Washington, another is in L.A., and I have a son in New York," Szafara adds. "We wanted a place where we could all go and gather—a 'build it and they will come' situation."

The raze and rebuild began in September 2019. Two organizations in particular played central roles in the project: Brandywine Developers Inc., an Avalon, New Jersey-based building and architectural firm; and Judy King Interiors, a full-service design firm based in Princeton, New Jersey.
Judy King, the principal of Judy King Interiors, had worked with her mother, Kathleen Jamieson, on Szafara's homes in Villanova and elsewhere, so the tandem had a good sense of the family's lifestyle and design inclinations. It helped that King and Jamieson are Szafara's sister and mother, respectively.

"We designed the house from the ground up with the architect," Szafara says. "We spent almost a year designing it, and it was easy for my mom and Judy to come in and make decisions. They're high-end decorators; Judy is extremely talented with colors and layers, and my mom is big on functionality and what a home needs to have in order to suit your lifestyle. They complement each other very well.

"I'm a 'come on in with sandy feet' type of person, so I wanted this space to be comfortable," she continues. "I wanted materials that are all easy to clean and take care of: a lot of engineered wood and tile and Ipe wood outside, and a design that kind of flows in and out."

Like her mother and sister, Szafara has a strong artistic bent. She is the executive director of the National Arts Program Foundation in Malvern, and has amassed a considerable collection of artwork. King and Jamieson sought to incorporate key pieces of Szafara's collection into the home's interior design.

"I'd describe it as more of a sophisticated coastal style—modern with a traditional twist," says King. "The house is on the bay, and bayside living is a little more sophisticated than the shabby chic style you might find elsewhere [down the shore]. Here, you have these wonderful indoor/outdoor living spaces, including these huge sliding doors that open up onto the deck; it feels like you're right on the bay here."

Construction finished in July 2020. Jamieson says every project "has a few kinks to be straightened out"—sourcing challenges resulting from supply-chain delays, for example—but Szafara could not be more pleased with the finished product.

"Before, we didn't use the house between Labor Day and Easter, but we're able to use this house all year round," she says. "We have a lot of friends locally, so we do a lot of entertaining. The kitchen is the centerpiece of the house, but my favorite part is probably the great outdoor deck for the gathering aspect of it. We all love the water, so everyone just loves being out there."
Photo by Tom Grimes Photography
Published (and copyrighted) in Suburban Life magazine, June 2022.