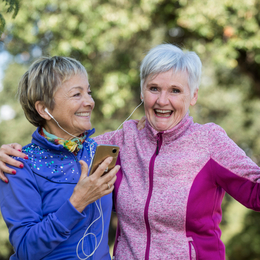 The Moving Spirit
Whether someone seeks peaceful solitude or adventure and engagement, the area's many fine retirement communities provide compelling options for older adults seeking a change of address.
Leonard Horne likes the fact that his adult children refer to him as "a young 82."
Ask him what "a young 82" means, and Horne will proudly say that he likes to dodder around the yard, uses a push mower to cut the lawn, and shovels snow in the winter, though he takes his time. Until a few years ago, he would get on the roof to clear the gutters, and occasionally join his kids and grandkids on jaunts to nearby hiking trails; a "pinch" in his left knee has convinced him to retire his extension ladder and his hiking boots. Even so, he still loves spending time outside, beneath the trees with songbirds in their branches.

Horne has spent nearly five years as a widower, and only now is he beginning to think about leaving the Bucks County home he shared with his wife of more than 50 years.

"I still move around pretty well for someone in his 80s," he says. "I like working in the yard and feeding the birds, and I don't really want to leave [my home]. I also know eventually that my luck is going to run out, so I don't want to leave a mess for my kids to clean up."

For these reasons, Horne has given serious consideration to selling his house. Some of the area's continuing care retirement communities provide tempting options for his next address. With his oldest daughter, he has visited a handful of CCRCs in Bucks, Chester, and Montgomery counties. He has been "surprised" by some of the amenities he has seen during his visits: chef-run restaurants, shaded walking trails, woodworking shops, wellness centers that remind him of commercials for gyms such as Planet Fitness or Retro Fitness, and spacious single-floor cottages, compared with the 10 or more stairs to the second floor of his Bucks County colonial.

Horne says the pandemic has stayed his hand for the time being. Plus, he admits having some anxiety over social interactions with people he doesn't know; he's not unfriendly, just more introverted than he used to be. If he does decide to make a move, he thinks he'll be happy as long as he has a view of shrubs and trees, a place to keep an eye on bluebirds, finches, and other local birds, and maybe a small garden to care for.

"One of my kids thinks I might be too old to make that kind of move, but you don't make a move like that when you're 40 or 50," he says. "I don't know if she's right or not, because I feel like I have a lot of living still to do. … I'm sure a move from here to there would be an adjustment, wherever there is, but give me a few shade trees and some earth to till and I could be happy almost anywhere."
Options Aplenty
Whether someone seeks a life of engagement and camaraderie or calm and quiet serenity, the area's finest CCRCs offer options to satisfy older Americans of all preferences and lifestyles. These communities offer abundant amenities, facilities to cultivate a life of mental, physical, and spiritual wellbeing, and, if desired, opportunities to make new friendships. In addition, communities offer the continuum of healthcare services, meaning each resident can choose the lifestyle they wish with the assurance of knowing they will be taken care of no matter which way the wind blows.

Acts Retirement Life Communities
Brittany Pointe Estates in Lansdale, Fort Washington Estates, Granite Farm Estates and Lima Estates in Media, Gwynedd Estates in Ambler, Normandy Farms Estates in Blue Bell, Southampton Estates, and Spring House Estates in Lower Gwynedd
actsretirement.org

Arbour Square of Harleysville
Harleysville
arboursquare.com

Artis Senior Living
Huntingdon Valley, Yardley, and Princeton, New Jersey
artisseniorliving.com

Atria Senior Living
Atria Center City in Philadelphia and Atria Lafayette Hill
atriaseniorliving.com

The Attleboro Community
Langhorne
attleborocommunity.com

Brandywine Senior Living
Dresher Estates, Haverford Estates, Longwood in Kennett Square, Senior Suites in East Norriton, and Upper Providence in Phoenixville
brandycare.com

Chandler Hall
Newtown
ch.kendal.org

Cornwall Manor
Cornwall (Lebanon County)
cornwallmanor.org

Dunwoody Village
Newtown Square
dunwoody.org
Elm Terrace Gardens
Lansdale
elmterracegardens.org

Five Star Senior Living
The Devon Senior Living, NewSeasons at New Britain in Chalfont, and Forwood Manor in Wilmington, Delaware
fivestarseniorliving.com

Friends Home & Village
Newtown
fhvpa.org

Garden Spot Village
New Holland
gardenspotvillage.org

HarborChase of Wilmington
Wilmington, Delaware
harborchase.com/harborchase-wilmington

HarborChase of Princeton
Princeton, New Jersey
harborchase.com/harborchase-princeton

The Hearth at Drexel
Bala Cynwyd
thehearthatdrexel.org

Heartis
Warminster and Yardley
heartis.com

Hershey's Mill Villages & Golf Club
West Chester
hersheysmill55plus.com

The Hickman
West Chester
thehickman.org

HumanGood
The Mansion at Rosemont, Rydal Park and Rydal Waters in Jenkintown, and Spring Mill Pointe in Lafayette Hill
humangood.org

The Manor at York Town
Jamison
themanoratyorktown.org

Masonic Villages
Lafayette Hill and Warminster
masonicvillages.org

Meadowood Senior Living
Worcester
meadowood.net

Merrill Gardens
Arbour Square in West Chester, Eagleview Landing in Exton, Mercer Hill at Doylestown, Merrill Gardens at Glen Mills, The Pinnacle in Plymouth Meeting, Truewood by Merrill in Glen Riddle
merrillgardens.com

Oxford Enhanced Senior Living
Langhorne
oxfordenhancedseniorliving.com

Pennswood Village
Newtown
pennswood.org

Pickering Manor
Newtown
pickeringmanor.org

Pine Run Retirement Community
Doylestown
pinerun.org

Pleasant View Communities
Manheim
pleasantviewcommunities.org

Priority Life Care
Symphony Manor of Feasterville and Independence Court of Quakertown
prioritylc.com

SageLife
The 501 at Mattison Estate in Ambler, Chestnut Ridge and Plush Mills in Wallingford, Daylesford Crossing in Paoli, Echo Lake in Malvern, and Ovation at Riverwalk in Princeton, New Jersey
sagelife.com

The Solana Doylestown
Warrington
thesolanadoylestown.com

Springton Lake Village
Media
springtonlakevillage.com

Sunrise of North Wales
North Wales
sunriseseniorliving.com

Symphony Square
Bala Cynwyd
symphonysq.com

The Watermark at Bellingham
West Chester
bellingham.watermarkcommunities.com

Waverly Heights
Gladwyne
waverlyheightsltd.org

White Horse Village
Newtown Square
whitehorsevillage.org
Published (and copyrighted) in Suburban Life magazine, June 2022.