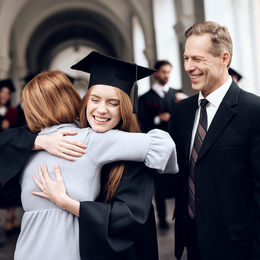 Investing in a Student's Future
Do you have a plan for funding your child's college education?
Preparing for college can be an exciting time in a student's life, but getting into the right college requires far more than good grades, high SAT or ACT scores, or participation in extracurricular activities. The cost of higher education today is higher than it's ever been, meaning a college education may be out of reach for many students whose families don't plan appropriately.
Between 1980 and 2020, the cost to attend a public four-year college full time, including tuition, fees, and room and board (all adjusted for inflation) increased 180 percent, from $10,231 annually to $28,775, according to the National Center for Education Statistics. The cost for a private, nonprofit institution for a full-time student living on campus was $54,500 in 2020-21. While cost increases seem to have stabilized following the COVID-19 pandemic, they're still worrisome for many families.

"College presents a significant cash-flow problem for many families," says Judy Sciaky, CCFS, RICP, founder of AP&G College Planning in Merion Station. "It's extremely important for families to plan ahead and choose the best college to suit your student's educational and social needs, as well as your financial situation."

But how do you know where to begin? And if you have a senior in high school, is it too late to start saving for college?

"It's never too late to create a financial plan for college," says Bradley Wood, CCFS, a financial advisor with The College Funding Coach in Horsham. "Of course, the earlier you start planning, the better. The sooner you put a plan together, the less college will cost your family in the long run."

The schools themselves are a great starting point when you're ready to start thinking about where your child wants to go to college. Every school should have a net price calculator on their website where you can see what the net price will be for that institution. Once you get over the sticker shock in determining what the cost of attendance entails, you can begin examining your financial situation to figure out how to finance your child's education.

"Whenever I speak to parents, whether they have a child just starting kindergarten or a senior in high school, there's always fear and anxiety around planning for college," says Wood. "The cost of college has gotten so outrageously expensive, and with many parents trying to balance how to save for college and retirement at the same time, the ultimate question becomes: How do you pay for college and not sacrifice your ability to retire?"

School counselors can provide students with a starting point to identify colleges that fit their needs from an academic standpoint. When it comes to financing that education, financial aid, grants and scholarships, and student loans all play a major role in determining a student's trajectory.

"Applying to college is a much more research-intensive process than it used to be," says Sciaky. "But there are numerous resources available to identify grants and scholarships that can help finance your student's college education. The largest portion of scholarships come from the institutions themselves, as well as the federal government in the form of subsidized and unsubsidized student loans. Outside scholarships provide another means of funding, but they also tend to take a significant amount of research to identify the right ones for your child."

When it comes to qualifying for financial aid, every student's journey begins with the Free Application for Federal Student Aid, also known as the FAFSA form. Filling out the FAFSA form is the first step in determining a student's eligibility for grants, scholarships, and work-study programs.

"It's important to properly fill out the FAFSA form in order to qualify for as much financial aid as possible," says Sciaky. "The FAFSA helps schools determine your EFC, or Expected Family Contribution (soon to be rebranded as the Student Aid Index), and gives you a starting point to figure out how much a particular school will cost. The cost of attendance minus the EFC determines your actual financial need."

The FAFSA form uses a family's income and assets to determine how much aid a student is eligible for. In addition, some schools use the College Scholarship Service Profile, an in-depth form used by more than 400 colleges that is also designed to qualify students for financial aid.

"There are certain strategies you can use to qualify for more financial aid," says Wood. "Roth IRAs or whole life insurance policies are nonassessable assets that can serve as college funding tools. If you don't expect to qualify for much financial aid, a 529 savings plan can provide you with a state tax deduction for Pennsylvania residents, tax deferred growth, and tax-free use of the money invested to pay for qualified educational expenses."

For families that require additional financial assistance, federal direct subsidized and unsubsidized student loans provide a means of borrowing money at a lower interest rate than private loans. Undergraduate students can borrow a total of $27,000 over four years of college, and repayment does not begin until after the student graduates.

"Student loans can be helpful, but you have to take into consideration how you're going to pay them off after college," says Sciaky. "Student loans are generally not forgiven, and you can't declare bankruptcy to get out of paying for your student loans later on down the road."

However, federal direct loans may qualify for forgiveness through income-driven repayment plans and public service loan forgiveness programs.

When it comes to planning for college, the keys to success include starting early, having a clear picture of your financial situation, and identifying the schools that provide the best fit for your student academically and financially. From there, you can put together a plan that provides you with cash flow for college expenses without hindering your retirement.
Published (and copyrighted) in Suburban Life magazine, June 2022.