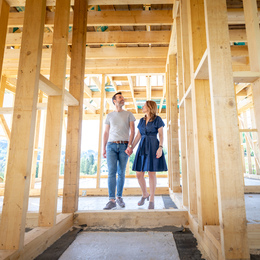 Nothing Like New
New construction offers homeowners the chance to customize without compromise.
Jen Braun split her childhood between homes in Northeast Philadelphia and Bucks County, both of which had been built at least several decades earlier. Regardless of the location, she has keen memories of her parents struggling with upkeep.
"There was always something to fix—a roof, an appliance, something leaking," she recalls. "[My parents] always found a way to take care of it, but I know it was hard for them to keep up sometimes."

As she finished high school, breezed through college, and entered the working world, Braun moved around and kept investing in her education to make herself attractive to prospective employers. The man who would later become her husband did the same. Together, they followed opportunities across the country, always renting to maintain their flexibility.

By the time they hit their mid-thirties, the couple had lived in Florida, Georgia, and Texas, but they were ready to settle down "closer to home." Members of their shared social group had been "a step ahead" of them for years, with mortgages and growing families, so Braun and her husband were eager to catch up once they returned to the Philadelphia area.

"This was seven or eight years ago, during a much different [housing] market," Braun says. "We had been looking at a lot of homes I would describe as 'newish,' and some older ones, too, but they had all been lived in."

Words from a sibling stuck with her, in part because of childhood memories relating to her parents' struggle: "'There's nothing like buying new. If you buy a new house, everything is exactly how you want it. You don't have to compromise.'"

The stars wound up aligning. While Braun and her husband had been saving for years, they also came into some money from a deceased family member. A new development of single homes going in not far from Bethlehem drew their eye. They worked directly with the builder to construct the home of their dreams, complete with a windowed sitting area in the master bedroom that Braun had always wanted.

"It's not huge or anything, but it's ours," she says. "It was amazing seeing the skeleton go up, and then see the meat being put on the bones, just the way we wanted it."

New construction may be the only way to address the country's decades-old housing shortage, as evidenced by the white-hot real estate market since 2020. At present, builders must overcome issues such as scarce land availability, worker shortages, and rising materials costs. Some indices suggest demand for new construction is slowing, perhaps driven by fears of recession.

Homeowners such as Braun see a clear and present need.

"When you walk into a new home for the first time, knowing it's yours, it's an amazing feeling," she says. "I know everyone is not going to have the same opportunity or experience we had, but I would do it again in a heartbeat."
Published (and copyrighted) in Suburban Life magazine, July 2022.