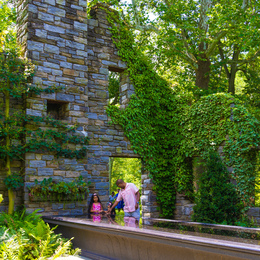 Something to See Here
Add to your summer to-do list by visiting these sites of cultural, historical, and natural significance.
"What do you want to do with the rest of our summer?"
Getting out of town is never a bad idea. Even so, there's plenty to do close to home. Here's a suggestion: Make a beeline for one or more of the area's many worthwhile destinations for your fill of culture, history, and nature.

Guests of all ages are all but guaranteed an entertaining and eye-opening time at any of the following five sites: the Battleship New Jersey on the Camden waterfront; the childhood home of the celebrated (and controversial) ornithology pioneer John James Audubon in the town that bears his name; the Pearl S. Buck House in Bucks County; the Chanticleer estate in Wayne; and Fort Mifflin at the confluence of the Delaware and Schuylkill rivers.
Battleship New Jersey
The imposing gray structure just across the Ben Franklin Bridge is the USS New Jersey, the most decorated battleship in U.S. naval history. The ship had unsurpassed success (sinking 29 enemy ships during its 49 years of service, from 1942 to 1991), through World War II, the conflicts in Korea and Vietnam, the Cold War, and the first Gulf War. It also had the distinction of being the only ship to serve as a flagship for both of America's greatest fighting admirals, Raymond A. Spruance and William F. "Bull" Halsey Jr. The New Jersey, which measures 887 feet long, was designed for a crew complement of 117 officers and more than 1,800 crew; during World War II, its crew peaked at 2,700. Given its size and history, visitors can spend several hours at the site; just be prepared to do a lot of walking along the decks and investigate the ship's many compartments. You can even go inside a gun turret or cruise the main deck, viewing the enormous anchor and chain, not to mention the 16-inch guns and antiaircraft weapons. There is also a section of the ship set aside as a museum, where visitors can view artifacts from the ship's celebrated past, including photos of the ship in wartime action. The view of Center City from across the Delaware River is an incredible sight, so expect to fill your camera with Instagram-worthy pics. Visit battleshipnewjersey.org for more information.
Chanticleer
Of the approximately 40 public gardens within the 30-mile area surrounding Philadelphia, Chanticleer in Wayne is one of the most spectacular. Nobody knows what the Garden of Eden looked like, but you can get a pretty good idea by visiting Chanticleer. As soon as you enter the 35 acres open to the public, you are confronted by a sea of green, with an astounding variety of plants and trees. Chanticleer has a brilliant layout, with one very apparent difference from other public gardens; some spots are clearly and expertly cultivated, but are others are more natural in appearance, just a little manicured. Chanticleer came about as a result of a kind of migration from Philadelphia in the early 20th century. Wealthy people from the city, wanting to escape its heat and pollution, had mansions built along the newly cleared stretch of land along the Main Line of the Pennsylvania Railroad so they could live in a less crowded, quieter, and more serene environment. Among them were Adolph and Christine Rosengarten, who owned a pharmaceutical company which later became part of Merck. They moved into the mansion in 1913, and in 1924 they built an addition to the house and made it their permanent home. Adolph was a hands-on gardener and loved passing on what he knew to others. Not surprisingly, the Chanticleer of today is not only a pleasure garden, but also a learning garden. Chanticleer offers gardening classes and workshops, and it also collaborates with other organizations to educate the public about plants and trees and their care. The many highlights as you walk the serpentine path through Chanticleer include beautiful trees, including oaks, pines, and beeches, the katsura, and black walnuts dating back to the 1880s; plenty of waterfalls, water gardens, a water wheel, a pond garden, and more. The garden has evolved since it opened to the public in 1993. Major additions were the Teacup Garden and the Chanticleer Terraces, which feature seasonal plants and tropical and subtropical plants. An elevated walkway was added to improve garden access. Visit chanticleergarden.org for more information.
Fort Mifflin
A National Historic Landmark just south of the Philadelphia Airport, Fort Mifflin played important roles in the fight for American independence, the Revolutionary War, the Civil War, and both world wars. Fort Mifflin, originally called Fort Island Battery and later known as Mud Island Fort, traces its beginnings to 1771. The British began its construction to strengthen control over the Delaware River, but never finished the job. Benjamin Franklin directed revolutionary forces to complete the fort's construction four years later—just in time for what would become the fort's shining moment. A garrison of just 400 American men delayed a British fleet from sailing up the Delaware River to deliver critical supplies to troops in Philadelphia. In the process, General Washington and his tired troops gained time to regroup at Valley Forge. The revolutionary forces eventually left the fort and proceeded to New Jersey, but not before setting fire to what was left. It was rebuilt in 1794 under the direction of Pierre L'Enfant, an engineer who also laid out the plans for the nation's capital. After America won its independence, the fort's name was changed to Fort Mifflin, for Thomas Mifflin, a major general in the Continental Army who would later become the first post-independence governor of the Commonwealth. Known as "The Fort That Saved America," Fort Mifflin continued to serve America for many more years and through many more military conflicts. It held Confederate prisoners and Union deserters during the Civil War. It served as an ammunition depot in both world wars. After 183 years of service, the fort was decommissioned in 1954. In 1970, it was added to the National Register of Historic Places and designated a National Historic Landmark. Fort Mifflin hosts numerous special events throughout the year, everything from educational programs about Civil War medicine to paranormal investigations probing into the fort's haunting past. Visit fortmifflin.us for more information.
John James Audubon Center at Mill Grove
Built in 1762, Audubon's Mill Grove was the home of the revered painter and naturalist John James Audubon, who lived at the estate from 1803 until 1808. Perhaps most significant about the estate, located 20 miles west of Philadelphia, is that it was where Audubon first became fascinated with birds; it's been said that he endlessly walked through the woods of the 130-acre estate. The three-floor stone-and-wood farmhouse sits atop a hill overlooking picturesque Perkiomen Creek. For many years the farmhouse served as a museum displaying many of Audubon's paintings of birds and other animals. An 18,000-square-foot museum, built in 2019, features many of Audubon's paintings and skillfully designed displays by other artists, as well as a plethora of information about birds in general. The museum's pride is a book—specifically a four-volume set of Birds of America, widely considered Audubon's crowning achievement. The book is known as one of the most impressive, revered, and valuable books in American history. Each volume weighs about 50 pounds, and the complete set holds a total of 435 life-size prints of Audubon's watercolor paintings. The printing of about 200 sets was completed in England between 1827 and 1838. Only 120 complete sets remain, either individually owned or in the possession of institutions such as the Smithsonian and Drexel University's Academy of the Natural Sciences. On the rare occasions when a full set of Birds of America comes up for sale at auction nowadays, it tends to sell for as much as $10 million. It's worth noting Audubon's complicated place in history; although he was known for his genius, prolific writing, and accomplishments in ornithology, he was also accused of a number of troubling misdeeds—slave owning, the trafficking of human remains, and plagiarism, among others. Visit johnjames.audubon.org for more information.
Pearl S. Buck House
Bucolic Bucks County is known not only for its natural beauty and rich history, but also for its preponderance of artists and writers. Pearl S. Buck, known as one of America's greatest, most prolific, and revered authors, lived in Perkasie for many years. The property on which she lived includes a stone-and-wood house built in 1825. It has since become a shrine to the late author, equal rights activist, teacher, and humanitarian, known as the Pearl S. Buck House. Along with her many titles, Buck also had many outstanding accomplishments. She wrote 85 books, had 13 honorary degrees, was featured on a postage stamp, counseled U.S. presidents, and won the Pulitzer (The Good Earth, 1932) and Nobel prizes for literature—the first woman to do so. Buck bought the 68-acre estate in Perkasie in 1930 and lived there until the late 1960s. It was there where she and husband Richard Walsh raised a large family, including seven adopted children. The Pearl S. Buck House is also where the beloved author wrote some of her more popular stories such as This Proud Heart (1938), The Patriot (1939), and Today and Forever (1941). The Pearl S. Buck House, a National Historic Landmark since 1980, has quite a lot to see for any visitor, including many of Buck's possessions and artifacts, such as her typewriter, her correspondence, and a sprawling library. The site offers two distinct tours: "Taking Action," which focuses on Buck's extensive activism and human rights advocacy; and "Life and Legacy," a more traditional biographical and historical look at the life of a truly transformative figure in American literary and humanitarian history. Visit pearlsbuck.org for more information.
Photo by J. Fusco for VISIT PHILADELPHIA
Published (and copyrighted) in Suburban Life magazine, July 2022.