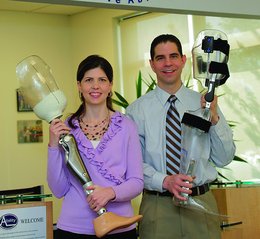 Of Life and Limb
Exton-based Ability Prosthetics and Orthotics helps those in need maintain the highest possible quality of life Exton-based Ability Prosthetics and Orthotics steps in to help those in need maintain the highest possible quality of life
One night last month when 46-year-old Chester County laborer Lawrence Taylor let his head hit the pillow, he began tossing and turning. But Taylor's restlessness was rooted not in agony but in joy—and it was all Taffy Bowman's doing.
First, his story: Taylor's left leg was surgically removed just above the knee in 1998, this after undergoing 21 surgeries to try to save it after a motorcycle accident three years earlier. But he knew on that night, when he would awaken the next morning, he'd have to put on his old, painful, broken-down prosthetic leg only one more time. Again, thanks to Taffy Bowman.
Bowman is managing practitioner of the Exton office for Ability Prosthetics and Orthotics Inc., a regional company that specializes in providing full and partial amputees the latest, technologically advanced artificial fingers, hands, arms and legs.
Bowman is an American Board for Certification (ABC)-certified prosthetist (one who specializes in designing and making artificial limbs) and orthotist (one who specializes in designing and orthotic fitting devices that support or correct musculoskeletal deformities or abnormalities of the human body). Her duties include providing the highest standards of care to patients requiring prosthetic and orthotic devices. This includes evaluating, measuring, designing, fitting and providing appropriate follow-up care to her patients.
Above and Beyond
Taylor's case is but one shining example of the lengths Bowman and the team at Ability Prosthetics and Orthotics go to ensure their patients' well-being.
"Lawrence's old prosthesis was broken," Bowman says. "He needed a new one, but his insurance company denied his claim three times, claiming that they should not have to pay for a new leg. … The old prosthesis wasn't functioning as it should, and it was causing him considerable pain. He needed a new leg but couldn't afford to pay for it."
Taylor contacted the Office of Vocational Rehabilitation in Philadelphia, which agreed to pay for half of a new prosthesis. But he was still responsible for paying the balance of the leg—about $16,000.
"I have three little girls," Taylor says, "and I just don't have that kind of money."
Enter Bowman and Ability Prosthetics and Orthotics. Despite Bowman rewriting a quote for the price of the prosthetic leg, this time for one with a hydraulic knee—not the more expensive microprocessor knee—Taylor's insurance provider again denied his request.
Bowman then submitted a further detailed letter of appeal and initiated the process for a live hearing to take place. In April, she and Taylor appeared before the insurance company's medical director and a panel of representatives to present his case. During the presentation, she and Taylor placed the pieces of his broken prosthesis on a table before the board members to show why he desperately needed a new one.
Five days after the meeting, the insurance provider agreed to pay for a new prosthesis, according to Taylor's medical policy benefits. Taylor believes without question they changed their mind due to the tireless efforts of Bowman and the Ability team.
"Taffy explained to them what a new leg would do for my life and for that of my family," he says. "She let them know how bad the old leg was, how it falls down and caves in on me, and how dangerous it was.
"She's the reason I have a new leg. She's been there for me every step of the way. In some ways, it was almost like Taffy was fighting to get herself a new leg. I think the world of that lady."
'A Good Match'
Taylor's story is emblematic of the high quality of care that all Ability patients receive. The company offers the finest prosthetics and orthotics on the market today—literally miracles of medicine. They are legs powerful enough to squat and run, and hands and arms strong enough to lift luggage, and fingers dexterous enough to pick up a dime.
In addition to prosthetic legs, other prostheses offered by Ability include the iLimb Hand, the first digitally powered hand with five individually powered digits. The iLimb Hand allows for touching the buttons on an ATM, and picking up cans, shopping bags, duffle bags and hand fruit, such as apples and pears.
"It allows for function as close to a natural hand as has ever been seen," Bowman says.
Another medical marvel: Pro-Digit Fingers. The self-contained prosthetic fingers are individually powered and performance programmable, making for the most advanced partial-hand prosthesis ever available to patients with finger amputations.
Ability is also a leader in orthotics, offering the Boston Band cranial remolding orthosis, which is a lightweight, plastic and foam helmet that offers treatment for deformities of the head in young children. Ability utilizes FDA-approved, 3-D scanning technology to accurately scan the head and custom design the helmets.
Another orthotic offered by Ability is the Walk-Aide for dropfoot, an electro-stimulation device that triggers nerves to stimulate muscles that raise the foot during walking.
The E-MAG Active is an electronic stance-control knee-ankle-foot orthosis (KAFO) that calibrates to how the patient walks. The device locks when patients stand and unlocks when they walk, resulting in a safer, more natural and more efficient walking style. Protective facemasks are also available for patients with facial injuries, such as broken noses or cheekbones. These devices are made of thin, lightweight, shatterproof plastic, and are commonly used for protection during sports activities.
Through its recently formed Symmetry division, Ability Prosthetics and Orthotics offers a line of customized mastectomy prosthetics that fit directly to the chest and are designed for ultimate comfort and use during physical activity.
Those in search of quality products and a caring company need look no further than Ability Prosthetics and Orthotics.
"We work to go the extra mile for our patients," Bowman says. "The hearing I attended for Lawrence is what we're encouraged to do at Ability. Plus, that kind of service is an innate part of who I am, so it's a good match for the work I do. We always want to do whatever we can for our patients. It's why we're here—to help."
Phil Gianficaro is an award-winning writer based in Doylestown.
Photography by Rob Hall
Ability Prosthetics and Orthotics Inc.
The Commons at Oaklands
660 W. Lincoln Highway, Exton
610-873-6733 | AbilityPO.com