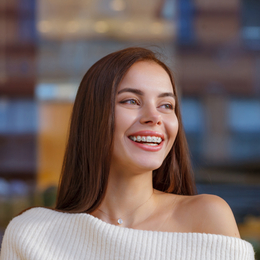 Straight to the Top
The area's leaders in orthodontics perfect imperfect smiles and have a profound influence on the lives of their patients.
"Peace begins with a smile," as Mother Teresa once said. Her famous quote refers to the transformative nature of a smile. It can uplift our mood, turn a bad day into a good one, and even do the same for those around us. Although a smile seems like such a simple tool, in can do a lot of "heavy lifting" in the course of a lifetime.
Alas, imperfections in the teeth and surrounding structures prevent some people from smiling more or, if they do smile, they hide it from the rest of the world. That's where orthodontists come in.

The dental specialty of orthodontics includes the diagnosis, prevention, interception, and correction of malocclusion (the abnormal alignment of the upper and lower teeth), as well as neuromuscular and skeletal abnormalities of the developing or mature orofacial structures.

Orthodontists receive an additional two to three years of specialized education beyond dental school to learn the proper way to align and straighten teeth, according to the American Association of Orthodontists. Only those who successfully complete this formal education may call themselves "orthodontists."

Clearly, orthodontics is about so much more than straightening crooked teeth. Orthodontists specialize in correcting a misaligned bite, which can affect the way a person speaks, chews, and bites. A misaligned bite can also negatively affect an individual's confidence, which, in turn, can influence almost every aspect of a person's life.

Many adults who are now in their 30s, 40s, and even older have memories of sitting in an orthodontist's chair as a child, and those memories aren't always positive. Orthodontics has come a long way since then, with multiple options designed to better suit the lifestyle of patients and their families. This may explain why some orthodontists in the Philadelphia area estimate that as many as 50 percent of their patients are adults.

So, how do you choose an orthodontist? Suburban Life invited readers to vote for local orthodontists known for their expertise, compassion, and dedication to their craft. Those "votes" are included here, along with the names of a few notable orthodontists who have been featured in the pages of this magazine.

Meet our 2022 Top Orthodontists.
Dr. Andrea Appel
Dr. Andrew Appel
Dr. Steven Appel
Appel Orthodontics | Brace Busters
Multiple locations
appelortho.com
bracebusters.com

Dr. Alexander C. Apple
Penn Dental Family Practice
Multiple locations
mypenndentist.org

Dr. Benjamin K. Azizi
Azizi Orthodontics
Ambler and Glenside
aziziorthodontics.com

Dr. Raymond S. Buttenbaum
Buttenbaum Orthodontics
Paoli
buttenbaumortho.com

Dr. Benjamin A. Cassalia
Cassalia Orthodontics
Chalfont and Ottsville
drcassalia.com

Dr. Daniel Cassarella
DCO Orthodontic Specialists
Worcester
dco-ortho.com

Dr. Jordan Cogan
Dr. Cathleen George
CG Orthodontics
Yardley and Richboro
teethstraight.com

Dr. Steven M. Cohen
Steven M. Cohen, D.M.D., M.S.D.
Philadelphia
phillybraces.com

Dr. Anthony L. Cook
Dr. Patricia D. Gutsche
Cook & Gutsche Orthodontics
Springfield
greatorthosmiles.com

Dr. Steve A. DelliGatti
Dr. Michael Milewski
DelliGatti and Milewski Orthodontic Group
Ambler and Northeast Philadelphia
dmorthogroup.com

Dr. Tanja J. de Marsche
Dr. William Roberts
Roberts & de Marsche Orthodontics
Philadelphia and Lawrenceville, New Jersey
robertsanddemarsche.com

Dr. Jake Dorfman
Dorfman Orthodontic Group
Bensalem and Southampton
dog-ortho.com

Dr. Marianna Evans
Infinity Dental Specialists
Glen Mills and Newtown Square
infinitydentalspecialists.com

Dr. Shawn M. Faust
Faust Orthodontics
Havertown
faustorthodontics.com

Dr. Christine Ferrell
West Chester Orthodontics
West Chester
wcbraces.com

Dr. Dovid Friedman
Friedman Orthodontics
Merion Station
friedmanorthodontics.com

Dr. Jamie N. Goodreau
Jamie N. Goodreau, D.M.D., M.S.D.
Chalfont
drgoodreau.com

Dr. Colleen Gordon
Gordon Orthodontics
Ambler
orthodontistambler.com

Dr. Sally Gupton
Sally A. Gupton, DDS
Fort Washington
sallyguptonortho.com

Dr. Kellyn Hodges
Kellyn Hodges Orthodontics
Multiple locations
hodgesortho.com
Dr. Neil Mandalia
My Smile Orthodontist
Newtown
mysmileorthodontist.com

Dr. LynAnn Mastaj
Mastaj Orthodontics
Bryn Mawr
lynannmastaj.com

Dr. Anna Morrison
Heine & Associates Family Dentistry
Newtown
heinefamilydental.com

Dr. Antonino G. Secchi
Devon Orthodontics
Devon
devonortho.com

Dr. Tejjy Thomas
Center City Orthodontics
Philadelphia and Cherry Hill, New Jersey
centercityortho.com

Dr. Orhan Tuncay
Rittenhouse Orthodontics
Philadelphia
rittenhouseorthodontics.com

Dr. Todd M. Welsh
Bucks County Orthodontics
Doylestown
buckscountyorthodontics.com
Published (and copyrighted) in Suburban Life magazine, July 2022.