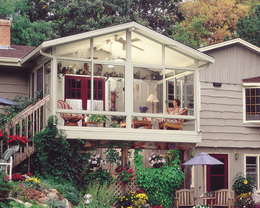 The Good Life
Sunrooms from Betterliving Mid-Atlantic transform any home into a sanctuary
With custom designs for your relaxation haven, Betterliving Sunrooms can help you find your place in the sun.
Betterliving Sunrooms specializes in custom sunrooms, decks and other home improvements to beautify your home, increase living space and provide you with year-round repose.
A sunroom will become a "getaway room" and help ease daily stress by filling your home with sunlight, according to Joe Ishikawa, owner of Betterliving Mid-Atlantic, which services Pennsylvania, New Jersey and Delaware.
"You can spend time there reading or doing your crossword puzzles," Ishikawa says. "You can start the day there with your coffee and breakfast, or end it there winding down with some wine."
One of the best things about the room is that the "décor" changes on a daily basis.
"It's not your standard four walls of drywall and paint," Ishikawa says. "When it's raining, you can kick back and watch the thunderstorm by your fireplace; if it's snowing, you can sit there and watch your own personal winter wonderland; if it's nice and sunny, you can crack a window and let the breeze in."
A sunroom is also great for homeowners who need extra space but can't afford a new house or major construction project. "Some people might have kids and the house is getting too crowded, but they can't afford to move in today's world," says Ishikawa. "Even for couples or singles—everyone can use extra space."
Adding a sunroom can help build home equity, a fact that most homeowners aren't aware of, according to Ishikawa.
"When you talk about home improvements increasing the value of your home, making it bigger gives you the greatest bang for the dollar," he says.
A sunroom creates an immediate increase in space with minimal disruption to daily living. While major home-construction projects draw cement trucks and six months of commotion to the home, the average sunroom installation takes three to five days.
Ishikawa adds that many customers are impressed with how swiftly their vision for a sunroom becomes a reality. "The biggest thing we hear back from our customers is how they can't believe the quickness in which their home changes," he says. "We show up on a Monday to start the job and they're using their room by the following weekend."
Betterliving Sunrooms are also eco-friendly, using solar energy for light and heat and requiring little maintenance.
The business in an ENERGY STAR partner, offering products that help families save about a third on their energy bill, with similar savings of greenhouse-gas emissions, according to the company's website, www.sunroomsbybetterliving.com.
In Good Hands
Betterliving Sunrooms has been in business since 1946. The business has more than 50 locations nationwide, with affiliates in Canada. Ishikawa, who has been working with Betterliving products for the last 14 years, took over the Mid-Atlantic region in 2008.
All Betterliving Sunrooms are custom designed to fit the homeowner's ideas, wants and needs, as opposed to "kit rooms" offered by other retailers. "Basically, other companies are getting different components of the room from three or four manufacturers, assembling them in their plant and pre-packaging them," Ishikawa says. "They're forcing the home to adapt to the room rather than the other way around."
While the prefabricated sunrooms are sometimes less expensive, choosing a product based on price alone could ultimately end up costing the homeowner a lot more than they realize, Ishikawa says. "We had a customer who hired a guy to build her sunroom, and it was a travesty; it took 10 weeks to build, and it leaked and cracked. We took it down and built a new one. Unfortunately, she saved money the first time around, but she ended up paying for two sunrooms in the end."
Betterliving products are manufactured locally at the company's custom-engineered facility in Souderton, and are specifically designed to handle this area's tough, random climate. "About 98 percent of sunroom contractors come from Ohio or Florida or the West Coast," Ishikawa says. "Because we're based in the Northeast, our rooms are engineered to handle the snow and extreme temperature changes."
Betterliving Mid-Atlantic also proudly offers a no-subcontractor guarantee, which allows for quality installations from trained professionals and protects the homeowner from any liabilities, according to Ishikawa.
Also, Betterliving can provide a free, no-obligation consultation with one of its four seasoned design experts to give you the design and feel you want for your Betterliving sunroom. The company also handles the permitting process, leaving the homeowner to sit back and not worry about the project, knowing that it is in the hands of professionals who place each customer's needs first.
Quality financing is also available through the company as well. "I think there's a big fear associated with spending money right now, that a lot of customers are hearing there's no money out there to be lent," Ishikawa says. "We have excellent relationships with banks and offer true financing to our customers."
Betterliving Mid-Atlantic
1340 E. Ridge Pike
Plymouth Meeting
877-677-7708 (toll free)
484-681-9091
www.sunroomsbybetterliving.com