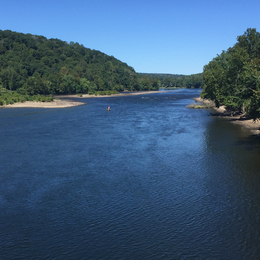 'Our Sacred Places'
One man finds peace and connection in the Lenapehoking.
Most people have a special place not far from home where they go to "get away from it all"—a favorite park, a little-traveled hiking trail, a quiet spot on a lake or a river where life's troubles fade into the ether. Adam Waterbear DePaul does, too, though his list of local getaways may be a bit longer than most.
"The forests, the mountains—these are our sacred places," DePaul says. "They are in our oldest stories, and they involve some of our most important cultural heroes. I can have a really wonderful time in any place where I am surrounded by forests and mountains and streams."

DePaul, originally from the Poconos, is a Tribal Council member and storykeeper for the Lenape Nation of Pennsylvania. He feels close to all natural places that are part of the Lenapehoking, or Lenape homeland, which stretches from the western edge of Connecticut to Delaware, including Philadelphia, Bucks County, and much of southeastern Pennsylvania.

The Delaware River, known as the Lenape Sipu, holds special significance for DePaul. That said, "anywhere in the Lenapehoking where you can walk to a place where you don't hear a car or see a neon sign is a sacred place that can give that sense of calm," he says.

DePaul recently had a rather unique opportunity to reconnect with the Delaware River through something known as the Rising Nation River Journey. In this quadrennial event, members of the Lenape Nation of Pennsylvania take a three-week paddle down the Delaware River, beginning in Hancock, New York, and ending at the river's terminus in Cape May, New Jersey.

A document known as the Treaty of Renewed Friendship travels with the paddlers; they make stops along the way for ceremonies and treaty signings with environmental groups, historical societies, and other organizations that support the Lenape people, their language, and their way of life. The treaty and river journey, which began in 2002, commemorates the 1683 signing of an accord between William Penn and Chief Tamanend, in which their respective "tribes" agreed to live together in harmony.

In past river journeys, DePaul has overnighted for all or most of the three weeks on the river. Each leg of the journey fills him with a sense of peace and restoration, though he is particularly fond of paddling through the Delaware Water Gap; not only is the area stunningly beautiful, but it is also sacred in Lenape culture.

While the Rising Nation River Journey gives DePaul and other members of the Lenape nation time to reconnect with the land and its waterways, it's about much more than that. It also sends the message that the Lenape remain a vital part of the community, reinforces the Lenape's desire to work with others in caring for the Lenapehoking, and helps revitalize a culture that was nearly erased in the dark period that followed William Penn's death.
Keeping the Story Alive
Adam Waterbear DePaul, M.Ed., is a Tribal Council member and storykeeper for the Lenape Nation of Pennsylvania (lenape-nation.org), and a veteran of past Rising Nation River Journeys. He earned his undergraduate degree at Temple University, where he is now a Ph.D. candidate, and his master's from East Stroudsburg University of Pennsylvania. He also co-curates the Lenape Cultural Center in Easton, where he has a frequent presence, and the exhibit "Existing Artistry, Enduring Presence: The Lenape Nation of Pennsylvania" at Temple.
Published (and copyrighted) in Suburban Life magazine, August 2022.