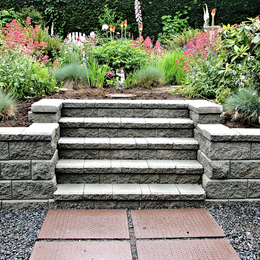 Great 'Scape
Thoughtfully done landscaping and hardscaping can transform a home from the outside in.
"Look at that!"
My passenger uttered these words, or a phrase very close to it, at least five to seven times on a recent hour-long drive home from the Delaware River. She was remarking at the beauty of the landscaping of homes along Route 202—from the large and imposing, to the modest and understated. Her remarks could have easily applied to the colorful dinosaur statuary—yes, dinosaurs—looming over the yard of an antiques business in Bucks County.

No matter the size of the home, the surrounding landscaping and hardscaping can have a dramatic effect on its overall appearance. That's true whether it's a 9,000-square-foot home near Valley Forge or a 1,200-square-foot townhouse in Horsham—or, I suppose, a sprawling acreage in Doylestown where statues of tyrannosaurs, hadrosaurs, and stegosaurs stand.

As it turns out, I'm quite familiar with the changes that come from a thoughtful investment in a home's exterior, courtesy of two summertime home-improvement projects. We recently had our home redone with vinyl siding, and the color we chose—midnight blue—absolutely transformed its look and feel. The same goes for a stone retaining wall to replace a deteriorating timber wall at the back of our driveway. Though neither was inexpensive, both investments were affordable, and we're confident that both will increase the value of our home when and if we decide to sell it. More importantly, both investments have made us happier with where we live. It's difficult to put a number on something like that.

My point is this: It doesn't cost a million dollars to overhaul a home from the outside in. Far from it. For example, next we're training our sights on the backyard by ceding half the lawn to native plants and grasses. I can't imagine we'll spend more than a few hundred dollars on that work, but we expect copious returns: First, we hope to make the backyard more drought resistant; and second, we like the idea of providing more and better nourishment to native species of the critters that share the landscape, from spiders and caterpillars to birds of every feather. It will have the added benefit of giving me less grass to mow. I consider that a win-win-win.

Douglas W. Tallamy deserves credit for the idea. For anyone who does not know his name, Tallamy is a Chester County resident and an entomologist at the University of Delaware. His face and words graced a not-long-ago issue of Smithsonian magazine. For anyone interested in doing something similar, Tallamy has written broadly on the subject; his latest books include Nature's Best Hope: A New Approach to Conservation That Starts in Your Yard and Bringing Nature Home: How You Can Sustain Wildlife With Native Plants.
Published (and copyrighted) in Suburban Life magazine, August 2022.