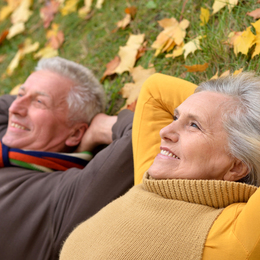 Looking Up
As older adults outgrow the homes in which they raised their families, they turn to life-plan communities for new experiences and help navigating the uncharted territory ahead.
Making a big life change is rarely easy, but it is often necessary. Just ask Raymond and Nancy Rose.
In the fall of 2021, the Roses started giving serious consideration to a change of address. Although they adored their longtime home in Glenside, they realized they might one day need to live somewhere that could help them navigate any changes in their health.

After a fair search, the Roses decided on Rydal Park and Waters in Jenkintown, and moved in at the beginning of this year. While they are only just beginning to explore the many opportunities that come from living in such a community, they have already found plenty to be happy about—among them, the cuisine, the library, and the wellness center. They also like the serenity that comes from living somewhere that will care for them, if and when needed.

"We're going to be here forever, and we're going to be taken care of in whatever condition we are," says Raymond Rose. "We're very comfortable, we don't have to shovel snow, and we don't have to mow the lawn. Our family likes that we're here, too; they don't have to worry as much."

Across the nation, there is no shortage of stories like that of the Roses: older singles or couples who come to the realization that the homes that served them so well for so long no longer suit their lifestyle, either because the homes require too much maintenance, are too large for their needs, or perhaps have too many stairs or other features that seem too much to manage.

In the Philadelphia area, locals have an abundance of options for where to go next—namely, distinguished life-plan communities that enable residents to lead active and engaged lifestyles for as long as possible, with multiple levels of health care.

As the Roses have discovered from their recent move, leaving the family home requires a period of transition. The benefits received in return, however—safety, independence, and peace of mind—tend to make any short-term adjustments well worth the trouble.
Oh, the Places You'll Go
As the following list illustrates, superior life-plan communities pepper Philadelphia and its surrounding suburbs. Residents say they choose their communities based on the healthcare capabilities, the amenities, and the feeling they get when they step foot on the campus. Many say they are surprised by how much their life changes—for the better—once they have explored the campus and engaged with fellow community members.
Acts Retirement Life Communities
Brittany Pointe Estates in Lansdale, Fort Washington Estates, Granite Farm Estates and Lima Estates in Media, Gwynedd Estates in Ambler, Normandy Farms Estates in Blue Bell, Southampton Estates, and Spring House Estates in Lower Gwynedd
actsretirement.org

Arbour Square of Harleysville
Harleysville
arboursquare.com

Artis Senior Living
Huntingdon Valley, Yardley, and Princeton, New Jersey
artisseniorliving.com

Atria Senior Living
Atria Center City in Philadelphia and Atria Lafayette Hill
atriaseniorliving.com

The Attleboro Community
Langhorne
attleborocommunity.com

Brandywine Senior Living
Dresher Estates, Haverford Estates, Longwood in Kennett Square, Senior Suites in East Norriton, and Upper Providence in Phoenixville
brandycare.com

Chandler Hall
Newtown
ch.kendal.org

Cornwall Manor
Cornwall (Lebanon County)
cornwallmanor.org

Dunwoody Village
Newtown Square
dunwoody.org

Elm Terrace Gardens
Lansdale
elmterracegardens.org

Five Star Senior Living
The Devon Senior Living, NewSeasons at New Britain in Chalfont, and Forwood Manor in Wilmington, Delaware
fivestarseniorliving.com

Friends Home & Village
Newtown
fhvpa.org

Garden Spot Village
New Holland
gardenspotvillage.org

HarborChase of Wilmington
Wilmington, Delaware
harborchase.com/harborchase-wilmington

HarborChase of Princeton
Princeton, New Jersey
harborchase.com/harborchase-princeton

The Hearth at Drexel
Bala Cynwyd
thehearthatdrexel.org

Heartis
Warminster and Yardley
heartis.com

Hershey's Mill Villages & Golf Club
West Chester
hersheysmill55plus.com

The Hickman
West Chester
thehickman.org

HumanGood
The Mansion at Rosemont, Rydal Park and Rydal Waters in Jenkintown, and Spring Mill Pointe in Lafayette Hill
humangood.org
IntegraCare
Glen Mills Senior Living, Exton Senior Living, Magnolias of Lancaster
integracare.com
Kendal-Crosslands Communities
Kennett Square
kcc.kendal.org
The Landing of Collegeville
Collegeville
leisurecare.com

The Manor at York Town
Jamison
themanoratyorktown.org

Masonic Villages
Lafayette Hill and Warminster
masonicvillages.org

Meadowood Senior Living
Lansdale
meadowood.net

Merrill Gardens
Arbour Square in West Chester, Eagleview Landing in Exton, Mercer Hill at Doylestown, Merrill Gardens at Glen Mills, The Pinnacle in Plymouth Meeting, Truewood by Merrill in Glen Riddle
merrillgardens.com

Oxford Enhanced Senior Living
Langhorne
oxfordenhancedseniorliving.com

Pennswood Village
Newtown
pennswood.org

Pickering Manor
Newtown
pickeringmanor.org

Pine Run Retirement Community
Doylestown
pinerun.org

Pleasant View Communities
Manheim
pleasantviewcommunities.org

Priority Life Care
Symphony Manor of Feasterville and Independence Court of Quakertown
prioritylc.com

Riddle Village Retirement Community
Media
riddlevillage.com
SageLife
The 501 at Mattison Estate in Ambler, Chestnut Ridge and Plush Mills in Wallingford, Daylesford Crossing in Paoli, Echo Lake in Malvern, and Ovation at Riverwalk in Princeton, New Jersey
sagelife.com

The Solana Doylestown
Warrington
thesolanadoylestown.com

Springton Lake Village
Media
springtonlakevillage.com

Sunrise of North Wales
North Wales
sunriseseniorliving.com

Symphony Square
Bala Cynwyd
symphonysq.com

The Watermark at Bellingham
West Chester
bellingham.watermarkcommunities.com

Waverly Heights
Gladwyne
waverlyheightsltd.org

White Horse Village
Newtown Square
whitehorsevillage.org
Published (and copyrighted) in Suburban Life magazine, August 2022.