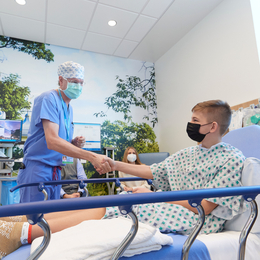 New Kids on the Block
With CHOP and other pediatric providers widening their footprints in the Philadelphia suburbs, local families benefit from having expert care and specialized resources closer to home.
Last winter, Liam Derry was playing basketball in a recreational league. He went for a rebound and, as he came down, landed "funny" on his right leg. He heard a "pop" in his knee, and immediately suspected something was wrong.
Shortly after, his parents rushed him to Children's Hospital of Philadelphia's (CHOP) Urgent Care Center in King of Prussia, located in the same building as the Middleman Family Pavilion—CHOP's second inpatient hospital—which opened in January. Doctors informed the family that Liam had a torn anterior cruciate ligament, and he was referred to Theodore J. Ganley, M.D., the director of CHOP's Sports Medicine and Performance Center. Dr. Ganley scheduled Liam for surgery, which would be the first orthopedic surgery to take place at the new CHOP facility.

Initially, the family didn't know that Liam would be the first orthopedic patient in the new hospital, but when he entered the facility on surgery day, he was met by a big balloon arch and a receiving line of medical professionals.

Jennifer Derry, Liam's mother, says she and her husband, Anthony, rarely venture into Center City. Having to think about navigating traffic and dealing with parking "adds to the exhaustion and emotion" of pre- and postoperative appointments, as well as the surgery itself. "Having this option for us so close to home was ideal for our family," she says.

CHOP's second hospital, as well as expansion efforts from other pediatric providers, represents a significant advantage for families who live in the Philadelphia suburbs. Just one example: Pediatric Care Group P.C., long established in Jenkintown, recently expanded to a second office in Richboro.

For CHOP's part, the organization had been thinking about creating a second inpatient hospital for several years and was waiting for the right timing and location, according to Middleman Family Pavilion Associate Vice President of Operations Cheryl Gebeline-Myers. The main reason: Many families were traveling to CHOP's hospital in Philadelphia from surrounding suburbs, the Lehigh Valley, and beyond.

"We knew there was an opportunity to increase our capacity and see what value we could bring to opening a second hospital," Gebeline-Myers explains. "We already had a presence in the community, and with an increased local pediatric population, we are pleased that the community has embraced CHOP's care."

Parents who live in the surrounding suburbs surely appreciate the convenient location of CHOP's new facility, but Gebeline-Myers suggests their fondness for the new hospital goes way beyond the brick and mortar.

"They have been extremely happy with the staff, who in turn are pleased to be working there," she adds. "The quality of the facility and the quality of the people have made for as close to an ideal patient experience as we can get."

From Dr. Ganley's perspective, local families can get "virtually everything they get downtown [at CHOP's hospital in King of Prussia]. We are extremely fortunate to have such an exemplary team. Every single worker at this site, and throughout the Children's Hospital system, gives something extra to help each and every child."

Liam Derry, now an eighth grader, has done well after his surgery. He went for physical therapy twice a week for several months to build back his leg strength. He has done so well that he hopes to be cleared for winter basketball, and he looks forward to getting back in the game after nearly a year on the sidelines.

Liam started playing baseball when he was five years old, basketball at age seven, and organized football at age nine. When he was unable to take part in sports, Liam says he kept his spirits up by watching YouTube and TikTok, playing video games, and hanging out with his friends at the pool; he was still able to swim.

"For my four-month postoperative appointment, [Dr. Ganley] said I was on my way to a good recovery," Liam recalls, "but patients like me keep him up at night because he wants the best for us and is afraid that we might reinjure ourselves."

Now that he's on the mend, Liam has some advice to share with future pediatric patients who will have to contend with some of the same challenges he endured since his injury: "Keep your spirits up, let yourself heal, and appreciate the support from your family and friends.

"And listen to your doctor," he adds. "Your doctor wants the best for you, and wants you able to safely play sports or your other activities again as soon as possible."
Reaching Out
Injury and sickness are an inevitable part of growing up. In the Philadelphia, sick and hurt children benefit from an abundance of resources provided by health networks that offer comprehensive care, but also from those that specialize in pediatrics, many of which continue to expand their reach into suburban communities.
Advocare Main Line Pediatrics
Malvern and Narberth
advocaremainlinepeds.com
Children's Hospital of Philadelphia
Multiple locations
chop.edu
Lehigh Valley Reilly Children's Hospital
Multiple locations
lvhn.org/lehigh-valley-childrens-hospital
Nemours Children's Health
Multiple locations
nemours.org
Pediatric Care Group
Jenkintown and Richboro
pcgkids.com
Shriners Children's Philadelphia
Philadelphia
shrinerschildrens.org
St. Christopher's Hospital for Children
Philadelphia
towerhealth.org
Tri-County Pediatrics
Multiple locations
tricountypeds.com
Photo courtesy of CHOP
Published (and copyrighted) in Suburban Life, September 2022.