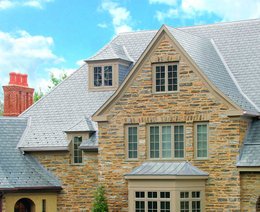 A Cut Above
Krumins and Moran Roofing has become a top choice for enhancing homes in the Philadelphia region
Nancy Arena's two-story home in Jenkintown is 100 years old. It was built long before "South Pacific" hit Broadway and just before Titanic hit an iceberg in the North Atlantic.
And much like the maiden voyage of the ill-fated luxury liner 99 years ago, the old home began taking on water last fall. Its aging roof was comprised of deteriorating cedar shake shingles and had no supporting plywood beneath it. When it began leaking near the dormers and several other problem areas, Arena was faced with a choice.
"I could either spend a small fortune to repair my old roof or bite the bullet and get a new roof," Arena says.
She decided to bite the bullet, and her cheers of satisfaction from having hired Fort Washington-based Krumins and Moran Roofing LLC to perform the work have echoed like a shot heard 'round the world.
"Hiring them was the best thing I could have done," she says. "I decided to go with asphalt shingles this time. The leaks have stopped, the roof looks great, and the price was fantastic. … I couldn't be more pleased about how friendly and helpful the workers were. They answered all my questions to my satisfaction, and even took some of my suggestions as to where I thought the leaks were coming from.
"When I called Krumins and Moran, I couldn't have made a better choice."
Whether the home-improvement project is a new roof and gutters or new siding, Krumins and Moran Roofing is equipped to handle it all. Co-owners Richard Krumins and Dan Moran rely on their combined 45 years of experience to satisfy customers throughout the greater Philadelphia region regardless of the size of the project.
"Our No. 1 goal is a commitment to please our customers," Moran says of his 20-employee company. "If the customer is happy with our work and price, they're probably going to call us again, and so will their neighbors.
"Because we follow this approach, we get plenty of referral business that helps keep our business healthy. And because of that, we don't need to gouge a customer to make a profit."
For example, Krumins and Moran Roofing recently completed work on a roof on which the homeowner was initially quoted a cost of $150,000 by a competing roofing company. Using the same quality materials, Krumins and Moran did the job for significantly less.
"Since we buy materials in bulk, we're always willing the pass the savings along to our residential customers," Moran says. "A lot of roofers out there look to get astronomical sums to do roofs, almost to the point where it's highway robbery. That's not us."
Superior Choice
Krumins and Moran Roofing uses only the highest quality materials, guaranteeing customers first-class workmanship that is also aesthetically pleasing.
Much of the roofing material Krumins and Moran Roofing uses comes from IKO, a global leader in the manufacture and supply of asphaltic and bituminous waterproofing products. The shingles are available in many popular styles and colors.
"IKO is a heavier asphalt shingle, and the company offers a better warranty than its competition," Moran says. "They also have a new designer shingle that really stands out called Royal Estate. It's an asphalt shingle made to imitate a cedar shake shingle."
Although 90 percent of Krumins and Moran Roofing's roof-replacement business is asphalt shingles, it also installs other types of shingles such as wood, tile, slate and metal.
And for customers looking for the eye-catching appeal of a slate roof, but not keen on paying its high-end price tag, Krumins and Moran Roofing offers imitation slate shingles.
"It's a composite slate shingle made to replicate slate," Moran says. "It comes in different colors and sizes, and it has a 50-year warranty. It looks so good and lasts so long you wouldn't know it's not slate."
Krumins and Moran Roofing also offers a wide selection of gutters, including those with new heavy-duty gutter hangers that help prevent sagging and ripping down from heavy ice and snow. The gutters, invented in Europe and sold in the United States in only the past few years, are available from low-end aluminum to high-end copper.
"They are superior to anything else on the market," Moran says, "and can really help customers save on repair bills from problems caused by other types of gutters."
'An Honest Way'
Krumins and Moran Roofing also installs siding in an array of colors and materials, including vinyl and fiber cement.
"Nobody uses aluminum siding anymore," Moran says. "People mostly use vinyl—it's 90 percent of our siding business—because it's economical. But we also carry shake panels made of vinyl that look like cedar siding or have a colonial beaded look. Fiber cement is a step up from vinyl. It looks like a straight cedar panel, but it's cement, and it's impervious to insects and rot."
For the energy-conscious consumer, Krumins and Moran Roofing also carries insulated vinyl siding. "Siding prices have remained fairly stable," Moran says. "In fact, there are so many manufacturers that the price sometimes goes down."
Krumins and Moran Roofing is truly a locally owned family business, with the principals following in the footsteps of their respective families' patriarchs. Krumins grew up in Buckingham in Bucks County, and Moran was raised in Horsham in Montgomery County.
"The more fairly that we treat customers, the more they'll come back to us for future business," Moran says. "It's just an honest way of doing business."
Krumins and Moran Roofing LLC
Fort Washington
215-540-5599
Phil Gianficaro is an award-winning writer based in Doylestown.
Photography by Rob Hall