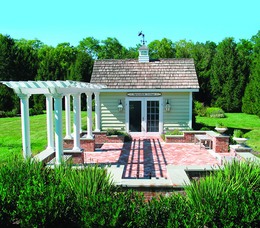 Life's Escape!
Homeowners turn to Rolling Green Landscaping to make the most of their outdoor living spaces
Now more than ever, homeowners are choosing to make their outdoor living spaces just as important as their indoor ones—and they're turning to Bucks County-based Rolling Green Landscaping to do it.
For more than 30 years Rolling Green has been earning its reputation as one of the area's premier full-service "design, build and maintain" firms. In a region known for having its share of landscape companies, Rolling Green has set itself apart by creating uniquely crafted environments. Professional and customer-service driven, Rolling Green has assembled a dedicated team of professionals, some of whom have been with the firm for more than 20 years. Today the company's team includes horticulturists, designers, craftspeople and dedicated field personnel who all are passionate about the landscapes they create.
With its seasoned team and vast resources, Rolling Green can give clients exactly what they might envision for their properties … and then some. The company's expertise includes but is not limited to landscape planting, outdoor fireplaces, custom fencing, pergolas and trellises, ponds or other water features, various types of theme gardens, outdoor lighting systems, irrigation systems, decks, walls, walkways, and custom maintenance of those installations for the discerning client.
When the company first began performing work on area homes more than three decades ago, it did most of its work within a few miles of its headquarters. It has since expanded its service area to a radius of 50 miles—or more if necessary. Every year the company works on renovations and new-construction projects, ranging from the small, intimate settings to extensive, elaborate outdoor escapes.
Design, Build and Maintain
Rolling Green designers go into each project with aesthetics in mind, but they also make sure the project's materials will show a seamless blending of beauty with functionality. Senior designer Erik Freeman, who earned his degree in ornamental horticulture and landscape design, uses computer-aided design to illustrate projects for clients to show exactly how the firm's work will complement and enhance other elements of the property.
"Before submitting our recommendations," says Freeman, "we ask ourselves: First, will it look great throughout the season and, second, given the proper care, will it stand the test of time?"
"Most people spend much of their workday inside, so when they go home they want to be outside," says Paul Rosenberg, owner of Rolling Green. "People are realizing that the outside [of a home] is just as important as the inside, and what we strive to achieve is to make their outdoor space an extension of the inside."
In today's world, people are moving less often, so they're finding it more important to invest in and update their homes to match how they're living today, according to Dominic Varallo, Rolling Green's director of operations. "We factor the hopes, dreams, lifestyle and budget of the client into every project," he says. "We analyze the site, the home and design so that the home and the outdoor space complement each other. An outdoor environment must showcase the architecture of the home, highlight its best features and bring out its character."
When a homeowner makes an investment like this one, he or she wants to maximize its uses.
"It's not just adding new shrubs and mulching the beds; this is about a style of living," says Rosenberg. "A properly planned exterior can completely transform the home. For example, by adding fireplaces and other elements we can extend the season of these outdoor living spaces. We want our clients to be able to sit outside in the autumn when the trees are changing and enjoy that season as well."
"Extended outdoor living is something of a new phenomenon, so sometimes we'll be working on a property that hasn't been sufficiently updated for many years," says Varallo. "We enjoy the transformation."
And, to say the least, so does the homeowner.
"It's nice to have a whole new palette to work with; we love new construction and new design, but a lot more clients turn to us for renovation work," says Freeman. He recalls one job the company won, which another firm had started. It was to include a pool complete with ornate hardscaping, among other design elements. After the homeowner had had a bad experience with the previous contractor, Rolling Green had to earn the homeowner's trust—which it did—and ultimately completed a totally new outdoor room for the client.
"We will work with our clients to make their vision a reality," Rosenberg says. "We don't expect them to do everything all at once; phase work is no problem whatsoever, and in many cases it makes sense to do it that way. … What it comes down to is that we're seeking long-term relationships with our customers, whether it's a project that spans multiple years or ongoing maintenance of their property.
"We've been in this business for 30 years, I think our 30-year track record speaks for itself," he adds. "I believe the keys to our success are my employees and the relationship with our clients. They are the reason we are where we are today."
And they're also the reason why so many homeowners throughout southeastern Pennsylvania and parts of New Jersey are spending a lot more quality time outdoors these days.
Rolling Green Landscaping
3228 York Road, Furlong
215-794-1600
RollingGreenLandscaping.com
Jennifer Updike is a freelance writer based in New Hope.