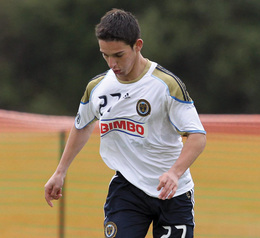 Kick Start
Dresher's teen soccer star Zach Pfeffer takes his best shot
He's an athletic prodigy who, in the way, represents the future of the world's most popular sport. He also just wants to be a normal teenager.
His name is Zach Pfeffer, a 16-year-old student at Upper Dublin High School and, more famously, newly signed midfielder for Major League Soccer's Philadelphia Union. Unlike most teens, however—and many adults, for that matter—he has already traveled far afield, and he's probably the first person his age to spend weekday afternoons making a soccer ball bend to his will on the perfectly manicured turf of the Union's home stadium, PPL Park in Chester.
"I've seen different countries, different states within our country—places that many adults may not even have the chance to see," says a composed and well-spoken Pfeffer. "That's definitely one thing that all of this—playing soccer all my life, and now playing professionally—has definitely given me. It's nice that I get a little culture in me, too."
In other words, Pfeffer is a nomad in a part of the world known for its natives staying put. His passport bears the stamps of countries such as Argentina, Colombia, Italy, Germany, Greece, etc., and he'll continue to travel with the team to other U.S. cities with MLS teams of their own.
"I've definitely been able to see some very interesting things," he says, however understatedly. "It's good to have diversity."
Despite his age and smallish stature, he bears the heavy weight of expectations as one of the youngest players ever to sign an MLS contract; he's also the first player to join the Union through the MLS Homegrown Player initiative, a 2006 program designed by the league to cultivate opportunities for local players. Although he hadn't yet seen action in a regular-season game as of press time, Pfeffer expects to be a major part of the squad going forward.
"My strengths are my skill on the ball and my technical ability, especially being a smaller guy," he says. "That's important since I'm not going to be able to necessarily outmuscle or outrun some of the bigger, stronger guys. I'm going to have to make sure I think quicker and I'm cleaner with the ball. … I just love spending time with the ball, a few hours every single day. In my opinion you can never touch the ball too much. It's not hard work for me."
Getting Acclimated
As Pfeffer has learned, rather quickly, competing against men who earn a living as professional athletes is much different than deking the ball around even the most skilled teenaged players. He has had to endure some minor trials in his early career, but he believes he's a better player—and a better person—because of it.
"The level of play [in MLS] is a lot faster," he says. "Everything requires you to think a lot faster, play a lot faster. You can't take as many touches as you normally would in the youth ranks. You just have to be smart about it—know when to take those touches, when to pass, when to move off the ball, where to go, where to find the space. … The biggest difference is the physicality part. It's something I have to get used to, but I've been acclimating myself.
"I still get joked around a bit once in a while, pushed around a bit," he adds. "I'm going to be the young guy still for a few years, and I think it's important for them to knock me around a little bit and make me stronger."
Soccer doesn't consume all of his time, however. Aside from his rapid ascension to professional status even before earning his driver's license—"Hopefully in July," he says—and having people look at him just a little differently, he has tried to keep from growing up too quickly. He continues to take morning classes at Upper Dublin, making up the balance of his studies through online sessions.
"I see my friends on the weekends, and I still get to spend quality time with my family," he says. "There are some kids that maybe give me a little more respect or look at me [in a different light], but when I go back to my friends I still like to be regular Zach. And I don't want to change that."
Despite his talent and his rise to celebrity, Pfeffer remains down to earth and quick to credit others for his success—namely, his family: "My parents have sacrificed so much for me and my brother [Jared, who plays for Zach's former club, FC Delco], going to different tournaments every weekend. They have to give up a lot of their personal life. Instead of going out with another couple to dinner, they have to spend time driving me and my brother around. I can't thank them enough, and I wouldn't be where I am without them."
Pfeffer anticipates a successful year with the Union, which he describes as having "a great chemistry in the locker room on and off the field." Although he doesn't like to look ahead too much, eventually he wouldn't mind playing on soccer's grand stage: international play.
"The most important thing is to make sure I do well here," he says. "I'd like to move on to Europe in the foreseeable future, and I'd also like to represent the national team, continue to stay in the youth ranks, and if it's possible move on to the senior team. The Union is doing well in Philadelphia, and hopefully I'll be able to be a top player here in the next few years, and that's my first priority.
"Then, if that happens, hopefully everything else will fall into place."