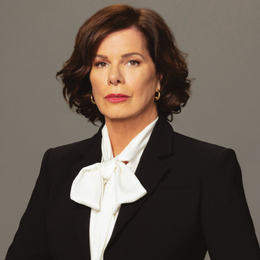 Animal Instincts
"Mama Bear" Marcia Gay Harden captures hearts in her latest film and TV projects.
Marcia Gay Harden has won plenty of hardware in her more than four decades working in film and television. She is perhaps best known for her Oscar-winning role in the 2001 movie Pollock, along with roles in Mystic River, The First Wives Club, The Mist, and Mona Lisa Smile.

More recently, in the movie Gigi & Nate, Harden portrays Claire, a tough-but-nurturing mom devoted to her son Nate (Charlie Rowe), who becomes a paraplegic after a freak accident. Nate finds hope through his devoted family, as well as a mischievous capuchin monkey who becomes his service animal. The movie is about triumph over tragedy, resilience, and never giving up, despite seemingly insurmountable odds.

Harden has also enjoyed a prolific career on the small screen, including her role in a new CBS comedy called So Help Me, Todd. The series is about an attorney (Harden) who helps her aimless son, Todd (Skylar Astin), get his life back on track.

Both projects—Gigi & Nate and So Help Me, Todd—revolve around things that are near and dear to Harden's heart: family and connection. We spoke with her about her own family, how to get past tragedy, and her experience working with a "diva" capuchin monkey.
Q&A
How did you relate to your new movie, Gigi & Nate?
I have experienced tragedy, and to see this family triumph during the darkest of days was truly inspiring. Every day there are traffic accidents and accidental deaths and, in one second, the world shifts. I liked the way Claire was strong, sometimes unlikeable. I loved Charlie Rowe, who played Nate, and the mother-son relationship. I know I'd be a mother bear for my kids.
What was the relationship between you and Gigi, the monkey?
I had interactions with Gigi, whose real name is Allie. I will tell you that she is a real diva. In the beginning, she didn't quite know what to do, but by the end of the filming, she fully knew how to act. She would come to the set and look through the camera for her close-up. She was better lit and she had more screen time than any of the rest of us. I loved her. She was just completely emotional and empathic. These animals are in the moment, and you have to be in the moment with them. … It was astonishing to see the level of cognition and connection up close because we usually don't get to be that close to them.
What were the life lessons that you took away from this movie?
I think the spirit of Nate, Claire, and this family is about never surrendering. It's about asking ourselves, "In the worst possible situations, what do people do?" I believe that's what character is all about; I think it's about looking on the positive side. Claire is all about recovery and helping her son find something meaningful in his life after tragedy upended it. I think Gigi & Nate is about wanting to move heaven and earth for your loved ones, especially your children, because that's love. Also, the movie highlights the values of friendship and kindness.
How did you kind of get into the headspace of Margaret in your new TV show, So Help Me, Todd?
In So Help Me, Todd, my character has to learn how to work with her son and her daughter. First of all, no matter what you do there are going to be similarities to you and you're going to find things you relate to. I relate to the fact that she wants the best for her kids, but she's probably a little bit strident at times. I am definitely a "mama bear" when it comes to my children.
Can you talk about the importance that family plays in your life?
I think both of my recent projects are about connection and family. They are both about people that we recognize, and about the value of love within a family. We can be incredibly separated. People move all over America, families can be very distant. Families are also troubled. They are about people you don't necessarily want for a Thanksgiving meal every Thanksgiving, but you do. I think I would say to my kids, "Listen, I don't care if you fall in love with a giraffe, just bring that giraffe home for Thanksgiving. [Laughs]. That's all I care about. I just want all of us to be together."
Published (and copyrighted) in Suburban Life, October 2022.