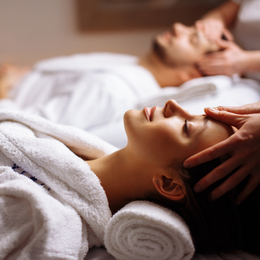 Beauty Spots
Investing in self-care services from local practitioners can improve the mood, boost self-confidence, and stimulate positive change. 
"Self-care is health care," as the saying goes. There's a lot of truth in those few words, because if we are not looking and feeling well, how can we expect to do go about our lives with power and precision?

If any good came out of the pandemic, it's that it opened up many people's eyes to the fact that they had been neglecting to properly care for themselves for far too long. Previously, people often felt guilt over taking the time to get a manicure and a pedicure, or go for an hourlong massage, or invest in an at-home skincare regimen. For most, that's no longer the case.

"Me time" includes any number of ways in which to self-improve, from the complex and costly, to the simple and cost-free. One person might decide that a face-lift or body-shaping procedure is the best way to make them feel better about themselves. Another might decide on a vastly different path, such as changing their morning routine by taking a walk through a neighborhood park.

For anyone looking for some self-improvement suggestions, here are 11 worth the investment of your time.
* Feeling stressed or tight or imbalanced? Make a beeline for 1859 Wellness Spa and Salon in Manayunk for a soothing, serene environment that puts the world's many ills out of mind, at least for a little while. The spa offers an array of massage options, among other self-care services, each designed to put the mind and body at ease. 1859wellness.com
* Aging may be a part of life, but it doesn't mean we have to get old. The anti-aging clinic and medical spa 4Ever Young—coming soon to Newtown—specializes in preventive-health solutions, offering various treatments designed to "unlock vitality" at every stage of life. 4everyoungnewtownpa.com
* Go for a world-class cut and color at Huntingdon Valley's BLue Hair Studio and you're likely to find much more than meets the eye. Founder Will Bostock has fostered a culture of care and kindness, where everyone feels not only that they belong, but also that they matter. Depending on when you go, you might also benefit from some unexpected amenities, such as live jazz. bluehairstudio.com
* Warminster's Brows by Bree & Company offers expert brow tattooing, lip tinting, and other
permanent makeup solutions to enhance clients' natural beauty and self-esteem. Considering removing a tattoo that no longer suits you and your lifestyle? That's one of Brows by Bree's many other areas of specialty. browsbybree.com
* Led by Imran Amir, M.D., City Dermatology Skin Institute has an arsenal of energy-based devices and other "tools in the toolbox" to help patients undo the aesthetic damage caused by stress, the elements, and age. The practice, which has offices in Bensalem and Warminster, can solve any dermatologic need, whether someone hopes to restore lost facial volume, regain a youthful glow, or address a serious ailment that afflicts the skin. cityderma.com
* Connolly Dermatology, which has locations throughout southeast Pennsylvania, Delaware, and South Jersey, offers an abundance of cosmetic treatments tailored to each patient's rejuvenation goals. In-house treatments include neurotoxins such as Botox, dermal fillers such as Juvéderm, and chemical peels, and the practice has also developed a line of medical-grade, cost-effective skincare products to help patients maximize their results with at-home regimens. connollydermatology.com
* Davis Cosmetic Plastic Surgery specializes in surgical cosmetic solutions such as face-lifts, breast augmentations, and abdominoplasty, as well as nonsurgical procedures such as dermal fillers, "liquid facelifts," and skin-tightening treatments using energy-based devices. It's also among the first to offer novel treatment options; the practice's founder, Steven L. Davis, D.O., FACOS, works closely with manufacturers of injectables and energy-based devices to bring new modalities online. daviscps.com
* Bryn Mawr's Jude Plum Co. has the look and feel of a traditional high-end air salon, but it's so much more. In addition to cutting, styling, and coloring, among other usual salon trappings, Jude Plum specializes in natural wigs and hair pieces to help women and men cope with transitional hair loss resulting from cancer treatment and other issues that cause hair loss. judeplumsalon.com
* Meeting Point Health in Manayunk takes a "whole-body integrative approach" to improving patients' health. For example, an on-site infusion suite provides healing therapies such as intravenous ozone, an oxygen treatment with antimicrobial and immune-modulating benefits, and antioxidants to address chronic infection and chronic toxicity. In everything it does, Meeting Point Health aims to help each patient achieve his or her full potential—physically, mentally, emotionally, and spiritually—in a one-of-a-kind environment. meetingpointhealth.com
* At Modern Aesthetic Plastic Surgery, Robert Skalicky, D.O., leads a group of surgeons, aesthetic injectors, and skincare experts who combine their talents to offer patients a comprehensive approach to addressing their needs. It's a holistic practice, meaning if surgery is not the right fit for a patient, another practitioner can provide minimally invasive procedures such as dermal fillers and neuromodulators to achieve their goal. modernaestheticplasticsurgery.com
* Bucks County-based WETHRIVV® has quickly become a force in the realm of aesthetics and skin care. The company began its journey by providing post-procedure face masks to aesthetics clinicians as a way to soothe patients' skin and assist in their recovery. It has since introduced at-home treatments under the Maskad® brand designed to improve skin health and appearance, as well as a topical drug-free serum to promote hair growth under the Revivv® brand. wethrivv.com | maskad.co | revivv.co
Published (and copyrighted) in Suburban Life magazine, October 2022.