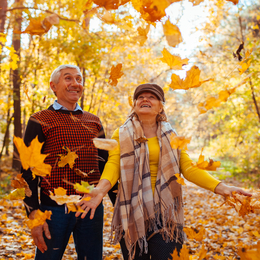 Life Without Compromise
Older adults eager to downsize or "right-size" have an abundance of five-star options.
When folks of a certain age decide it's time to leave the family home and downsize, or "right-size," to a cottage or apartment at a nearby retirement community, it's natural to have conflicted feelings. Many say the experience fills them with profound regret.

While such a move requires a period of adjustment—adapting to new surroundings, new people, new schedules, etc.—the regret usually has less to do with the change of scenery, but more to do with the fact that they wish they had made the change sooner. Most tend to describe their new lives as "addition by subtraction." They could have had more time free of the hardships and headaches associated with home ownership, like "spring cleaning" as the weather begins to warm, mowing the lawn in the heat of summer, raking leaves and clearing the gutters in autumn, and shoveling snow in the winter.

As we get older, a change of address is often a matter of necessity, either because of a noticeable shift in one's health or the loss of a loved one. Others do so out of a profound desire to "reignite the fire" by developing new hobbies and friendships. The happiest residents say it's best to start interviewing prospective communities—many of which are akin to five-star hotels, with lushly manicured campuses to match—long before a move becomes necessary so they can enjoy the benefits for as long as possible.

Most residents tend to get involved in their new community, including helping to make the decisions that dictate a community's direction—everything from changes in dining options to novel programs offered in the fitness/wellness center to the offerings of a new library/media center to the color scheme of a renovated community center. Most communities welcome such engagement; in fact, if a resident is interested in a particular club or hobby that a community does not yet offer, administrators tend to support the resident in starting it on their own.

In the Philadelphia area, five-star continuing care retirement communities (CCRCs) and life-plan communities enable their residents to lead active, engaged, and inspired lives for as long as they possibly can, with multiple modes of health care, when and if the time comes.
The Stars Align
Most older adults say they decide where to call home based on the combination of a few important factors: a community's healthcare capabilities, the breadth of amenities, and how the campus and its residents make them feel—i.e., do they feel safe, does the community give them a warm and welcoming feeling, etc.

The location certainly helps, too, as residents often choose to stay close to family and friends. While many residents say it's essential to maintain connections with the "outside world," they usually say they are amazed by how much their life improves once they become familiar with the campus, join community groups, and engage with their fellow residents.

Older adults have an abundance of choices in terms of where to call home. Following are some of the area's finest communities known for prioritizing residents' safety, independence, and peace of mind. We acknowledge that there are many exceptional CCRCs and life-plan communities in the Philadelphia, not all of which are included here.
Acts Retirement Life Communities
Brittany Pointe Estates in Lansdale, Fort Washington Estates, Granite Farm Estates and Lima Estates in Media, Gwynedd Estates in Ambler, Normandy Farms Estates in Blue Bell, Southampton Estates, and Spring House Estates in Lower Gwynedd
actsretirement.org

Arbour Square of Harleysville
Harleysville
arboursquare.com

Artis Senior Living
Huntingdon Valley, Yardley, and Princeton, New Jersey
artisseniorliving.com

Atria Senior Living
Atria Center City in Philadelphia and Atria Lafayette Hill
atriaseniorliving.com

The Attleboro Community
Langhorne
attleborocommunity.com

Brandywine Senior Living
Dresher Estates, Haverford Estates, Longwood in Kennett Square, Senior Suites in East Norriton, and Upper Providence in Phoenixville
brandycare.com

Chandler Hall
Newtown
ch.kendal.org

Cornwall Manor
Cornwall (Lebanon County)
cornwallmanor.org

Dunwoody Village
Newtown Square
dunwoody.org

Elm Terrace Gardens
Lansdale
elmterracegardens.org

Five Star Senior Living
The Devon Senior Living, NewSeasons at New Britain in Chalfont, and Forwood Manor in Wilmington, Delaware
fivestarseniorliving.com

Friends Home & Village
Newtown
fhvpa.org

Garden Spot Village
New Holland
gardenspotvillage.org

HarborChase of Wilmington
Wilmington, Delaware
harborchase.com/harborchase-wilmington

HarborChase of Princeton
Princeton, New Jersey
harborchase.com/harborchase-princeton

The Hearth at Drexel
Bala Cynwyd
thehearthatdrexel.org

Heartis
Warminster and Yardley
heartis.com

Hershey's Mill Villages & Golf Club
West Chester
hersheysmill55plus.com

The Hickman
West Chester
thehickman.org

HumanGood
The Mansion at Rosemont, Rydal Park and Rydal Waters in Jenkintown, and Spring Mill Pointe in Lafayette Hill
humangood.org

IntegraCare
Glen Mills Senior Living, Exton Senior Living, Magnolias of Lancaster
integracare.com

Kendal-Crosslands Communities
Kennett Square
kcc.kendal.org

The Landing of Collegeville
Collegeville
leisurecare.com

The Manor at York Town
Jamison
themanoratyorktown.org

Maplewood at Princeton
Plainsboro, New Jersey
maplewoodseniorliving.com
Masonic Villages
Lafayette Hill and Warminster
masonicvillages.org

Meadowood Senior Living
Lansdale
meadowood.net

Merrill Gardens
Arbour Square in West Chester, Eagleview Landing in Exton, Mercer Hill at Doylestown, Merrill Gardens at Glen Mills, The Pinnacle in Plymouth Meeting, Truewood by Merrill in Glen Riddle
merrillgardens.com

Oxford Enhanced Senior Living
Langhorne
oxfordenhancedseniorliving.com

Pennswood Village
Newtown
pennswood.org

Pickering Manor
Newtown
pickeringmanor.org

Pine Run Retirement Community
Doylestown
pinerun.org

Pleasant View Communities
Manheim
pleasantviewcommunities.org

Priority Life Care
Symphony Manor of Feasterville and Independence Court of Quakertown
prioritylc.com

Riddle Village Retirement Community
Media
riddlevillage.com

SageLife
The 501 at Mattison Estate in Ambler, Chestnut Ridge and Plush Mills in Wallingford, Daylesford Crossing in Paoli, Echo Lake in Malvern, and Ovation at Riverwalk in Princeton, New Jersey
sagelife.com

The Solana Doylestown
Warrington
thesolanadoylestown.com

Springton Lake Village
Media
springtonlakevillage.com

Sunrise of North Wales
North Wales
sunriseseniorliving.com

Symphony Square
Bala Cynwyd
symphonysq.com

The Watermark at Bellingham
West Chester
bellingham.watermarkcommunities.com

Waverly Heights
Gladwyne
waverlyheightsltd.org

White Horse Village
Newtown Square
whitehorsevillage.org
Published (and copyrighted) in Suburban Life magazine, October 2022.