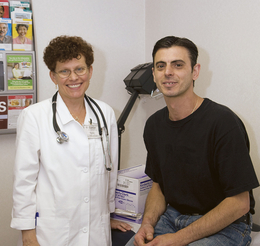 Assuring the Uninsured
The helping hands at Southampton's HealthLink aid local workers without insurance
Sometimes it seems that those who work the hardest just can't catch a break.
Take the woman with diabetes who earned a $1-an-hour pay increase, which made her ineligible for Medicaid and, therefore, unable to afford the insulin she needs to survive. With her husband having been laid off recently, her $11-an-hour salary means they and their three-year-old child must live in a shelter.
This is just one example of someone who benefits from the vital services offered by HealthLink Medical Center. For the past 10 years, the Southampton-based free clinic has been providing medical and dental care to working yet uninsured adults in Bucks and Montgomery counties. Even part-time workers are eligible.
"When people hear 'clinic,' they think 'very poor,'" says Jessie Marushak, development coordinator for HealthLink. "But think about who's selling you your life insurance or making your pizzas. … We serve adults who fall through the health-care cracks. They make too much to qualify for Medicaid and earn too little to afford the cost of private health insurance."
HealthLink, which is a private nonprofit staffed by more than 70 volunteers, was founded in March 1999 by Eugene Jackson, a philanthropist and co-founder of health-care publishing firm Springhouse Corp. It now includes a full dental clinic, and recently benefited from the services of a volunteer chiropractor. Although many local hospitals "take turns doing our labs," according to Marushak, HealthLink also has a lab of its own so patients' blood can be drawn on site.
Furthermore, every six weeks, pharmacy students from Temple University rotate in to help dispense drugs.
"If a patient is on seven meds," Marushak says, "even at $4 a month for each [prescription] at Walmart, our clients can't afford that."
HealthLink's staff and volunteers also apply to pharmaceutical companies for free prescriptions or receive grants through Teva and Merck to help buy medications. (To donate, volunteer or apply for services, go to HealthLinkMedical.org.) Staff will often refer patients to local hospitals and "run interference" where needed, according to Marushak. HealthLink also provides preventive care, she adds: "We are trying to keep people out of the emergency room."
With the state eliminating the low-cost health plan adultBasic in February, HealthLink anticipates an influx of clients, making its 10th anniversary celebration on April 29 (see sidebar) crucial in raising additional funds.
Over the past 10 years, HealthLink has accomplished the following:
• Provided lifesaving medical and dental exams to more than 33,200 patients
• Dispensed $4.7 million in free medications to hardworking adults
• Tallied 54,000 service hours, valued at $2.5 million, through volunteers
"We're streamlining projects and tightening our budget," Marushak says. Even scheduling presents challenges given the site's tiny parking lot, she adds. Even so, in the span of a single year—from 2009 to 2010—HealthLink saw patient visits grow by 64 percent, with no end in sight.
Maria Martino Evans is a writer and PR professional in Pipersville.