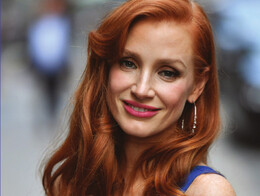 Pushing the Envelope
Following her Oscar win earlier this year, Jessica Chastain stays busy portraying strong-willed women in a slew of interesting projects.
It's been a complete whirlwind of a ride for Jessica Chastain in the past decade—three Oscar nominations, one win, a marriage and having two children with her husband. But nothing has helped keep her feet on the ground more than her saying that she remembers how fortunate she is to be where she has gotten—regardless of the speed with which it has happened—every day of her life.
After her first TV appearance in the long-running drama ER, the Sacramento native had bit parts in a host of programs such as Veronica Mars, Law & Order and the miniseries Blackbeard. Then, in 2011 came her successful audition for the role of Mrs. O'Brien in the Terrence Malick film The Tree of Life, with big hitters Brad Pitt and Sean Penn.
Al Pacino recommended her to Malick after he had handpicked her to play opposite him in Salome, and it was Chastain's announcement to the acting world. In 2012 came her first Academy Award nod for her supporting performance in The Help with Emma Stone, Viola Davis and Octavia Spencer (who picked up the Oscar), and in 2013 she was nominated for best actress in Zero Dark Thirty, alongside Joel Edgerton and Chris Pratt, among others in the strong cast.
The biggest directors have all wanted the redhead in their movies, with appearances in Guillermo Del Toro's Crimson Peak, Christopher Nolan's Interstellar and Ridley Scott's adaptation of the Andy Weir novel, The Martian. Franchises have since followed, including Marvel's Dark Phoenix and It Chapter Two.
In 2021, the actress was busy. She starred alongside Ralph Fiennes in The Forgiven, and was brilliant in the biographical drama The Eyes of Tammy Faye, for which she won the Oscar. At the start of this year she returned in the COVID-delayed The 355, in which she plays Mason Brown, a wildcard CIA agent who teams up with other international agents to recover a top-secret weapon.

Now she fronts Armageddon Time, a coming-of-age drama about growing up in Queens in the 1980s, then rallies as Tammy Wynette in the television series George & Tammy, which will air on Paramount+ and details Wynette's romance with George Jones, played by Michael Shannon.
It seems that each project that evolves represents very much a forward-thinking move for the 45-year-old, who says she is free of mother- hood's grasp for just long enough to get her teeth into arguably her most diverse range of projects yet.
Q&A
You seem to have moved away from scary films and more into a broader range of genres and subjects. Is that a conscious move?
Well, I love scary movies and I have done three that I would rate in that way—Crimson Peak, Mama and It. I find that the female characters in them are so good and, by the way, they are usually the ones at the end who survive [laughs]. We face the monsters, and we live at the end. But it's more fun when you are the one doing the scaring than the one being scared.

I think bridging that strong female theme into Maryanne [Trump, in Armageddon Time] and Tammy is another extension well beyond the basics of action. I don't think you will find any actor inspired by a character who isn't strong and powerful. You need that energy to be able to invest energy back into the project, and I think in every character I have that.
Tammy Wynette certainly represents strength. She stood out in a genre that was almost overrepresented by incredible artists who had incredible exposure. What I think is interesting is how the genre has evolved into new artists and sounds, yet those singers who epitomized the old sound, as you might call it, are still as popular and respected as ever. In a way they don't sound dated, just captured in time, and I think a lot of that is down to the strength of their personalities, and Tammy was right up there in that regard.
It must be strange researching someone for a role who, ultimately, because of popular culture, you already know so much about. I think the angle you need to take is not what you know, but what you don't know. It's not the public perception, it's the private character; so in that respect there is a whole new story to tell, and that's what plays out in the series.
Do you actively seek intrepid and strong-willed female characters?
I do now. I want to be able to play characters that will represent women as leaders and fighters. For too long women have not been given the place that we deserve in terms of our contribution to society and our role in history. We also need to be shown in many different lights—as caring and loving individuals in addition to being intelligent and creative.

I get tremendous satisfaction from playing women who push the envelope and fight for their place and recognition in society. We need to keep telling those kinds of stories to inspire young women to aspire to great things.
In your own way, do you want to inspire other women by helping make films and playing characters that tell powerful female-driven stories?
It's not my intention to preach or lecture anyone. But I do feel an obligation to contribute something to society and to create or be part of projects that create discussion. I feel very fortunate to be where I am and to be in a position where I can get certain kinds of films made and I really hope to be able to inspire people and generate conversation about many different issues. I also believe in the need to speak up when necessary and I want to participate as much as I can in helping raise awareness and defend people's rights.
You've been in a very privileged position, for a number of years now, to be playing so many interesting female characters at a time when women are clamoring for greater participation in the film industry.
I've been very lucky. I have always had the opportunity to play interesting women and to be directed by great male directors and female directors. I don't think there is any difference between men and women behind the camera, nor does the skill required have anything to do with one's sex.

Everyone in the business knows that Kathryn Bigelow, who I did Zero Dark Thirty with, is one of the best directors around and no one would even think of adding, "and she's a woman." It's not an issue.
The same goes for Liv Ullmann (Chastain's director in Miss Julie), who is so extraordinary and creative. As someone who enjoys watching movies a lot, I feel that there is definitely a need for a greater presence of women in the movies. There should be many more stories revolving around women and certainly films need to give a greater place to women than they do now, particularly in Hollywood, where male stories are very dominant. We need more diversity in our business.
We don't know much about Armageddon Time, except the fact that it's a family-centered, feel-good story. What attracted you to the project?
Well, a great director [James Gray], an incredible cast that includes Sir Anthony Hopkins, Anne Hathaway and Jeremy Strong. I think anything about the strength of family and relationships will always shook me, and this certainly did that. I feel you need to be at a certain point in your life in order to really feed into and empathize with this kind of storyline. You have to live the script … or a different script, your own one, that relates. And I am definitely in that place.
You still work practically as hard and as often as ever. How do you get away from it all?
I like to stay home with my children. I also love to cook, something I learned from my mother, but usually I like to read and be kind of quiet!
It took you a while before you found success as an actress. Do you still look back on those times and consider how hard it was?
It's a very uncertain profession and always will be. You're constantly fighting for the good roles. That's why I like to work a lot because I love acting and I love being able to do things that I would never be able to do in my own life, but I still carry lots of doubts about my work.
You're one of the leading actresses in the business, yet we don't hear a lot about your personal life. Is that on purpose?
I've always understood that if you don't want to have your life splashed in the media, you don't talk about your personal life and you don't go to a lot of big parties or to places where you're going to be photographed. I lead a very quiet and happy life.
I live in New York now and I try to live normally and keep my daily life very separate from my work. I also have a lot of good friends who treat me like one of them and I never feel that the nature of my job is a distraction to our friendship. I never want to be the center of attention or receive special treatment. I just want to be part of the group.
What's special about New York to you?
I love the lifestyle of the city. I got to know the city first when I came to study at Juilliard, and it opened up such an incredible world to me. I love being able to go to the theater and I enjoy hanging out with friends in all these incredible little restaurants that you find in different neighborhoods of the city that have their own character. I feel very free in New York.
Your husband Gian Luca is Italian. Do you also love spending time in Italy?
Coming to Italy helps me enjoy life and that's another reason it's easier living in New York than in LA because it's so much closer. Acting is stressful for me, and I need to take my time to relax.

Italy is one of the most beautiful countries on Earth and I love walking among the palazzos and churches and seeing all the incredible monuments. There are also so many outstanding museums and art galleries—Italy has such a rich culture and history. I have also been studying Italian and learning a lot about wine and Italian cuisine—as well as some swear words [laughs]. But seriously, I do feel very fortunate to be able to spend a lot of time over there.
How about the Ralph Lauren campaign you have been involved in, entitled "Lead Like a Woman"?
I was really happy about that partnership because the ethos reflects with everything that I have ever talked about. It is more than just about a fragrance, it's about women's empowerment and also advocating for women in leadership positions and that is something that is super important to me.

"Lead Like a Woman" tackles what it means to be intense, and we get rid of the negative stereotype comments about people saying that some women are so in-tense. For me, to be intense is what it means to be fully in your life. We are intensely passionate, intensely ambitious, intensely empathetic and they are all good things, and we are trying to get rid of that negative stereotype—and we will.
Published (and copyrighted) in Suburban Life magazine, October 2022.