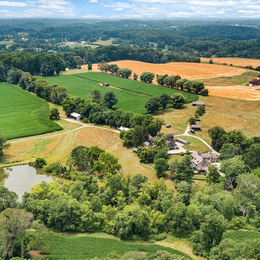 Home Sweet Hideaway
Nestled in the heart of bucolic Chester County, a uniquely stunning farm estate property agented by Realtor Lavinia Smerconish is an "important" place unlike any other.
Sweetwater Farm is a prime example of the best landscape vistas southeastern Pennsylvania has to offer, featuring 129 acres of gentle hills, valleys, and trees that blossom into a rolling canvas of lush greenery in the warmer months and a kaleidoscope of colors in the autumn. Naturalists will enjoy watching birds and wildlife visit the property's lovely pond throughout the year.
Local historians might know this farm estate by another name: the Moses Yarnall property, founded circa 1725 at what is now 980 Providence Road in Newtown Square.

"This is an area that has long been prized for its open fields and farmland," says Lavinia Smerconish, the Main Line/Philadelphia Realtor serving as selling agent for the property. "This area has a tremendous amount of conserved ground—thousands and thousands of acres—and that is largely what this is. Willistown [Township] is heavily conserved. People tend to want to be in areas that are unchanging."

Bordered by a perimeter of deciduous and evergreen trees, the property offers respite from the hustle and bustle of modern life. At the same time, it offers the convenience of proximity to shopping and cultural attractions in and around Willistown Township.

"This property is not far from anything," Smerconish notes. "It's still an hour outside major cities, it's close to Delaware, the Radnor [Hunt] Pony Club, and country clubs. The area also offers formidable schooling; the Episcopal Academy is right down the street, and any number of educational opportunities exist right nearby."

Accessible via a long driveway, the home can be seen only by invitation or drone image. Smerconish describes the property as quite different in style from many of the historic homes the area.

"It's very grand and more formal than what you'll find in a traditional Chester County field house," she says. "It's more in the English countryside style, but formal. The scale of the home is magnificent. There is a large barn on the property, as well as stables, springhouses, and corn cribs," which await restoration and renovation. "There is also a tenant, or farmhand, house. When looking from windows throughout the property, you can see the spring-fed pond."

The main house dates back to the 1920s, Smerconish estimates, and features high ceilings, wide corridors, and other forward-thinking design features.

"The house really lays out very much like a modern house would," Smerconish says. "Everything is positioned sensitively for the enjoyment of natural sunlight. It does need renovation, but there is a formal dining room, formal living room, a beautiful library, a first floor living suite that could be for older parents, and a nice kitchen set up. This is one of those homes where 'the bones are there.'"

The property at 980 Providence Road is truly one of a kind. Smerconish notes several "little surprises," such as intimate outdoor seating areas and birdhouses dotting the landscape.

Potential abounds for the future owner of this estate. As the land is under neither conservation nor preservation, there is potential for subdivision or future development. This property would also make an ideal family compound—a "world-class community," Smerconish says—for those seeking peaceful surroundings and stunning views.

"I feel like every large property I work with has something special that comes from a very organic place that makes them all very different," she says. "This one has a rolling topography, longer vistas, and just the way the trees have been planted and groomed over the years is very interesting to me, but it's not just about the land. This is an important house."
For more information on this remarkable estate, contact Lavinia Smerconish at Lavinia@laviniasmerconish.com or by phone at (610) 547-6637 or (610) 615-5400. To see more of Lavinia's listings, visit Laviniasmerconish.com.
Photo courtesy of Lavinia Smerconish
Published (and copyrighted) in Suburban Life, November 2022.
---