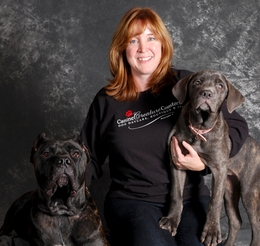 Rescue Me
Why more local pet owners are choosing to give displaced animals a second chance
To hear Donna Marie Buscaglia tell it, the unconditional love of a beefy Rottweiler named Caesar helped her endure—and overcome—some major hurdles in the past few years, including a rather serious health scare and the loss of a high-paying job in the aftermath of the economic downturn. Given the dog's dubious pedigree, however, some might consider him a rather unlikely savior.
"Caesar was a fighting dog, and he had scars all over him, so I was scared of him at first," says Buscaglia, who runs an upscale retail business called The Bark Avenue Boutique, with locations in Ardmore and Center City designed to serve "the sophisticated pooch." "But he's the most gentle and loving … I don't want to call him a dog, because he's got so much personality."
Buscaglia adopted this "gentle giant," whose weight she estimates at 150 pounds, after crossing paths with him on a farm nearly 10 years ago. Such success stories, combined with publicity stoked by affluent, high-profile dog lovers such as Jennifer Utley, wife of Phillies second baseman Chase Utley, have made pet adoption locally increasingly popular—even trendy—in suburban neighborhoods. The positive momentum could not have come at a better time, considering the staggering number of animals left homeless by natural disasters such as Hurricane Katrina, situational tragedies such as home foreclosures or divorce, and, unfortunately, human cruelty.
"These are good dogs in bad situations," says Buscaglia. "And despite all they've been through, these animals are still very loving."
A Gathering Storm
There are far too many in bad situations, however, and the ranks of unwanted one-time companion animals include not just dogs but cats as well. Nationally, as many as 7 million animals enter shelters every year, according to the National Council on Pet Population Study and Policy, and as many as 4 million of those—or 60 percent—are euthanized. Some animals are displaced as a result of their owners' unpreparedness rather than their cruelty, according to Amy Parsons, founder and treasurer of Malvern-based Big Paws, Big Hearts Cane Corso Rescue.
"The majority of people who end up getting dogs are well intended, but a lot of them do so without doing the right research for their lifestyle," says Parsons, who also runs the full-service Canine Creature Comforts Dog Daycare, Boutique and Spa in Malvern. "They're also not realizing the amount of time necessary to train your dog. … Before people decide they want a particular breed because it's a cool-looking dog, they need to be aware of what the particular breed's needs and personality traits are."
Take the cane corso, a well-muscled Italian mastiff bred for centuries as a guardian and hunter, and also the sole focus of Parsons' rescue. (Unfortunately, its size and imposing stature also make it a popular victim of dog-fighting rings.) For pet owners, it's a wonderful family dog but definitely "not for the novice," Parsons says. She has three cane corsos of her own, and always keeps at least one in foster care. She started her rescue in April 2010 to aid abandoned and surrendered cane corsos, and as of early April the organization had rescued 52 dogs, most of which have come through an alliance with the Philadelphia Society for the Prevention of Cruelty to Animals' Animal Care and Control Team, also known as ACCT.
"In the city they're trying to turn [the cane corso] into the next pit bull," she says. "These are extremely loyal, very good family dogs. The biggest challenge with them is that they are very protective—not aggressive. The dog is very loving with the family, but when a neighbor tries to come in the house or when someone walks into the backyard, now you're in a situation where the dog has the person cornered.
"If you don't put the time in to socialize them properly from a very young age, they don't understand how to interact with strangers. Then you've got a 140-pound dog that decides I don't want this person in the house. But all they're doing is what they think is their job."
Purebred cane corsos are not an inexpensive dog, fetching price tags of anywhere from $1,500 to $3,000, according to Parsons. Big Paws, Big Hearts requires an adoption fee of $250 to $450, depending on the dog's age, but that figure "barely covers the cost to feed them," she says.
'Hard to Ignore'
Kristen Schlichtig started helping animals in need several years ago, first by volunteering at a local shelter. Quickly realizing the need for more help locally, she founded her own rescue, Chester Springs-based All 4 Paws Rescue Inc., in May 2009. The nonprofit organization, which is funded completely by adoption fees ($450 per dog, which includes spaying or neutering and all vaccinations) and limited donations, secures only "death-row dogs" from area shelters, meaning the animals have been scheduled for euthanasia.
"People don't realize how bad things are for these animals, and once your eyes are opened to it, it's hard to ignore," says Schlichtig, who runs the rescue with colleague Tracy Long and a team of volunteers. "When we first started out we were rescuing a few puppies here and there, and that grew into 10 or 15 a weekend, and now in the past two years we've rescued more than 1,000 dogs. … For us it's a matter of how many dogs we can handle. I've toyed around with the idea of getting a kennel, but I don't believe in dogs being in cages."
Some people shy away from adoption because they fear they are inheriting someone else's "damaged goods," or an animal with behavioral problems. Of the hundreds of dogs All 4 Paws has found homes for, she can recall only two she would describe as problematic, "but it was nothing that wasn't able to be worked through," she says. The most common issues among adoption animals are related to shyness rather than aggression, even among the abused or neglected.
That said, some of the more capable rescues—All 4 Paws and Big Paws, Big Hearts among them—perform behavioral tests on each animal, and some also do "behavioral rehabilitation" to better prepare an animal for its next home, or in some cases re-train "misbehaving" dogs so owners don't feel they have to surrender their companions.
All 4 Paws acquires its animals from 12 different shelters, including those from out of state with regular transports to Pennsylvania, and each dog first finds a temporary reprieve in a foster home. All 4 Paws strives to keep the adoption process quick but thorough, including following up on personal references to make sure each adoption is a good fit for the pet and the owner alike; generally, applications are processed within 12 to 24 hours.
"This is a 24-seven job," Schlichtig says, though she already has a full-time job as a corporate event planner. "There's little sleeping going on. … The hardest part for us is that it doesn't stop; it's not like this is our busy season and it will end in a couple of weeks. You have to love it. We have people here on the property all the time, so you also lose some of your privacy. But it's worth it. It's completely changed my life.
"I think the mindset is changing," she adds. "[Pet adoption] has gotten sort of trendy, which is great for us. More and more people are rescuing pets, and more and more people are adopting more than one."
Buscaglia, owner of the adopted Rottweiler named Caesar, is a perfect example. She recently adopted a second dog—a Yorkshire terrier named Daisy Mae—from a Norristown-based rescue called Finding Shelter. Daisy Mae, formerly a breeding female since freed from years of servitude in a puppy mill, isn't yet housebroken, but overcoming such a minor hardship is a small price to pay for the love Buscaglia gets in return.
"She was producing baby after baby [in the puppy mill]," Buscaglia says. "Now she's a princess; she just wants to be held. She's six pounds, and Caesar is 150, and they get along well. … Like any other adopted pet, most of them just need love."