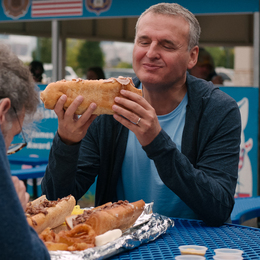 Everybody Loves Phil
Phil Rosenthal, the creative force behind Everybody Loves Raymond, makes new friends with Somebody Feed Phil, a Netflix series about the intersection of food, travel, and human connection.
Phil Rosenthal has traveled the world in pursuit of delicious food and new friendships. The creator, writer, and producer of the 15-time Emmy Award-winning sitcom Everybody Loves Raymond often invites famed chefs, food bloggers, and celebrities to sit at his table.
Viewers can experience the world through Rosenthal's eyes on the Netflix series Somebody Feed Phil. The show's new season includes stops in cities in Croatia and Chile, as well as a few destinations much closer to home—namely, Austin, Texas, Nashville, Tennessee, and Philadelphia, which he describes as "one of the best restaurant cities in America."

Rosenthal began his Philadelphia tour at Reading Terminal Market, where he treated his wife, the actor Monica Horan (best known for playing Amy on Everybody Loves Raymond), and three of her childhood friends to a breakfast of Philly favorites. Then, with friends in tow, Rosenthal headed elsewhere to enjoy some other local favorites: pizza at Angelo's, cheesesteaks at Dalessandro's, the pride of John's Roast Pork, pasta at Fiorella, a feast of Caribbean delights at South Philly Barbacoa, and banana splits at The Franklin Fountain. (Local restauranter Michael Solomonov, the proprietor of Zahav and Laser Wolf, among others, made an appearance, too.)

Each episode of the show highlights the architecture, music, and culture of the places he roams. Rosenthal hopes the show encourages others to undertake their own excursions to remote and off-the-path destinations around the world.

Fans of the show can read about Rosenthal's experiences in a recently published companion cookbook. Somebody Feed Phil: The Book contains untold stories, behind-the-scenes photos, and favorite recipes that capture the charm of some of his most memorable interactions.

"I am on a mission," Rosenthal says. "I am just using food and my stupid sense of humor to get you to understand the beauty of travel. I want you to travel because the world would be better if we could all experience just a little bit of other people's experiences. If you do it right when you travel, ultimately everyone should feel like family."
Q&A
What is your favorite part about doing the show?
It has been the people I've met, not just during the filming, but also those who watch it and reach out to me. It's been my calling card to the world and one of the greatest pleasures of my life. It feels like a fantasy; but what I am telling you is that everything you see me doing is 100 percent real, and you can do it, too.
Talk about your connection to Philadelphia.
My first trip to Philadelphia was in the fifth grade during a trip from New York to the Franklin Institute. Some 32 years later, I married Monica Horan, a girl from Darby [in Delaware County], and we would come back often to visit a city that's got such character steeped in civic pride.
How did this show come about?
So, I asked Ray Romano between seasons of our show where he was going to go on his vacation, and he said the Jersey Shore. I asked if he had ever been to Europe, and he said he wasn't interested in different. I wanted him to know that after he was transformed by the magic of travel, he would see the change that happens. So, I took the cast and crew to Italy to explore their roots for a special two-part episode for the Season Five premiere. When I saw that love for people, food, and exploration happen to my friend, my heart, like the Grinch, swelled to five times its size. I thought: What if I could do this for other people?
As a seasoned veteran, what is your best travel advice?
Never over-plan. Leave room in your schedule or agenda for the out-of-the-way places or something that comes up at the last minute. Get a guide or go on a tour or two, but not in every city and town. Be flexible. You just never know what is around the corner.
With all of the gourmet foods that you eat around the world, what are your go-to food items?
People ask me what would be my last meal, and I say my favorite comfort foods from childhood: pizza, hot dogs, hamburgers, fried chicken, french fries, and a tuna-fish sandwich. I would probably end with my mom's matzah ball soup that she made really well. These are the ones that evoke my fondest food memories, and that rings true for most of us.
Photo courtesy of Netflix
Published (and copyrighted) in Suburban Life, November 2022.