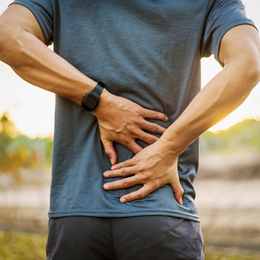 Back in Action
When back injuries and other musculoskeletal disorders disrupt everyday life, it's time to seek help.
Friedrich Nietzsche once described humankind as "the bravest animal and most prone to suffer."
The German philosopher may have been referring more to existential suffering than to the physical kind, his point is the same: Pain is an unavoidable part of human life. Muscles become stiff and sore the day after a difficult workout. A keening sharpness courses through a limb after taking a fall on the ice. A broken heart aches dully and seems as though it will never heal.

Time excels at helping the human body heal from the many pains that can prevent a person from living their life fully, but it does not always succeed in doing so. When the musculoskeletal pain resulting from an injury, disease, or some other disorder begins to detract from a person's quality of life, it's time to seek out the expertise of a qualified medical professional.

Carl Hiller, D.C., of NeuroMusculoSkeletal (NMS) Spine & Joint Institute has devoted his career to providing the best possible care in the areas of chiropractic medicine and physical rehabilitation. Dr. Hiller specializes in the diagnosis and treatment of musculoskeletal disorders, treating everyone from professional athletes to weekend warriors to patients who have been injured on the job. No matter the patient, he always has the same goal: to help each patient experience a pain-free return to his or her normal routine.

We asked Dr. Hiller to share his thoughts on when patients should seek out professional care, the therapies that show the greatest promise in terms of providing real-world results, and more. Here's what he had to say, his responses condensed and edited for clarity and convenience.
Q&A
For anyone who is experiencing back pain, at what point should people consider going to a chiropractor or other medical professional for care?
Pain is an unfortunate part of life for many people. It is important to recognize that pain can often be an indicator of injury, disease, infection, or the like. It is critical that patients with pain, whether acute or chronic, access their healthcare team whether their chiropractor, specialist, or primary care physician so as to afford a timely history/examination, appropriate testing, and diagnosis to identify the pain generator or cause, and establish an efficient treatment strategy to get the patient on the road to recovery.

Are there new technologies or therapies you use regularly that show a lot of promise in terms of helping to ease people's pain or getting them back to doing things they haven't been able to enjoy?
There are several established physical medicine procedures, including spinal manipulation, which I use in my treatment plans that align with evidence-based protocols. However, there are emerging trends in regenerative medicine that offer promise in treating musculoskeletal conditions. Our office now offers Radial Pulse Wave therapy, a form of shockwave therapy, to treat myofascial conditions like tennis elbow, plantar fasciitis, and certain tendinopathies, that has shown sound efficacy in trials.
Other than surgery, most remedies seem to require an ongoing course of treatment. What can people expect in terms of the duration of a chiropractic treatment plan?
Regarding my approach to establishing effective chiropractic treatment plans, the patient needs to be established as a good candidate for care to start. Regarding my treatment programs, I traditionally introduce short trials of care of two to three weeks, or less, and based on response to treatment properly adapt or titrate care in a timely manner to maximize response to care and recovery. I also often incorporate a team approach to the treatment of musculoskeletal or orthopedic conditions whereas I work with orthopedic and pain-management specialists to maximize results and expedite interventional treatment strategies.
You must get a lot of satisfaction out of helping people mend. Are there certain kinds of patients that you enjoy working with most, such as professional athletes, amateur athletes, normal folks who are experiencing pain, discomfort, or limited mobility?
I get a tremendous amount of satisfaction helping patients get back to function and a healthy lifestyle. I look forward to the challenge of treating a diverse patient population, whether [it's] a high school or college athlete, a professional athlete, a gardener, a weekend warrior, or the patient who succumbs to a work or auto injury. I pride myself in approaching a patient-centered approach to meet their expectations and goals of treatment.
The Stars Align
For anyone who experiences chronic back pain or grapples with an injury that dampens his or her quality of life, the following medical professionals—some of the area's foremost chiropractors and practitioners of physical medicine and rehabilitation—may be able to help. Many of them were featured in our 2022 Top Physicians feature story, published earlier this year.

Dr. Todd A. Bromberg
Dr. Steven Rosen
Delaware Valley Pain and Spine Institute
Multiple locations
dvpainandspine.com

Dr. Scott J. Davidoff
Dr. Marc S. Effron
Dr. Roy M. Lerman
Dr. Denis P. Rogers
Dr. Jeffery J. Rowe
Dr. L. Matthew Schwartz
Main Line Spine
Multiple locations
mainlinespine.com

Dr. Carl Hiller
NMS Spine & Joint Institute
Exton
drcarlhiller.com
Dr. Heather Moore
Total Performance Physical Therapy
Multiple locations
totalperformancept.com

Dr. David W. Nadler
Dr. David W. Nadler & Associates, P.C.
Newtown Square
drdnadler.com

Dr. Joel A. Stutzman
Aligned Medical Group
Paoli
alignedmedicalgroup.com

Dr. John M. Vasudevan
Penn Medicine
Multiple locations
pennmedicine.org
Published (and copyrighted) in Suburban Life, November 2022.