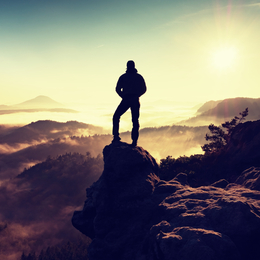 Men in Motion
Whether they trade in business or the arts, medicine or philanthropy, our 2022 Men of the Year strive to make a lasting difference in the world around them.
Every classic story has a hero, someone who endures periods of struggle, doubt, and sacrifice to achieve a goal. Often, the hero undergoes a transformation along the way, and finds himself equipped with a fresh perspective that leads to a greater good.
The Philadelphia area has more than its share of heroes who have devoted their lives and careers to making an impact on their friends and families, their neighbors, and their communities. These individuals have made an indelible mark on the world (or at least a small part of it) in business, the arts, medicine, athletics, and philanthropy.

On the following pages, we raise a glass to celebrate some of the best and brightest among them, our 2022 Men of the Year.
Educate and Protect
Many people view snakes and other creepy crawlies with fear and revulsion, but Nick Brewster aims to set them straight. As the director of education for Aark Wildlife Rehabilitation and Education Center (aark.org) in Chalfont, Brewster has made it his goal to help community members view native wildlife in the proper light, in part by dispelling myths about native species that have acquired negative reputations—usually unfairly so. This includes not only snakes, but also snapping turtles, opossums, and other animals most people would consider less than cute. Brewster also strives to draw attention to issues such as habitat destruction and other man-made problems that are threatening wildlife, and provides instruction for ways in which humans can help.

"This is especially true with the children I teach during our programs throughout the year, as they are the future," says Brewster, who joined Aark as a volunteer in 2018 and came into his current position in December 2020. "How they view our local wildlife and ecosystems will be a major factor in conservation efforts in the decades to come."

Aark is a nonprofit organization devoted to rehabilitating orphaned and injured native wildlife and then releasing them back into the wild. It also strives to "promote harmony" between humans and native wildlife through environmental education.

Brewster finds the work he does with Aark both meaningful and impactful. He is particularly proud of how far Aark's education department has grown since he joined the team. What was once "an empty room with a couple of tables and chairs" has been transformed into a nature center with educational exhibits and zoo-grade displays for Aark's ambassador animals. Likewise, Aark's educational programs have grown by leaps and bounds. Brewster cites outreach initiatives such as an expanded summer-camp program, an environmental education summer internship program for college students interested in the environmental field, and several educational workshop programs for kids and adults. Under his direction, the organization has also introduced new programs such as a Halloween-themed event called "Aark in the Dark."

"All of these accomplishments, though, are only the start," Brewster promises. "I plan to continue to add more programs as time goes on to increase community involvement opportunities, and get more people involved with and caring about our local wildlife and ecosystems."
Honoring the Past, Preserving the Future
Two passions guided Bill Kunze's life: nature and history. As a boy, he fell in love with nature through birds, and went on to earn undergraduate and graduate degrees in history. He has since become an avid birder and amateur bird photographer, and he continues to read history books in his limited spare time.

Considering how those twin passions shaped him, it's fitting that he would become a leader in the local land-preservation movement. As the president and CEO of the Doylestown-based nonprofit Heritage Conservancy (heritageconservancy.org), Kunze leads an organization devoted to protecting and caring for lands of the region, engaging with and sharing the history that unfolded on those lands, and connecting people with both.

"We have just completed strategic planning for the next several years," Kunze says, "and we've focused on this central question: 'What should "protecting the land" and "connecting with history" mean in 2022 and beyond?' Our answer to this question is our vision for the future."

Heritage Conservancy envisions a world where "the lands that make our region special endure and flourish, for the benefit of both people and nature. These lands provide clean air and water, food, habitat for wildlife, inspiring views, [and] benefits for body, mind, and spirit, and they help to mitigate the impact of climate change. Our communities engage with the history that has unfolded on these lands, in all its complexity and diversity. All members of our communities enjoy access to open lands and green spaces, and are inspired to be advocates for land and watershed protection."

In order to turn this vision into a reality, the Kunze-led Heritage Conservancy has outlined several broad goals: protecting more land; restoring more habitat; collaborating with others to bring the history of the region to life; reaching more students through environmental education programs; and finding creative ways to connect people to the environment and history of the region.

"Our culture rightly places high value on new things, on the products of human ingenuity," Kunze adds. "Let's learn to place just as much value on the choices we make to leave beautiful things as they are."
Imran Amir, M.D.
As the head of City Dermatology Skin Institute, Dr. Amir specializes in diagnosing and treating life-threatening and disfiguring forms of skin cancer. He has earned a reputation as a skilled Mohs surgeon to treat skin cancer; the procedure has a high cure rate and allows the patient to retain as much healthy tissue as possible. Dr. Amir also performs cutting-edge cosmetic procedures at his offices in Bensalem and Warminster. cityderma.com
Harry Boardman
Boardman is not only a skilled artist but also a champion of the arts in Bucks and Montgomery counties, and beyond. Along with jewelry artisan Heather Boardman (she's also his wife), he runs Exhibit B Gallery, an arts gallery on Souderton's resurgent Main Street that features their own art as well as the works of other local painters, sculptors, and makers. exhibitbgallery.com
Cataldo Doria, M.D.
Known internationally for his expertise as a hepato-pancreato-biliary surgeon, Dr. Doria is known in the Philadelphia area as the medical director of Capital Health Cancer Center just across the river in Pennington, New Jersey. His goal when he took the job in 2018: to transform Capital Health's nascent oncology program into one of the region's foremost destinations for patients facing a cancer diagnosis. He's well on his way. capitalhealthcancer.org
Dennis D. Gehman
Gehman is the co-founder and president of Harleysville's Gehman Design Remodeling. While his company has transformed thousands of people's homes over the past 40 years, Gehman has made a difference in other ways. As the current president of NARI, the National Association of the Remodeling Industry, he helps to increase the professionalism of the industry across the nation. He's also a man of faith, intimately involved in his church and serving on the board of Spruce Lake Retreat. gehmanremodeling.com
Tim Gibson
A Perkasie native, Gibson has transformed his hometown and other parts of Bucks County through the Ten Thousand Flowers Project, an arts-based initiative designed to bring communities together (and add some color) by painting murals featuring his trademark flowers. His devotion to his art—and to making a difference in the world—has taken him far from home. He now travels the country in a tricked-out van to bring people together and create something beautiful, using the spaces of schools and other clients as canvases for his art. tenthousandflowersproject.com
Michael Henley
As the CEO of Brandywine Oak Private Wealth in Kennett Square, Henley leads a team of financial professionals committed to helping clients plan for a more secure future. Brandywine Oak Private Wealth has grown substantially since its founding in 2018. The firm even landed a spot on Forbes' prestigious list of "America's Top RIA Firms" for 2022 (No. 78).
Andrew Jenks
Jenks plays goalball, a popular team sport for the blind and visually impaired. He was one of 12 athletes selected to represent the United States at the 2022 IBSA Goalball World Championships in Matosinhos, Portugal, later this year. Philadelphia-born Jenks won a silver medal at the 2016 Paralympic Games in Rio. usaba.org
Jeffrey A. Liebmann
Liebmann leads the legal team at Newtown-based Liebmann Family Law. He enjoys helping clients move forward after lifechanging events such as divorce, custody disputes, and other aspects of family law. Apart from his legal work, Liebmann supports philanthropic causes such as the Friends For Heroes Foundation, a nonprofit organization created "to honor and give back to those veterans and their families who have given so much in service to our country." liebmannfamilylaw.com
Josh Maxwell
Maxwell, the former mayor of Downingtown, began his term as Chester County Commissioner in January 2020. A lifelong resident of Chester County, Maxwell has prioritized the preservation of open space and supported other initiatives designed to uplift communities and the people who live in them. Also, through his involvement with organizations focused on economic development, he has worked to enhance the quality of life for his constituents, including those living outside the borders of Chester County. chesco.org
Robert Skalicky, D.O.
A board-certified plastic and reconstructive surgeon, Dr. Skalicky is the founder of Modern Aesthetic Plastic Surgery, which has offices in Newtown and King of Prussia. He leads a team of practitioners devoted to everything from general skin care to complex aesthetic and reconstructive surgical procedures. This includes breast reconstruction, in which a surgeon helps a patient restore breast contour and regain her confidence after cancer treatment. modernaestheticplasticsurgery.com
Published (and copyrighted) in Suburban Life, November 2022.