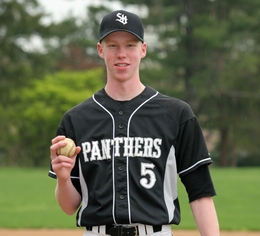 Ready to Bloom
Standouts from local schools take their blossoming athletic careers to the next level
Only the most devout athletes shine when winter withers to its slow but sure end. With so many extracurricular activities to test a competitor's focus this time of year—class trips, proms, the lure of nice weather, etc.—standing out in springtime sports requires uncommon ambition. As usual, however, a raft of elite athletes enrolled in our area's high schools has risen to the top.
Although we often read about the exploits of local student athletes amid the heat of battle, we don't always have the benefit of knowing the athlete who's holding aloft the hard-won trophy, ribbon or medal. Suburban Life's Marc Narducci spent time with some of our area schools' busiest and most accomplished seniors as they prepare for their next big challenge: college life. Here's what he learned.
Jump to:
Jake Enterlin, Strath Haven High School
Frances Loeb, Lower Merion High School
Haley Gorenflo, Plymouth Whitemarsh High School
Nick Libbi, West Chester East High School
Fran Carrullo, Central Bucks High School South
Jake Enterlin, Strath Haven High School
Enterlin is a three-sport athlete at Strath Haven and also a member of the National Honor Society. Among his senior-year courses are advanced-placement statistics and physics. A member of the golf team, he averaged 38.5 for nine holes. Enterlin was a starter on basketball, where the 6-foot-3
swingman averaged nearly 10 points a game. Baseball, however, is his main sport. In fact he will continue his education and baseball career at Johns Hopkins. A fourth-year varsity pitcher, Enterlin helped Strath Haven win its first-ever District I AAA title last year and then he was selected to play for the Delaware County Carpenter Cup all-star team. His highlight last year was pitching a no-hitter and striking out eight in the Panthers' 3-1 District I semifinal win over Marple Newton. In all, Enterlin will graduate having earned 10 varsity letters.
Question: You are becoming a rare breed: the three-sport athlete.
Answer: It's something that keeps me busy.
Q: What is the best part of being on the baseball team?
A: We have great chemistry and like to hang around together. The coaches are great and we are a winning program.
Q: What is it like to be a pitcher?
A: You have to be mentally tough and just as good as physically. You can't let errors and bad pitches get in your head. It's kind of a lot of pressure because the game depends on how well you throw.
Q: Could you describe what it was like to pitch a no-hitter in the District I playoffs?
A: That was really cool. I gave up a run and nobody on the team knew I had a no-hitter going.
Q: What made you choose Johns Hopkins?
A: The first part was academics. It's a really good school and they have a great baseball program on the Division III level. I think I will be studying engineering.
Q: How did it feel to win the first District I baseball title in school history?
A: It felt awesome to be the first. Anything that makes you the first is special.
Q: What do you like the most about golfing?
A: I am more relaxed when I play an individual sport because all the responsibility is on myself and I don't have anyone else to blame.
Q: What will you miss most about competing in high school?
A: Just my teammates and coaches. There is a kind of intensity at the high school level that is different than anything else.
Q: Where do you see yourself in 10 years?
A: Ideally I want to be playing baseball professionally, but if not I either see myself working in some type of engineering job or teaching.
Frances Loeb, Lower Merion High School
Another three-sport standout, Loeb is a captain of the rowing team, and was also captain of the cross country and swim teams. Last year Loeb was in the Lightweight 4+, which won the City Championships and Stotesbury Cup Regatta, as well as placing second at the Scholastic Nationals. A member of the National Honor Society, Loeb will attend Johns Hopkins and compete in cross country after placing eighth in the District I AAA race this fall. Like Enterlin, Loeb will graduate with 10 varsity letters.
Q: What got you into rowing?
A: I started rowing freshman year. I swam my whole life and wanted to try something new that spring.
Q: Why Johns Hopkins?
A: It's a great school academically and I want to study psychology, and they have a great psychology program. I talked to the [cross country] coach about running there and visited the team and it was just what I was looking for.
Q: What do you like best about being on your team this spring?
A: The team is awesome and everybody is really close and supportive, and I also think it's one of the great programs around. Many high schools have crew clubs and we are really lucky to have a team.
Q: What appeals to you most about crew?
A: I call it the ultimate team sport. Although each person individually is doing something, you can't have a successful boat without everybody working together.
Q: You compete in three sports that are highly demanding physically. Could you talk about what it's like to train in these sports?
A: I love working out and all the cross-training for the other sports. They all help one another.
Q: Any hobbies?
A: I love listening to music and attending concerts. I am also vice president of the Environmental Club and when I can help do tree planting I do.
Q: Where do you see yourself in 10 years?
A: Hopefully I will still be very active and I hope to be a psychologist. I am definitely interested in possibly pursuing sports therapy. Who knows? That is a long time away.
Nick Libbi, West Chester East High School
Libbi, a senior, will have earned nine varsity letters in cross country, indoor and outdoor track. As captain of the cross-country team he ran a personal best of 16:23 in an injury-shortened season. This indoor track season he ran a personal best of 4:23.28 in the mile at the PTFCA Indoor Track and Field Championships at Penn State, earning an eighth-place finish. Last spring he was a District I qualifier in the 1,600 meters and member of the 4 x 800 relay team. Libbi has earned a track scholarship to Bloomsburg.
Q: You are a versatile runner. What is your favorite event?
A: The mile is my favorite. I feel like it's a good combination for speed and
endurance. I don't have the speed to be a sprinter.
Q: When you ran your personal best in the mile this winter, you lowered your mark by four seconds. That seems to be some serious improvement.
A: I was surprised. It was a quick race, the pace was fast and I kept up with them and had enough to out-sprint the runner to gain eighth place.
Q: What is a heavy week of training for you?
A: Probably 40 miles a week and most of it is speed work. I will do a lot of repeat 600s and repeat 400s. Plus every Saturday and Sunday I'll do a 1,600 run.
Q: How long have you been running track?
A: I just started running track sophomore year. Freshman year I did cross country because I wanted to get in shape for basketball. I was pretty good at it. I played basketball as a freshman, suffered a stress fracture and didn't do outdoor track. Sophomore year I did track and I have really enjoyed it.
Q: Because you have run track only since your sophomore year, it appears as if your better days are way ahead.
A: I feel I have a lot of room to grow. Most people after five or six years start to hit their peak so hopefully that will happen to me my sophomore or junior year in college.
Q: Why Bloomsburg?
A: It has a good business accreditation and I want to major in business. Plus I liked the coach and the team.
Q: Any hobbies?
A: I like to go fishing. You are out there and there is no stress and I think it's really relaxing.
Q: Where do you see yourself in 10 years?
A: Hopefully I will have a decent job. I also hope that running will be part of my life. It's not something I'll make a living doing, but it is something that I hope is a part of my life.
Haley Gorenflo, Plymouth Whitemarsh High School
This is one competitor who has vaulted her way into the record books. She owns the indoor and outdoor school record in the pole vault—both at 11 feet, 3 inches. Last summer, at the AAU Junior Olympics in Norfolk, Va., Gorenflo vaulted a personal best 11 feet, 6 inches. This season Gorenflo is also competing in the 4 x 400 meter relay and the 300 hurdles, but pole vaulting remains her main event. She has accepted a track scholarship at the University of Delaware, where she says she is considering a major in biology.
Q: You probably get asked this all the time, but how much fear is there in pole vaulting?
A: There is a fair amount of it, but I usually try to forget about it by knowing in a meet [that] I know what I am doing and if I do what I have practiced I won't hurt myself. If I thought about the physics of it I wouldn't be able to do it at all.
Q: How did you get involved in pole vaulting?
A: When I started high school track I remembered seeing videos of pole vaulting and thinking that was really cool and relatively easy. My friend was asked by the pole-vault coach to try it and I wanted to also and ended loving it.
Q: I guess you found it wasn't so easy.
A: [Laughing] No, not at all.
Q: What do you like best about track and pole vaulting?
A: I like track in that it is a team sport and you are all in it together to win. I also like the individual aspect that if you do poorly, you can't blame it on anybody else. I like the challenge pole
vaulting presents, and you can't describe the feeling when you clear the bar.
Q: Any hobbies?
A: I used to play alto saxophone for the school. I try to play so I don't forget. I lifeguard over the summer. … My mom says it is more of a social outing than a job.
Q: What do you like about science?
A: It's kind of like pole vaulting. It's a challenge. I like doing labs and figuring out how things work and love it when we learn concepts in class. I always like learning how things work and even making it better.
Q: Where do you see yourself in 10 years?
A: I would like to go to the Olympics. It would be very difficult and would take a lot to get there, but I feel I could do it if I keep working at it. I have something like three more feet to go to qualify and four feet to compete for a medal. I'd also like to do something either with cell biology and microbiology.
Fran Carrullo, Central Bucks High School South
A four-year starter in softball, Carrullo is a two-year captain and one of the top pitchers in the state. As a junior she was named The Philadelphia Inquirer's Southeastern Player of the Year after going 17-2 with a 0.54 ERA and leading the Titans to the District I AAAA championship. CB South advanced to the state final before losing to Mount Lebanon, 1-0. Carrullo has earned a softball scholarship to St. John's University.
Q: Why St. John's?
A: I was looking in the Big East because it is a really great conference. My major is communications and I tried to narrow it down to the best schools in the Big East. I also looked at Rutgers and Syracuse, but St. John's seemed like a home within my home. It was perfect when I got to the campus.
Q: With a communications major, do you want to one day be in front of the camera?
A: I want to talk on ESPN. I am taking an advanced communications class; we find out what is happening in the community and we film it, interview the people and bring it back and edit it, putting it on our local channel. I love doing it.
Q: You made your college choice in January of your junior year. Did that take some of the pressure off you?
A: It definitely took off some but not all of it because you have to work hard and you always want to impress your [college] coaches, especially when they come watch you.
Q: What was it like coming so close to winning a state title?
A: It was really tough. The year before we came in third and last year we came in second, losing 1-0 on a home run in the first inning.
Q: They say that softball pitchers don't get tired, but pitching is an activity that seems like it takes a lot out of you, whether throwing overhand or underhand.
A: You definitely reach a point when you get tired. Everybody is human. When I pitch three days in a row, I feel it.
Q: What is the best part of being on the Central Bucks South team?
A: High school softball is very serious, especially when competing against the top teams, but it is also a lot of fun and you realize these are the best years of your life.
Q: Where do you see yourself in 10 years?
A: Married, talking on ESPN and driving a Range Rover and having a lot of dogs.
Photography by Rob Hall