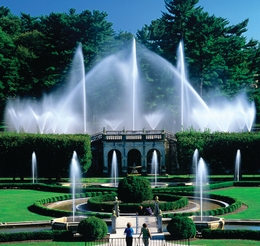 You Have to See This…
Can't-miss exhibits and must-see attractions flourish in the Philadelphia suburbs
With May's vibrant flowers blooming in the aftermath of April's steady downpour, it's the perfect time to get outside after yet another long, cold winter. Thankfully, the Philadelphia suburbs are blessed with a bounty of outdoor places to explore—as well as innumerable not-to-be-missed exhibits indoors—for people of all ages and tastes, from arts and culture to exotic animals, from Colonial history to the stunning beauty of blossoming trees. In the following pages, Suburban Life highlights 10 of the top must-visit attractions locally, with suggestions for other comparable excursions you just shouldn't miss.
Longwood Gardens
There's no better place to enjoy the splendors of spring than Longwood Gardens (LongwoodGardens.org) in Kennett Square, which encompasses 1,050 acres of gardens, woodlands and meadows. One's senses will delight in 11,000 types of plants, more fountains than any other garden in the country, educational and visitor programming and more than 400 performances annually. Complete a visit with a stop in the Gardens Shop and Greenhouse, filled with home and garden items, or get a bite to eat at The Terrace Restaurant, which is now a "certified green restaurant." (Learn more at DineGreen.com.) Costs: $18 for adults; $15 for seniors ages 62 and older; $8 for students ages 5 to 18, or any age with valid student ID; and free for children ages 4 and under. If you like this, also check out Bowman's Hill Wildflower Preserve in New Hope.
New Hope and Ivyland Railroad
Climb aboard the New Hope and Ivyland passenger train (NewHopeRailroad.com) and travel into the past. Aboard these restored 1920s vintage passenger coaches, complete with an antique bar car and led by an authentic steam locomotive or a historic diesel locomotive, passengers can start at either New Hope or the Lahaska Station to learn what rail travel was like for their ancestors. Tickets start at $17.50 for an hourly excursion. Beginning in mid-May and running on selected dates through November 5, take a ride on the Evening Star Dinner Train; ticket prices begin at $75 and include a first-class two-hour train ride to Buckingham Valley, along with a three-course meal. If you like this, also check out the Perkiomen Trail, for biking, walking and hiking throughout Montgomery County.
Valley Forge National Historical Park
Relive history at Valley Forge Park (NPS.gov/VAFO), where George Washington's ragtag troops encamped during the winter of 1777-78, now a lush 3,500-acre expanse dotted with cannons, replica soldier huts and monuments to those who sacrificed for America's independence. Walk through Washington's original stone headquarters, considered the "Pentagon" of its day. Take a 90-minute guided trolley tour or choose from a variety of hiking and biking trails on Mount Joy and Mount Misery. On June 19, watch a march out of the Continental Army Commemoration from 10 a.m. to 4 p.m. Park Rangers and volunteers will host a living history encampment at the Muhlenberg Brigade huts to honor soldiers. If you like this, also check out Washington Crossing Historic Park in Washington Crossing.
Peddler's Village
There's truly something for everyone at Peddler's Village (PeddlersVillage.com) in Lahaska, which has 65 specialty shops, six restaurants, the 70-room Golden Plough Inn and Giggleberry Fair family entertainment, all situated on 42 acres of landscaped gardens and winding brick pathways. In fact, the village attracts 1.7 million visitors annually. Among cuisine choices are the flagship Cock 'n Bull Restaurant, serving traditional American classics in a Colonial-style setting, as well as Hart's Tavern and Earl's Bucks County. Festivals are held throughout the year; the next event is the 27th Annual Fine Arts and Contemporary Crafts Show on Saturday, June 4, and Sunday, June 5, from 10 a.m. to 6 p.m. If you like this, also check out Philadelphia Premium Outlets in Pottstown, Suburban Square in Ardmore, and Skippack Village in Skippack.
James A. Michener Art Museum
In the heart of Doylestown, the Michener (MichenerMuseum.org) features artworks from around the world, and is one of the largest collections of fine art in the region. Don't miss the museum's newest exhibit, "So Bravely and So Well," as the museum celebrates the life and work of history painter William T. Trego, running June 4 to Oct. 2. Partially paralyzed as a child, Trego (1858 to 1909) had to move his entire body to mix his colors. The prize-winning artist had an international reputation, and his highly detailed and powerful battle scenes from the American Civil War and the Franco-Prussian War were widely exhibited and critically acclaimed during the late 19th century. Admission: free for members and children under 6; $12.50 for adults; $11.50 for seniors; $9.50 for college students with valid ID: $9.50; $6 for children ages 6 to 18. If you like this, also check out the Mercer and Fonthill Museums in Doylestown.
Tyler Arboretum
One of the oldest arboreta in the northeastern United States, The Tyler Arboretum (TylerArboretum.org) in Media encompasses 650 acres of horticultural collections, rare plant specimens, ancient trees and historic buildings. Lace up one's sneakers and explore 20 miles of hiking trails through woodlands, wetlands and meadows. In addition to special events, spring bird walks are held every Wednesday, from 8:15 a.m. to 10:15 a.m.; weekday wildflower walks are held every Wednesday, from 11 a.m. to 1 p.m.; and trail rambles are held every Sunday, from 1:15 p.m. to 2:30 p.m., and every Tuesday, from 9:15 a.m. to 10:30 a.m. Admission is $9 for nonmember adults, ages 16 to 64; $8 for nonmember seniors 65 and over; $5 for nonmember youths ages 3 to 15; and free for children under 3. If you like this, also check out Scott Arboretum of Swarthmore College in Swarthmore, and Chanticleer in Wayne.
Bryn Athyn Cathedral
Dedicated in 1919, the main cathedral building of Bryn Athyn Cathedral BrynAthynCathedral.org) in Bryn Athyn is a Gothic masterpiece, while the other buildings mimic the early Romanesque style. The cathedral offers free tours seven days a week between 1 p.m. and 4 p.m., unless a religious service is being held. While visiting the cathedral, also visit the three other buildings in The Bryn Athyn Historic District (BrynAthynHistoricDistrict.org), which are family residences constructed between 1892 and 1938. Reservations are recommended; check the website for fees. Spring is the perfect time for a visit, with the gardens just beginning to come alive. If you like this, also check out St. Thomas of Villanova Chapel on the campus of Villanova University.
Kids Castle
Kids Castle (DoylestownPa.org) is an eight-story wooden playground structure designed and named by children of Doylestown Township through an art contest in 1996. In just 12 days, the playground was constructed and opened in 1997. Crossing over the drawbridge enables visitors to enter a magical world that includes a 35-foot-tall castle with a huge twisty slide, friendly dragon, tree house, barnyard, rocket ship, downtown promenade for toddlers, a multitude of slides and swings and a children's amphitheater. The castle is free for general public use, while groups, which must be pre-registered, are charged $4 per person. If you like this, also check out Sesame Place in Langhorne.
Elmwood Park Zoo
Founded in 1924, the Elmwood Park Zoo (ElmwoodParkZoo.org) in Norristown welcomes more than 130,000 visitors annually. The zoo boasts animals from North and South America as well as the nation's largest open-air bald eagle exhibit. All are showcased in naturalistic settings with a focus on educating young children. Activities include daily live-animal shows, educational programs, summer camps and birthday parties. In addition to animal exhibits, the zoo has a playground, café and nature shop, too. The Butterflies and Blossoms exhibit, which opens in late spring, allows visitors to behold butterflies and moths as they emerge from their chrysalises and cocoons. If you like this, also check out Bucks County Zoo and Conservation Society in Warminster.
PPL Park
A state-of-the-art major league soccer stadium, Chester's PPL Park (Philadelphia Union.com/stadium) serves as home turf for the Philadelphia Union. As the catalyst for a spectacular $500-million waterfront revitalization project, the stadium is expected to "KickStart Chester" by bringing renewed life and vitality to a historic location in need of a spark. The world-class waterfront stadium is located just over 15 miles from Center City. The stadium hosts 40 to 50 annual events—including the 2011 USA Sevens Collegiate Rugby Championship on June 4 and 5, with a free concert from the Dropkick Murphys—and has a capacity of 18,500 for soccer and 26,000 for concert events. Expansive grass areas and large promenades surrounding the stadium provide lots of space for tailgating and outdoor music festivals. If you like this, also check out Mercer County Waterfront Park, home of the Trenton Thunder, in Trenton, N.J.
Karen Appold is a freelance writer based in Royersford.