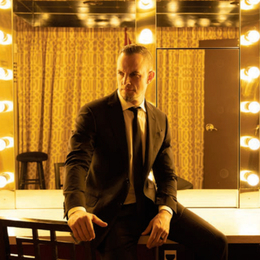 The Best Is Yet to Come
The birth of his daughter inspires rocker Mark Tremonti to pursue his passion for Sinatra and aid a charitable cause in the process.
Mark Tremonti is best known as a founding member and lead guitarist for accomplished bands such as Creed and Alter Bridge, as well as lead vocalist and guitarist for his own band, Tremonti, with whom he has released five successful albums. Now, with his latest album, a collection of Frank Sinatra cover songs, Tremonti is not only showing a different side of himself musically but also revealing a very generous and giving side as well.
After his daughter Stella was diagnosed with Down syndrome in utero, the father of three felt inspired to venture into a new style of music, benefiting charity. Mark Tremonti Sings Frank Sinatra has received rave reviews and Tremonti has donated all profits from the album to the National Down Syndrome Society. We recently spoke with the Grammy winner about this new venture, the organization he created called Take A Chance for Charity, and his loving family.
Q&A
How did your most recent album, Mark Tremonti Sings Frank Sinatra, come to be?
I've always been such a huge fan of Frank Sinatra. I spent a few years just practicing his songs kind of as a hobbyist singer. Then when my daughter Stella was diagnosed with Down syndrome, before she was born, I decided to record a Frank Sinatra record and do it for charity, since he was such a charitable man.
You've said your daughter Stella was the inspiration for this record. What can you tell us about her and your family?
Well, my wife and I have been married for 20 years now, and we have three children. Our oldest, Austen, is 17 and Pearson is 13. Then we had a big gap, and my wife said she wanted to have another child so we tried and tried and we got our little Stella. She is our first daughter, and she has just made everybody around her better, stronger people. It seems like she's been an anchor for everybody, not just our family but for all of our friends. Everybody rallies around her. She has given me the courage, the strength and the purpose to do this project. Everybody has asked me how nervous I was to do this project and I've said I wasn't nervous at all, because if you do something for the right reasons you shouldn't be nervous.
I understand Stella faced some big medical obstacles within her first year. What advice would you give to other families facing similar challenges?
When you have a child with special needs, you realize just how much responsibility it is and how much time it takes to make sure they see their fullest life, and I want to make sure that other families have the same opportunities that we have. Stella goes to therapies all week long; she does about five therapies a week. She had open-heart surgery at nine months, and these are the things that might make someone expecting a child with Down syndrome, or any other kind of special needs, very nervous. I like to tell them that these children are very resilient, much more than we adults.

Stella quickly bounced back and was laughing two days after the surgery. Raising a child with special needs does take a lot of work and a lot of heart and soul but it's not something people should be afraid of; it's something people should embrace. There are so many support groups for those with any kind of special needs children. For Down syndrome, there's a whole world of support. There's lots of people to ask questions to, and people are more than willing to give all the resources, all the love and help that they can give. It's like one big happy family.

When we found out that our daughter was going to be born with Down syndrome, I worried that we would have an isolated life, but you quickly realize that having a child with Down syndrome opens you up to a whole new world of loving people. You'll never be lonely; you'll never be out of touch with all these great, supportive and helpful people.
When did you first become interested in music?
Even from a young age I've always loved music. I was 11 years old when I first picked up a guitar. I was just very drawn to it. For years before that I'd hear a guitar on the radio or see it on TV and dream about playing one. I remember watching movies like Back to the Future and Crossroads and wanting to play the guitar so bad. It was just something I was really drawn to.
Published (and copyrighted) in Suburban Life, December 2022.