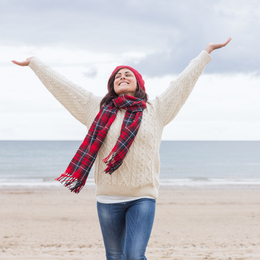 New Year, New You
Who will you be in 2023?
As the calendar shifts from December to January each year, so many of us pledge to improve ourselves by "eating right" and "getting back to the gym." Those are noble and worthwhile goals, but personal growth doesn't have to end there.
Kickstarted by the pandemic, the 2020s have been marked by a commitment to self-care. There's no end to the ways in which we can "get better" in 2023. Learn a new language. Prioritize the vacation you have been putting off for so long. Consider psychotherapy to resolve the issues that may be holding you back.

On the following pages, we offer a few more ideas to put you on the path to reinvention.
Money Talks
Is now a good time to start planning for the future?
Is this the year you decide to get your finances in order and begin plotting out the future—retirement or otherwise? Or is it "not a good time," either because of perceived tumultuousness in the financial markets, world events, or other factors that are staying your hand? We asked Rick Santella, a financial advisor and senior vice president – investments with Wells Fargo Advisors in Philadelphia, to share his perspective.
Q&A
What are the most common barriers preventing someone from taking the time to meet with a financial advisor so they can plan for the future?
Right now I think fear of the markets is one huge reason. People are inundated with information from social media, TV, etc., and hearing about how bad things are, so they automatically think they will try to get in when things are better—timing the market, so to speak. The media tends to promote the horror stories more often than not.

Fear of not understanding what the products are and how they operate is another reason; some people feel it is just too complicated. Hearing stories of how some advisors only do it for the money and don't enrich their clients is another. With the ease of self-investing, some feel they can do it themselves and do not need an advisor at all. Why pay for someone else to do it when they think they are qualified and able to do it themselves?

For anyone who does not yet have a relationship with a financial advisor, what steps can they take to find the "right" advisor and make sure they begin the process on the right foot?
Ask friends and relatives if they have an advisor and what their experiences have been. Look up advisors nearest them, and research them via Google, financial publications, magazines, etc. Personally, if I did not have a recommendation from someone I trusted who said they were happy with their experiences with their advisor, I would interview a few of them. Make sure the advisor talks to them and not over them. Ask about their experiences, product allowances, views, etc. People want an advisor who makes them feel comfortable and confident that he or she will be working as a complement and teammate to them, and will look out for them instead of just the fees they will collect.
Reset, Repair, Rejuvenate
Look and feel your best in the new year.
Sometimes looking and feeling our best requires an intervention of sorts. For one person, that intervention might be surgical in nature—a breast reduction or augmentation, a face-lift, a hair transplant, etc. Someone else might be better served by a minimally invasive or noninvasive procedure. No matter the individual, the area's many med spas, clinics, and other care providers—including the ones listed here—are ready to help.
* 1859 Wellness Spa and Salon. Stress relief and self-care do a body good. This full-service salon and spa in Manayunk aims to help clients heal "one soul at a time," through an array of massage options. Clients can also receive facials, nails, hair, waxing, and makeup, among other services, all in a tranquil environment designed to immerse guests in a state of deep relaxation. 1859wellness.com
* 4Ever Young Anti Aging Solutions. Newly opened in Bucks County, this Newtown-based clinic offers everything from Botox, microneedling, and dermal fillers, to skin tightening, chemical peels, and replenishing HydraFacials. In addition, 4Ever Young provides hormone therapy, nutrition therapy, and testosterone-replacement therapy, among other therapeutic options, designed to help clients improve how they look and feel regardless of their age. 4everyoungnewtownpa.com
* Balance Found Medical Solutions. This Yardley-based clinic specializes in bioidentical hormone replacement therapy. Regarded as a quick and largely painless procedure, BHRT consists of inserting all-natural testosterone pellets just beneath the skin, between the lower back and upper buttocks. The pellets deliver a slow and consistent dose of hormones, resulting in the restoration of a patient's testosterone to more youthful levels. Practice founder Paul M. Kosmorsky, D.O., who first tried the therapy when he was in his early 50s, says it made him feel "incredible." balancefound.com
* City Dermatology Skin Institute. Imran Amir, M.D., the founder and director of City Dermatology Skin Institute, treats patients of all ages for matters involving general and cosmetic dermatology. His offices in Bensalem and Warminster have an arsenal of energy-based devices and other "tools in the toolbox" to help patients give the skin of the face, neck, and body a refreshed and more youthful appearance. cityderma.com
* Connolly Dermatology. Connolly Dermatology customizes cosmetic dermatology treatments to each patient's needs and goals. With Coyle S. Connolly, D.O., in the lead, the practice's experienced clinical team performs several in-house treatments, including neurotoxin injections such as Botox, dermal fillers such as Juvéderm, and chemical peels to revitalize the skin. The practice also offers a line of medical-grade, cost-effective skincare products to help patients maximize their results at home. connollydermatology.com
* Davis Cosmetic Plastic Surgery. When Steven L. Davis, D.O., meets with a prospective patient for the first time, he does a thorough physical examination and also delves into what's most important to the individual; he wants each patient to come away from the encounter fully informed and aware of their options. One person may be best served by a surgical solution, while another may be a better candidate for dermal fillers or energy-based devices. The answer, he says, will be different for each person, depending on who they are and where they are in their life. daviscps.com
* Modern Aesthetic Plastic Surgery. Led by board-certified plastic and reconstructive surgeon Robert J. Skalicky, D.O., Modern Aesthetic Plastic Surgery takes a holistic approach to rejuvenation. Dr. Skalicky and his team offer a multitude of treatment options, ranging from surgical intervention and injectables, to laser treatments and aesthetician services. modernaestheticplasticsurgery.com
Imagine
Put your creative energy to good use.
Typically seen as a season of introspection and hibernation, winter is a perfect time to find new ways to express one's creativity. Sign up for glassblowing, pottery, or textile-art classes. Take up photography. Learn how to draw, paint, or sculpt. Start a band. Or pick up a pen and try your hand at creative writing, which is Don Swaim's particular area of expertise.

Swaim's bookshelves are legendary. At least one shelf is devoted to local authors—particularly, authors from the Bucks County area who published their stories with help from the Bucks County Writers Workshop, a group he founded in 1998. BCWW members meet twice per month to critique each other's work; the group used to meet face to face but has since migrated to Zoom.

In just the past two years, several current and former BCWW members have published books bearing their bylines—some by self-publishing, others by working with traditional publishers, others by founding their own publishing houses. In Swaim's case, Errata Press recently released a second edition of his book Deliverance of Sinners: Essays & Sundry on Ambrose Bierce, first published in July 2021.

Other recent titles from BCWW alums include Zero Island and 2 Street by Chris Bauer, A Noble Conspiracy by Bobby Cohen, Crawl on Your Belly All the Days of Your Life by William J. Donahue, Visible Signs by Grace Marcus, and Where the Stork Flies by Linda C. Wisniewski. Speculation Publications, a small press founded by three area writers, including BCWW alum LCW Allingham, has put out three collections—Lady in White, The Dancing Plague, and Incubate—in the past 14 months.
"The purpose of a workshop such as the BCWW is to learn from one another by exchanging peer reviews," Swaim says. "Thus, the solitary task of putting words to page becomes less solitary, benefiting aspiring authors with the advice and insights of others."

The BCWW (donswaim.com/buckswriters.html) isn't the only game in town. Other established writers' groups take up residence in Philadelphia (Philadelphia Writers Workshop), West Chester (Brandywine Valley Writers Group), and Bethlehem (Greater Lehigh Valley Writers Group). For those who don't have a writers group in their area, there's nothing to stop them from starting their own.
Published (and copyrighted) in Suburban Life, December 2022.