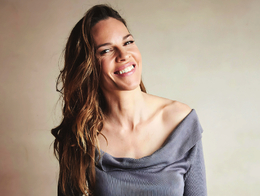 Always an Underdog
Known for taking on roles about characters who persevere, Hilary Swank overcame a difficult upbringing to become a two-time Oscar winner.
Whether Hilary Swank is getting into shape for her role as a boxer in Million Dollar Baby or stepping in the shoes of an investigative crime reporter on the new ABC drama Alaska Daily, the two-time Oscar winner is all about the details.
The extremely grateful 48-year-old actress recently announced that she and her husband of four years, Philip Schneider, who she calls "the man of my dreams," are expecting twins, and is beyond excited to become a first-time mom, saying, "It's such a blessing. It's a total miracle. It's unbelievable!"

The Hollywood star never shies away from challenging roles in a multitude of genres. Her films include the sci-fi thriller I am Mother, as well as Freedom Writers, Amelia, The Affair of the Necklace, and The Next Karate Kid.

Her dedication goes so far that to prepare for Boys Don't Cry, she lived as a man for a month, reducing her body fat to 7 percent. For that role, she only earned $75 a day, which was not even enough for her to qualify for health insurance.

What many of these roles have in common is a commitment to evocative storytelling that helps change the way the audience feels and acts about the subjects involved; she makes people care.

"At the heart of these stories, everyone wants to be seen, and everyone deserves justice," Swank explains. "I think a lot of the roles that I choose have that theme in one way or another."

Swank also vividly remembers the naysayers who told her she was never going to fulfill her dream of becoming an actor when she left the trailer park she shared with her mother, calling it a gift that transformed her life and career.

The new series, Alaska Daily, follows awardwinning investigative journalist Eileen Fitzgerald, who leaves her high-profile New York life behind after a fall from grace when it turns out a source that she trusted burned her and derailed her journalism career.

Eileen, who is a bit of a tough cookie and is accustomed to working alone, joins a daily metro newspaper, The Daily Alaskan, in Anchorage, where she embarks on a personal and professional journey of redemption and seeks a clean start, all the while kicking and screaming to have her old life back.

She is also forced to work with Rosaline "Roz" Friendly (Grace Dove), another female investigative reporter, to dig deep into the apparent murders of several Indigenous women that the authorities are ignoring—or refusing to share information with the media.

The story sheds light on the problem of crimes against Native American women often being ignored, despite the fact that the crime rate is 10 times higher for that segment of the population than for white women. This disclaimer is flashed on the screen at the end of each episode of Alaska Daily.

Tom McCarthy, the series creator, is best known for writing and directing the movie Spotlight, about the Boston Globe's investigation into sexual abuse by the Roman Catholic clergy. The film won the Best Picture Academy Award in 2016.

With a reputation for passionate writing, McCarthy calls the significance of the show the local reporting. Why this matters so much to him is what he calls "news deserts that are evolving across our country," where there are no more local journalists or local papers; something detrimental to the identities of the communities involved.

McCarthy adds that the actual Anchorage Daily News is not a "very good paper, but the work they are doing is tremendous, and they are covering a state two and a half times the size of Texas. "So, I wanted the American people to understand that and why it's worth supporting journalists and their work."

Suburban Life spoke to Swank about the new ABC drama, how she enjoys spending her free time in Alaska, and thoughts about her two-time Oscar-winning career.

Q&A
What prompts you to pick such diverse projects?
I love a character who has that grit and determination, who perseveres through adversity and reminds us all of what our purpose is here.

It seems that grit and determination are part of your personality.
Yes, I 100 percent agree!

Has that helped you through difficult times?
One million percent! The idea of growing up in the lower socioeconomic background that I grew up in and having people say, "You're going to Hollywood and you're going to be an actor, good luck with that, haha! That's never going to happen." And then having the gift of my mom telling me as a child that I could do anything I wanted in life as long as I worked hard enough and never gave up, gave me the confidence to say, "OK, this is what I'm going to do. I'm going to work hard to get there." I didn't have the adult glasses on to say, "Oh, my gosh, that is a difficult dream to conquer." I just went for it.

Is there a thread that ties together all of your projects?
I don't think I knew about this early on, but looking back it is about looking out for the underdog. Many of my performances have been about real people and I feel that it's an extra responsibility to find justice for the underdogs, for the underserved. It's something that I'm extremely passionate about and have been for a long time. As an actor, I'm always searching for the truth in my characters.

With all of your experience as an actress, what advice do you have for the next generation?
I would want to make sure they are protected. The business side of this can be so hard and it's so different than what you experience on a set from the creative side, so, I want to be able to help guide others if they need it, and navigate through the difficult waters of what it's like. I believe that each of us has an instinct. You have to trust it, and you have to do what's right for you, and not for anyone else.

Tell me about a wonderful day you recently had.
My husband and I spent a few days for his 50th birthday off the grid in Alaska and we went hiking, exploring for wildlife, flyfishing, and just enjoyed spending time appreciating and enjoying nature. It was a memorable time.

Overall, why was Eileen in Alaska Daily so appealing to you?
She is a truth-seeker and wants to find out what has happened to these Indigenous women, and I would like to discover this as well. It makes me angry that we don't know and, like Eileen, it pushes me to dig deeper.

Would you consider becoming a reporter?
No, I am an actor and not a writer. But I call her a truth-seeker.

It's very clear that Eileen and Roz definitely have very different perspectives on the world. So how would you say they challenge each other to kind of rethink the way that they both have to approach their work as journalists?
As the show goes on, I'm sure we'll understand better why these two were paired up by [their editor] Stanley (Jeff Perry) and the strengths that they both bring to the reporting. They both go at it very differently, and their strengths complement one another. But in the beginning, they definitely butt heads. Yet, it takes both of their strengths in order to get the job done.

Were there certain aspects of journalism from Tom McCarthy's film Spotlight that you wanted to bring to Alaska Daily and maybe emphasize a bit more?
It was already seared in my brain how great it was and what an impression it made on me, just solidifying Tom's work in my eyes, you know. From Station Agent on, he had me hooked. So, no, I didn't need to watch it again. Also, you know, you want to kind of have your own take on things and not try to bring something like that into your work and let it be its own character and breathe its own life.

What was it about this project that jumped out at you and said, "I need to get back to TV?"
Well, when Tom mentioned the show and what he was wanting to create, and after reading the pilot, he told me about a 2019 article, "Lawless: Sexual Violence in Alaska," written by Kyle Hopkins of the Anchorage Daily News that was about true crimes in Alaska. I read it, and I was all-consumed.

I knew immediately that this was material that matters. It was eye-opening, horrifying—all things at once, things you can't believe are happening. I want to shine a bright light on these issues, especially the missing and murdered Indigenous women that no one's doing anything about.

When I had learned about the missing Indigenous women about six months before I spoke to him, I was so angry and so horrified that this is happening

What do you look for in a role?
I love people, and I love what makes them tick, and I love people who persevere through adversity. I love outsiders. I love the underdog, and I love what makes us all one person.

What specifically drew you to your character, Eileen Fitzgerald?
I feel like Eileen is a truth-seeker. She's an investigative truth-seeker. And she wants to make sure that justice is done and that people see the truth in situations and people who are corrupt. I feel that alliance with what people in the world want right now. People don't want to be lied to anymore. People don't want organizations with all the systemic stuff that we're seeing come out; it's horrifying, but it's also a blessing because we're able to start doing something about it. I relate to Eileen because her goal as an investigative reporter is to search for the truth.

We had a day player last week who said, "My mom went missing. She was murdered and she went missing." And so, we know that this is happening. It's not just something that we're telling you. To me, when you can learn something while you watch something, you can be entertained; you can relate to something and you pile all three, then it's the best of all worlds. To me, that's what I was told our show was going to be, so I wanted to be a part of that.

What were you thinking about when you made the 2019 futuristic thriller, I Am Mother? The movie is about alienation, technology and family relationships. The collaborators wondered what it would be like to be raised without parents.
I was thinking about the idea of artificial intelligence and also how AI can absolutely kind of take over our world, without any programming from the human race, because they are exponentially smarter and getting data so much faster. The fact that they could take over one day is not such a far-fetched idea.

Did it make you think that we are all so immersed in our technology that we rarely talk face-to-face, sit together or bond like we used to?
I think back to when we used to go to a library for our book reports using the Dewey Decimal System. At 48 years old, I was raised without any technology, no computer or any of that, and I am so grateful for the experiences of one-on-one interactions, and not interacting at a dinner table with a phone; I think it's really got to be hard for a kid.

Do you have a charity that you care about?
Yes, it's called The Hilaroo Foundation. It's a combination of my name and my late dog Karoo's name put together, and it brings kids who have been given up on and animals who have been abandoned together to help heal each other.

What else can you tell me about Hilaroo?
The plan is that together the animals and young people can heal one another through rescue, rehabilitation and responsibility training. When the animals are ready, they will be adopted into forever homes. The young people, through their time at the foundation, will be given responsibility training so they may go out into this world to make it a better place for themselves. Hanging out with these kids is life-changing and humbling.
Published (and copyrighted) in Suburban Life, December 2022.