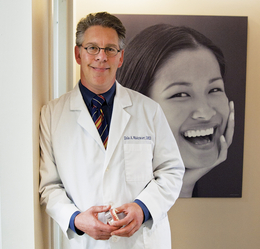 Comfort Zone
Dr. Zola Makrauer earns patients by first earning their trust
"He changed my life." "He is an amazing human being." "He's the best ever."
To say Dr. Zola A. Makrauer's patients speak highly of him would be a huge understatement.
During Suburban Life's recent reader poll to shine a spotlight on the area's top dentists, Dr. Makrauer's patients voted in droves, with glowing comments such as those listed above, to make him the contest's leading vote-getter. One woman wrote that she flies from Missouri to Philadelphia specifically to benefit from Dr. Makrauer's expert care and seasoned dentistry skills.
Conversations with him and his staff make it easy to see why his patients are so loyal. Patients come to Dr. Makrauer's office in Huntingdon Valley—from as far away as Missouri and New Hampshire, apparently—for reasons beyond his skill and expertise, it seems—namely, a soothing environment and a caring, long-tenured staff, all designed to lessen anxiety and make each patient know he or she is in very capable hands.
Above all, patients say, they come to Dr. Makrauer because they know they can trust him.
"We don't treat anybody like a number," says Dr. Makrauer. "Typically in the health-care field, [office personnel] don't even lift their head and acknowledge when you walk in the door. We would never allow this to happen to any of our patients. We're a very high-touch, very people-oriented office, and our patients respond to that."
Dr. Makrauer accommodates patients in need of general and preventative dentistry, as well as cosmetic porcelain veneers, dental implants and reconstructive/restorative dentistry. Originally a native of Pittsburgh, Dr. Makrauer graduated from University of Pittsburgh in 1979 and then moved to the Philadelphia area to study dentistry at Temple University's Kornberg School of Dentistry, where he received his Doctor of Dental Medicine degree. In total, he has been practicing his craft for nearly 28 years.
"A lot of people go to their dentist just because their dentist doesn't hurt them," he says. "It's sort of like getting your car fixed; sometimes you have no idea what good care is like until you've gotten it from someone who provides good care. In truth, it's more about forming trust. I always tell my patients, 'Here's the best treatment plan that will serve your needs.' It's my obligation to communicate honestly and openly."
For example, if a patient is faced with the prospect of losing a tooth, Dr. Makrauer takes them through three specific options for its replacement: a partial denture, which he says almost no one wants; a permanent bridge, which he calls "dentistry of the '80s"; and a dental implant, which he considers the best possible solution.
"If a dentist wants to make money quick, he'll tell the patient to get a bridge," Dr. Makrauer says. "But for the patient it might not be the best option because it's much harder to maintain. Although a single implant could be more costly, in the long run it's going to be a better option for the patient."
'No Stone Unturned'
Laurie Samuels, who worked as a hygienist for 30 years before joining Dr. Makrauer's team as the practice's business manager, believes the combination of thoroughness, honesty and nearly three decades of experience has given her boss "an unusual talent" for alleviating any fears a patient might have of sitting in the dentist's chair.
"Our patients never feel rushed with Dr. Makrauer because he patiently answers every question asked," she says. "But it's much more than that. … Dentistry is not inexpensive; we have seen many patients who have picked a dentist specifically for a 'good price' and later come to our office because the work was not done well, did not last or did not function properly, and the patient ends up losing all that money and time.
"We take the time to treat patients as we would treat our family," she adds. "We make sure we look at the whole picture and leave no stone unturned."
Cutting-edge advances such as digital X-rays, which expose patients to as much as 70 percent less radiation as traditional X-rays, as well as CEREC, which is a computerized milling device used to create custom crowns, have helped Dr. Makrauer remain at the forefront of high-quality patient care.
"Patients just love [CEREC]," he says. "It takes digital impressions of a patient's mouth so we can design a crown and fabricate it in one visit. Typically, you get a crown and you're looking at two visits; you leave with a temporary crown and come back, and then you're talking about two rounds of injections. … People hate impressions because they have this uncomfortable thing in their mouth, so there are big advantages to CEREC, plus it's much more sensitive to their time."
Although Dr. Makrauer and his staff strive to see every patient promptly, they ensure the waiting-room environment is warm and welcoming in the rare occasion that they do have to wait for more than a few minutes. The waiting room features an open desk area to encourage communication with staff, soothingly rich cherry-wood accents, a television—each of the four operatories has a ceiling-mounted TV as well—and a variety of healthy snacks, coffee and juices, which patients can enjoy before or after an appointment.
"I would say that it's a real people experience when you come here," Dr. Makrauer explains. "One of the reasons why is that I have the best staff I've ever had in 27 years of practice."
Dental hygienist Beth Nicholl has been working by Dr. Makrauer's side since 1986. She has seen firsthand the value patients place on such attentive care.
"We take time to schedule the appropriate amount of time so people feel comfortable they're getting the care they deserve," she says. "We all work well together here, and I think the patients notice. … I also love the fact that [Dr. Makrauer] is a very good restorative dentist who truly cares about his patients. I couldn't work in an office where I saw the dentistry not up to par."
Dental assistant Barbara Leonard, who has been part of Dr. Makrauer's team for six years, says she's happy to hold a patient's hand to help them get through a novocaine injection or otherwise ease their fears.
"We do everything we can to make people comfortable here," she says. For example: "Women, especially if they're having their front teeth done and want to see how it looks in natural light, I'll take them outside so they can see what it looks like in the natural light."
Such care and attention to detail seem to be paying off in the form of a growing list of satisfied patients. Staff members have noticed another trend that bodes well for the practice: the return of prodigal patients.
"It says something special about [the practice] when you have patients who haven't been here in a while and they come back," says dental assistant Betsy Rogers, who has been working with Dr. Makrauer for more than five years. "They're telling us that they're not finding the same dentistry out there that Dr. Makrauer is doing."
One patient underscored Rogers' point in her top-dentist nomination through the Suburban Life website: "We travel from northeast Philadelphia because my husband and I would not trust any other dentist as we do Dr. Makrauer."
Zola A. Makrauer, D.M.D.
Masons Mill Business Park II
1800 Byberry Road, Suite 805,
Huntingdon Valley
215-947-7700
MakrauerDMD.com
Felicia Perretti is a freelance photographer based in Philadelphia.