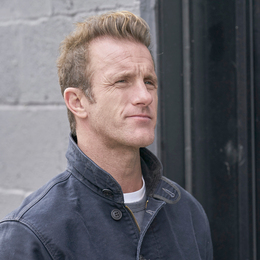 Mr. Intensity
In his latest role, Scott Caan displays his skill for high drama.
After starring roles on Entourage and Hawaii Five-O, Scott Caan is returning to the small screen as a detective on FOX's new action drama, Alert: Missing Persons Unit. The show is set within a fictional Philadelphia PD's Missing Persons Unit.
Based on an idea from actor-producer Jamie Foxx, the new series stars Caan as Jason Grant and Dania Ramirez as his ex-wife, Nikki Batista. Together, the characters collaborate to save lives and bring criminals to justice while facing a quest to find the truth about their long-lost son.

The series emphasizes the element of time when searching for a missing child or adult. Beyond the detective work, each episode portrays a deeply emotional story involving a missing person and an over-arching family story between Caan's character and that of his co-star.

Caan, the son of the late actor James Caan (The Godfather, Misery, Brian's Song, etc.), received a Golden Globe nomination for Hawaii Five-O. In addition to his acting career, he is a photographer, former rapper, and a black belt in Brazilian jiu-jitsu. He also actively volunteers with Surfers Healing, a nonprofit that teaches individuals with autism how to surf.
Q&A
After 10 years on Hawaii Five-O, what about this series made you willing to recommit to the possibility of another grueling TV schedule?
A lot of procedural shows have a formula that I didn't notice in this series. … When I read scripts, if I can find something in myself that I can put into this character, then that's what makes me decide I want to do something. [An example is] the idea of finding your son after not knowing where he's been for seven years. This is an acting problem that I've never been faced with; it's an acting problem that I've never read before. So, to me, it's something that I immediately felt uncomfortable with and didn't know exactly how I was going to approach it. Those are the kind of things that turn me on when it comes to digging into a part. If I get a little nervous and don't quite know what I'm going to do yet, that's a good sign that I should probably move forward and do it.
You've done other intense roles like Ocean's Eleven and Gone in 60 Seconds. What drew you to these intense roles?
I think what we do in playing one role for a while is a lot more difficult than showing up for a movie for three or four months. …This [show] is without question the most complicated thing I've ever done. I'm learning more about myself. I'm learning a ton about acting. There's just so much going on, and I think that it is definitely more intense than anything I've ever done yet in a really beautiful and positive way. If you like being creative, if you like digging in as an actor, there isn't much out there that is more complicated than the problemsolving that this show has required of me. I think that the second we aren't challenged by what we do, we should just quit, you know?
You're basically living out every parent's worst nightmare in this show. How difficult is it to let go after highly emotional scenes?
It's one of those things where our job definitely comes home with us, and I don't realize how affected I am by it. But, yes, every day we're dealing with really horrible stuff. This isn't something that I can just show up and, you know, not give a lot of thought to. And that's what keeps me excited about it, and that's I think why people will be excited to watch the show because we're literally trying to figure things out all the time.
Knowing that you have young children, and the show is about finding missing persons, did you give them extra hugs after shooting the show?
With my home life and being away as much as I am, I bring whatever's going on in my life to what I'm doing. And so just being away from my daughters for the last four months, they get much bigger hugs than they've ever gotten.
What is the best advice you received from your dad?
He told me to keep my head down when you're fielding a ground ball. It was always sports with him.
He was one of the greatest human beings of all time. If you knew him, you knew that you would never meet anyone like him ever again. He was a huge inspiration, a truly special guy.
Photo by Shane Mahood/FOX
Published (and copyrighted) in Suburban Life magazine, January 2023.