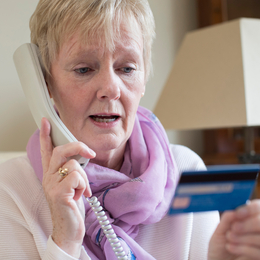 Sniffing Out Scams
Embrace vigilance and education to fight fraud.
As reprehensible as it sounds, some people earn their living by scheming seniors out of cash and other assets. In 2021, more than 92,000 victims over the age of 60 reported fraud-related losses of $1.7 billion to the Internet Crime Complaint Center. In Pennsylvania alone, fewer than 5,000 complainants ages 60 and older reported losses in excess of $50 million.
Some seniors recoup their losses, but others do not, often because they do not feel as though they have any recourse. Others choose to keep quiet about the experience because they feel embarrassed to have fallen prey to a scam.

"There's a stigma associated with it," says Genevieve Waterman, director of economic and financial security for the National Council on Aging (NCOA). "They think: I'm an older, wiser person, and I shouldn't have fallen for this. Scammers are getting increasingly sophisticated; it's their full-time job to think of ways to scam you, so don't feel ashamed. Talk about it. At the very least you might save someone else from losing their money."

At an early age, Waterman witnessed the troubles some seniors had accessing basic necessities, such as health care and financial protections. She has since devoted her education and career to doing something about it.

"I thought: Shouldn't we be doing more?" she says. "I wanted to find ways to reach out to older adults and help them avoid losing money they can't afford to lose. Some people think that once you hit retirement, you have a grand amount of wealth, but that's far from the truth for many people. These are people who have worked hard all their lives, but later in life they're suffering."

In her work with NCOA, Waterman has developed curricula to help older adults safeguard their finances, in part by avoiding scams. For example, she helped the organization partner with the software company Avast (since acquired by NortonLifeLock) to help older adults stay safe online; tips touched on everything from phishing scams to smart password selection to the safe usage of smartphone apps. She says NCOA and Avast reached 1.1 million older adults through the six-month partnership, which ended in April 2022.

Scams seem to change as quickly as shadows on a sunny day. Common scams include those in which fraudsters pose as representatives from the Internal Revenue Service, Medicaid/Medicare, or the Social Security Administration; they prompt a response from would-be victims by suggesting there is money owed or a danger of losing benefits. Others include phishing emails and texts from scammers pretending to represent reputable companies in matters such as tech support. Waterman welcomes seniors to visit the NCOA website, ncoa.org, to learn from Phyllis Weisberg, a senior who had $20,000 taken from her checking account through a crafty tech-support scam.
Some scammers are bold enough to show up in person; Waterman cites a type of swindle in which someone appears on the doorstep after a flood, damaging storm, or some other natural disaster, posing as an insurance adjuster, contractor, or some other "good guy" offering to help in exchange for money or personal information.

In Bucks and Montgomery counties, some neighborhoods have reported an uptick in the theft of sensitive information from people's mailboxes. A skilled practitioner might be able to snatch a check, chemically "wash" it, and then write the check out to themselves before the check's owner even realizes it was stolen. Worse, the thief may even be able to use the physical check to access the check owner's banking information.

"Always remain vigilant and educate yourself about ways to protect yourself and your money," she says. That said, she admits that scammers continue to devise new and inventive ways of parting people from their money. "We don't know what's next."
Published (and copyrighted) in Suburban Life magazine, January 2023.