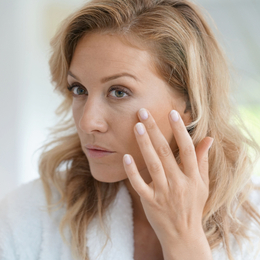 Defying Time
Medical therapies and skincare regimens soften the effects of the aging process.
Sanjay Batra, Ph.D., was on the cusp of 50 when he first noticed a subtle but unmistakable change in his appearance: hair loss toward the back of his head.
"Until then I had been blessed with very good hair and good genetics," he says. "Losing my hair profoundly affected me. It made me very upset, short of depressed; it was a kick-in-the-gut kind of feeling. I would go so far as to say that it affected my self-perception and confidence."

Just as the sun rises each day, humans can be assured that their bodies will show signs of aging as they grow older. The cells in the human body are programmed to perform basic biological functions, as well as to divide and multiply. The more cells divide, however, the older and more damaged they become. Eventually they lose their ability to function properly. In the body, the effects of this cellular breakdown appear in a multitude of ways, such as changes in skin tone and texture, low energy, reduced muscle mass, altered sleep patterns, and, in Dr. Batra's case, hair loss.

While many choose to "let nature take its course," countless others choose to fight back with anti-aging regimens designed to slow nature's progression—or at least soften the effects of it. Demand is, in a word, high. The size of the global anti-aging products market reached nearly $40.5 billion in 2020, and is expected to expand at a compound annual growth rate of 5.4 percent through 2028, according to the market-research and consulting firm Grand View Research.

Dr. Batra would never describe himself as prone to vanity, but he understands the consternation over age-related changes to the face and body. When he started noticing his hair loss, he was working for work a Big Pharma company that developed life-saving drugs associated with oncology, immunology, and cardiovascular medicine, among others. He began putting his skills to use to develop an alternative to the FDA-approved drugs to combat hair loss, both of which came with a considerable risk of unwanted side effects. The result of his efforts: Revivv®, a topical drug-free serum to promote hair growth.

The product was launched last January by WETHRIVV®, the company Dr. Batra co-founded with his wife, Amy, headquartered in Doylestown. The company's portfolio also includes a growing line of anti-aging and skincare products under the Maskad® brand.

"I've since stopped having to look in the mirror," Dr. Batra says. "Aging happens, but Revivv changed my life."

Anti-aging begins with self-care, according to Stephen Matta, D.O., the chief medical officer of Manayunk-based Meeting Point Health. Establishing good habits such as proper nutrition, regular exercise, and good sleep hygiene at a young age can help a great deal, though he has treated patients as young as their 20s for symptoms related to age-related hormone imbalance.

"Women should not wait for menopause to optimize their hormones," he says. "A lot of people deplete their hormone storage at a young age, and we know that with every decade of life, testosterone and estrogen levels will naturally decline."

Meeting Point Health's range of anti-aging therapies includes bioidentical hormone replacement, peptide therapy to support hormones and foster cellular repair, and vitamin infusion therapy, including vitamin C, calcium, zinc, magnesium, and glutathione, among others. The practice also offers platelet-rich plasma treatment, which uses a component of the patient's own blood to stimulate tissue regeneration for the hair and skin.

Also, a treatment known as ozone infusion therapy can battle back Father Time by reinforcing the immune system. Dr. Matta says the therapy can result in improvements in lymphoid production, blood circulation, oxygenation, detoxification, and antioxidant production.

"Our immune systems are overburdened, given our industrialized lifestyles and environments," he adds. "We are also heavily exposed to bacteria, yeast, mold, viruses, and parasites. When coupled with trauma, stress, and genetic variations, our immune cells must keep up with the pathogenic and toxic burden. This causes our immune cells to age and degenerate faster than they should."

Patients have countless other options in terms of anti-aging regimens, ranging from medically supervised skin care, to injectables such as Botox, Xeomin, and Dysport for addressing fine lines and wrinkles, to microneedling and ablative laser skin resurfacing, to plastic surgery. While some patients may be best served by more dramatic forms of intervention, the continued evolution of noninvasive and minimally invasive treatments means that more patients may be able to achieve their desired results without surgery.

"Twenty years ago, the face-lift was the gold standard for anti-aging," Dr. Batra says. "You may recall some photos of women whose skin was pulled back so tightly that they would look completely unnatural. Today, you have treatments that provide a subtler, more natural-looking result. Rather than a drastic change, you just look like you had a good night's sleep or are well hydrated—a refreshed version of you, without looking artificial or unnatural."

No matter which mode of treatment someone may be considering, Dr. Batra says patients' decision-making process needs to include several factors: the commitment involved, including the pain associated with the treatment; the required downtime; how quickly the treatment will provide visible results; and the cost.

"When someone begins an anti-aging treatment, another thing to consider is if this is something they're going to have to do for the rest of their life, and what's the implication of that," he says. "Everyone's looking for the Fountain of Youth, and sometimes it's not worth it. Personally, I think it's important that we age gracefully, not be anti-aging zealots."

Dr. Batra admits that he's not a fan of the term anti-aging.

"There are some things no one can control, and one of those things is time," he adds. "You can't stop the tide. You can't stop the sun from rising. We should embrace the fact that we age, and do so gracefully; it's better than fighting it."
Aged to Perfection
Many of the locally based med spas, dermatology practices, and other service providers offer tailored options to turn back the clock, figuratively speaking. The following service providers strive to help patients age with beauty and grace.
4Ever Young Anti Aging Solutions
4everyoungnewtownpa.com

Balance Found Medical Solutions
balancefound.com

City Dermatology Skin Institute
cityderma.com

Connolly Dermatology
connollydermatology.com

Davis Cosmetic Plastic Surgery
daviscps.com
Dermatology Associates of Plymouth Meeting
plymouthmeetingdermatology.com
The Healthy You Wellness LLC
thehealthyyouwellness.com
KP Aesthetics
kpaesthetics.com

Meeting Point Health
meetingpointhealth.com
Modern Aesthetic Plastic Surgery
modernaestheticplasticsurgery.com
WETHRIVV
wethrivv.com
Published (and copyrighted) in Suburban Life magazine, January 2023.