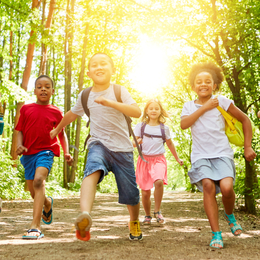 Summer State of Mind
As winter wears on, families turn their attention to summer camps and programs.
"When I was your age …" Parents may use this phrase to start conversations with their children when sharing some of their fondest childhood memories. Some will surely involve lots of sunshine, bare feet on grass or splashing in creeks, and just being a kid without distractions.
Many of us were fortunate to make these memories at summer camps, which specialize in helping kids develop new skills, cement new friendships, and enjoy unique experiences. Summer camps still offer an experience that today's adults may recall from their youths, only with some key twenty-first century updates. No matter where a child's interests may lie, families are likely to find a summer camp where their son or daughter can immerse themselves in an environment designed to help them grow and learn.

The schools, camps, and other organizations listed on the following pages want to help local families have an awesome summer. Their websites will provide more detail about camp dates, availability, and registration. Competition for available spots is heating up—some camps already have wait lists—so we recommend reaching out as soon as possible.
SOMETHING FOR EVERYONE
Briarwood Day Camp
Furlong
briarwooddaycamp.com
June 19 to August 4

Camp America
Chalfont
camp-america.com
June 19 to August 11

Camp Curiosity
Doylestown
campcuriosity.com
June 19 to August 18

Camp Kweebec
Schwenksville
kweebec.com
Contact for details

Camp Sequoia
Pennsburg
camp-sequoia.com
June 24 to August 5

Future Stars Day Camps
Multiple locations
futurestarscamps.com
Flexible scheduling

Habonim Dror Camp Galil
Ottsville
campgalil.org
June 21 to August 13

Hideaway Day Camp
Collegeville
hideawaydaycamp.com
June 19 to August 11

Liberty Lake Day Camp
Mansfield Township, New Jersey
libertylakedaycamp.com
June 26 to August 18

Malvern Day Camp
Glen Mills
malverndaycamp.com
June 12 to August 18

Perkiomen Pines Day Camp
Schwenksville
perkiomenpines.com
June 26 to August 18

School's Out Day Camps
Hatfield
xlhatfield.com/camps
Contact for details
Valley Forge Military Academy Summer Camp
Wayne
vfmac.edu/summercamp
June 26 to August 4

ACADEMICS +
Academy of Notre Dame de Namur Summer Enrichment and Sports Camps
Villanova
ndapa.org
Contact for details
Archmere Academy Summer Sports Camps
Claymont, Delaware
archmereacademy.com
Contact for Details

Friends' Central Summer Camps
Wynnewood
fcsprograms.org
Contact for details

Friends School Haverford Summer Camp
Haverford
friendshaverford.org
Contact for details
Germantown Academy Summer Camps
Fort Washington
germantownacademy.net/summer
Contact for details

The Meadowbrook School Summer Programs
Meadowbrook
themeadowbrookschool.org
Contact for details

Notre Dame High School – Summer at Notre Dame
Lawrenceville, New Jersey
ndnj.org/summer-experience
Contact for details

Perkiomen School
Pennsburg
perkiomen.org
Contact for details

Salesianum School Summer Edge
Wilmington, Delaware
salesianum.org
Contact for details

St. Joseph's Preparatory School Summer Programs
Philadelphia
sjprep.org
Contact for details

Tatnall School Summer Camps
Wilmington, Delaware
atatnallsummer.org
Contact for details

Ursuline Academy
Wilmington, Delaware
ursuline.org/discovery-cove
Contact for details

Villa Joseph Marie High School Summer@Villa
Holland
vjmhs.org/summer
Contact school for details

LEARNING DIFFERENCES
AIM Academy Summer Enrichment
Conshohocken
aimpa.org
Contact for details
Benchmark School 2023 Summer Season
Media
benchmarkschool.org
Contact for details

Center School Summer Learning and Enrichment Program
Abington
centerschoolpa.org
Contact for details

Summer 2023 at Delaware Valley Friends School
Paoli
dvfs.org
Contact for details
Woodlynde School Summer Camp
Strafford
woodlynde.org
Contact for details

ATHLETICS
CAL Sports Academy 2023 Summer Camps
Hatfield
calsportsacademy.com
Contact for details
Game Breaker Lacrosse Camps
Multiple locations
laxcamps.com
Contact for details
Hatfield Ice Summer Camps
Hatfield
hatfieldice.com/youth-hockey/summer-camps
Contact for details

High Performance Tennis Academy 2023 Summer Camp
Haverford College, the Cynwyd Club, Radnor Valley Country Club
hpta-riverside.com
June 12 to September 1

Phillies Baseball Academy
Multiple dates and locations
philliesacademy.com
Contact for details

Youth Football Camps of the Philadelphia NFL Alumni
Multiple dates and locations
prosportsexperience.com
Contact for details

CREATIVE AND PERFORMING ARTS
Burn Brae Day Camp of Creative Arts
Dresher
burnbraedaycamp.com
Contact for details

HomeCooked 2023 Kids Cooking Camp
Paoli
homecooked.net
June 20 to August 24

Main Line Art Center 2023 Summer Art Camp
Haverford
mainlineart.org
June 20 to August 25

Michener Art Museum Summer Camps
Doylestown
michenerartmuseum.org
June 19 to August 11

Pennsylvania Academy of the Fine Arts – 2023 Summer Art Camp
Philadelphia
pafa.org
Contact for details

Rockdale Music 2023 Summer Camps
Aston and Media
rockdalemusic.com
Contact for details

School of Rock Doylestown 2023 Summer Camps
Doylestown
schoolofrock.com/locations/doylestown
Contact for details

DISCOVERY, SCIENCE, AND TECH
Awbury Adventures at Awbury Arboretum
Philadelphia
awbury.org/summer-camp
Contact for details

Bucks County Audubon Society Summer Adventure Camp
New Hope
bcas.org/education/camps/summer-camp
June 19 to August 25

Bucks County Community College – Kids on Campus Summer Camp
Newtown
bucks.edu
Contact for details

Delaware Valley University Kids U! and Inspire U! Summer Programs
Doylestown
delval.edu/programs
Contact for details

Elmwood Park Zoo 2023 Summer Camp
Norristown
elmwoodparkzoo.org
Contact for details

Morris Arboretum of the University of Pennsylvania Summer Camp 2023
Chestnut Hill
morrisarboretum.org
Contact for details
Philadelphia Zoo – Zoo Camps
Philadelphia
philadelphiazoo.org/camps
Contact for details

Riverbend Environmental Education Center Summer Camp 2023
Gladwyne
riverbendeec.org
Contact for details

Science Explorers STEM Summer Camps
Multiple area locations
scienceexplorers.com
Contact for details

WHYY Summer
Philadelphia
whyy.org/education
Contact for details
Published (and copyrighted) in Suburban Life magazine, January 2023.