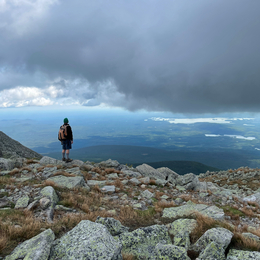 Into the Great Wide Open
Embarking on new adventures with friends and family strengthens bonds and fosters a deeper appreciation of the natural world.
The summer vacations of Lindsey Getz's youth usually involved trips to the family's beach house on the coast. Although she has fond memories of her days in the sun, sand, and surf, she has spent the years since using her vacation time to "branch out and see more of the world."
As an adult, Getz acquired a taste for outdoor adventure, which she attributes to two things: a job working for Backpacker magazine; and her relationship with Joe, the outdoorsy boyfriend who would later become her husband, with whom she traveled to the likes of Yellowstone National Park.

"We found something as a young couple that we both enjoyed," says Getz, a writer who lives on the edge of Montgomery County. The Getzes have since passed their love of travel on to their two children—a 13-year-old daughter and a nine-year-old son.

Recently, for example, the family traveled to New River Gorge National Park and Preserve in West Virginia. The 70,000-acre tract is known for its rugged hiking trails, gorgeous vistas, and challenging whitewater rapids. Getz, who describes herself as "a thorough researcher," created an itinerary in which her family could see the park in as many ways as possible, including kayaking the rapids for which the park has become famous.

As Getz and her family have found out, exploring new and unfamiliar places helps to broaden one's perspective. It also tends to strengthen bonds between those who share in the experience. Research suggests travel and time outdoors both have innumerable benefits, ranging from boosting the immune system to improving the mood; as little as 20 minutes a day spent outdoors helps reduce stress, according to the National Recreation and Park Association.

"You get to see new places and meet people who come from different backgrounds, different perspectives," Getz says. "I think it's important for kids to experience that; it's important for people of any age, for that matter."
'Like Going to Church'
Sharing adventures with those closest to him has become a big part of John Bales's life. Now in his early 80s, Bales makes a point of taking destination trips with each of his three adult daughters. Past highlights have included jaunts to Kenai Peninsula in Alaska, the High Sierra in California, and the Penobscot River in Maine.

Over the summer of 2022, he accompanied his daughter Trisha and granddaughter Adeline on a backpacking trip through Mount Rainier National Park in Washington. The multi-day guided trip was a replacement of sorts for an Outward Bound trip Adeline had been planning to take that regrettably got scuttled. When Trisha called to ask her father if he would like to go with them, he did not hesitate, even though he had been vacationing with his wife, Jane, on North Carolina's Outer Banks.

He looks back on his decision to "buy the ticket, take the ride" as one of his best.

"The weather was great and the scenery was spectacular, but the best part was getting to spend five or six days with my daughter and granddaughter," he says. "We saw everything from bears to mountain goats, and we passed only a dozen or so people the whole time.

"It's almost like a religious experience to be in an area where you can sleep on the ground and see shooting stars at night, and sit under a full moon so bright you can read a book by it," he continues. "It's humbling, and you get a sense of how small and insignificant a human being is, and how immense the world around you is. The outdoors creates a whole new set of tools for evaluating your own life. For me it's like going to church."

Bales, a retired attorney who lives in Jenkintown's Rydal Waters community, has loved spending time outdoors since his formative years. He traces his fondness for the outdoors in part to working on a ranch out west—"stacking hay, mending fences, herding cattle," he recalls—as a young man. He finds it especially meaningful to share new experiences with younger members of his family. For him, it's a matter of paying it forward, just as his forebears did for him.

"The time I spent on that ranch as a kid had a huge impact on me," he says. "In sharing some of the same wonders with my daughters and their kids, it's a way of introducing them to a whole new element in their lives. You get to have these little moments together—these little connectors that bring you closer together. Afterward, you find ways of chatting about the things you did together. That's what's so great about sharing that kind of experience with somebody close to you."

Bales realizes his good fortune. As he discusses some of the most meaningful travels he has shared with his loved ones, he veers into territory akin to philosophy.

"The odds of becoming a human being on Earth is extraordinarily remote," he says. "To be born and to have the experience of living here, especially those of us who live in the United States, we got the long straw in terms of the opportunities we have. It's our duty to make the most of what we're given. A child with a bicycle has a responsibility to take care of it and not let it get rusted. It's the same with the body; it's a temple, and you have to take care of it as best as you possibly can so you can do things like this for as long as you can."
'Is This a Smart Thing?'
Like Bales, Lindsey Getz finds joy in the ability to visit new places with her family. She treasures the "little moments where I see [my kids] learn something." She recalls visits to Monticello and Mount Vernon, the Virginia estates of Thomas Jefferson and George Washington, respectively, or to Salem, Massachusetts, to learn about the Salem witch trials.

Getz also likes the idea of "safe adventure," meaning doing exciting things with carefully measured risk—such as whitewater rafting, hiking trails that lead to rocky overlooks, or tramping the trails of nature preserves in the South populated by alligators and venomous snakes. She admits sometimes she gets outside of her comfort zone, but doing so helps her to "reset and clear my mind."

"I'm a high-anxiety person by nature, so I'm always fighting with thoughts of, 'Is this a smart thing to do?'" she says. "On our recent trip to New River Gorge, we did one hike that led you to a lookout point, and you could have completely fallen off the cliff if you weren't careful. It's about exposing the kids to that, too—making good choices.

"Of my two kids, my son is the least adventurous," she continues. "When we got out there on this cliff, his reaction was that it was the most beautiful thing he had ever seen. Experiences like that show him that there's more to life than just video games and the world he lives in."

Learning and adventure aside, mostly Getz hopes such trips help her kids gain a deeper appreciation of the wider world and the people who live in it.

"To me, it's about giving them opportunities for understanding," she says. "I would love to take them on an international trip before they go to college. It's about exposing them to new things outside of just what they are used to in Royersford."
Sidebar: Peaks and Valleys
John Errichetti has been my closest friend for more than a decade, even though he and I live almost 100 miles apart. We text each other daily, and talk on the phone a few times a week, but we see each other in person much less frequently, maybe once a year—dinner in the city, a singer-songwriter concert, an afternoon of trail riding, etc.

Our mutual interests have never included backcountry hiking—that is, until a few months ago.
The pandemic meant years passed without John and I getting together. Our reunion came in July 2022, at the funeral for his older brother. As we caught up at the funeral home, he brought up a hypothetical we had been discussing for years: a trip to Baxter State Park in Maine. I said, without hesitation, "Let's go."

So, in September 2022, we set out for a five-day hiking trip, with the goal of summiting Mount Katahdin, the northern terminus of the Appalachian Trail. I was nervous going into the trip, not because of the hike, but because our friendship had been formed principally over the phone, through email, and by text. Five days in close proximity—including a 12-hour car ride from Philly to the small town of Millinocket, Maine—would be an interesting test.

I had nothing to worry about. Sure, I had a few moments when I needed a little time to myself, and I'm sure he did, too, but the experience brought us closer together: sharing stories from our respective pasts, breaking bread and cracking jokes at one of the very few restaurants in town, and hiking amid some of the world's most spectacular scenery.

We wound up having to cut the trip short by a day, but on the drive home we were already talking about returning to Baxter State Park. Our goal for the next go-around: completing the infamous traverse known as the Knife Edge Trail.
Photo by John Errichetti
Published (and copyrighted) in Suburban Life magazine, January 2023.