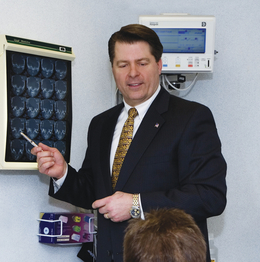 Best Practice
Drs. Schelkun and Sayles offer superior expertise in surgical care
It's not every day that you need the skills and experience of a top surgeon, but when you do, the go-to team in the Delaware Valley includes P. Michael Schelkun, M.D., D.D.S., and Erik M. Sayles, M.D., D.M.D. These two highly skilled surgeons are in the business of changing patients' lives for the better—and they succeed in doing so every day.
In their practice of oral and maxillofacial surgery, Drs. Schelkun and Sayles tackle every problem involving disorders of the mouth, teeth, jaws and facial structures. With exceptional training in both surgical dentistry and medicine, these oral and maxillofacial surgeons are well equipped to handle everything from problem wisdom teeth to even the most complex reconstructive facial and jaw surgery.
Facial Reconstructive Surgery
Surgical correction of jaw irregularities—orthognathic surgery—is quite common in their practice. Dr. Schelkun, a board-certified Fellow of the American Association of Oral and Maxillofacial Surgeons and a Diplomate of the National Dental Board of Anesthesiology, explains that corrective jaw surgery moves the bony structures into a position that is more balanced, functional and healthy.
"Orthognathic surgery can correct receding, protruding or crooked jaws, for example, and restore both harmony between facial form and function," explains Dr. Schelkun. "In many cases, it is the only way to properly restore a functional bite, something that orthodontics alone can never achieve in skeletal malocclusions."
Orthognathic surgery can also result in significant changes in facial appearance, improvements that patients regard as life changing. Dr. Schelkun uses modern, computerized techniques and 3-D models to determine the best approach to surgery. Using comprehensive facial X-rays and computer imaging, he can visually demonstrate to his patients how their bite will be improved and even how they may look postoperatively. Computerized facial imaging allows patients to understand the surgical process as well as the extent of the treatment prescribed, and to see the beneficial outcome of orthognathic surgery.
As part of his practice's advanced surgical techniques in this area, Dr. Schelkun has been using rigid fixation with tiny bone plates and screws to permanently hold the reconstructed segments of bone in their new positions for more than 25 years. "This means that our patients' jaws are never wired together," he says. "They are able to eat and speak after surgery. Rigid fixation allows for early function and a speedier recovery." In fact, Dr. Schelkun notes that he has not wired a patient's jaw together for facial reconstructive surgery since 1987.
In 1996, Dr. Schelkun was the first oral and maxillofacial surgeon in private practice in Pennsylvania to be invited to become a North American faculty member of the international study and educational group the Association for the Study of Internal Fixation (AO/ASIF). This multidisciplinary group of oral and maxillofacial surgeons, orthopedic surgeons, plastic and reconstructive surgeons, otorhinolaryngologists and ophthalmologists was originally formed in Switzerland in 1958. Its primary mission is to eliminate fracture and reconstructive disease so patients can function immediately following surgery without external fixation devices and with fewer complications.
Modern Dental Implants
Oral and maxillofacial surgeons have superior surgical expertise and training in providing a unique and modern solution to the problem of missing teeth. That solution is dental implants.
The use of predictable dental implant surgery in this country began in the early 1980s. During his training, Dr. Schelkun participated in some of the early beta testing on the use of dental implants in humans. "Over the past 25 years, dental implant surgery has evolved into one of the most predictable and successful of all surgical procedures," he says. "If you properly place the implant in good bone, you are pretty much assured of success. It has become the standard of care for the replacement of missing teeth." In fact it is so successful and predictable that when done properly, dental implants are guaranteed for life by most major implant manufactures.
In essence, dental implants provide an artificial substitute for the root of the tooth. The implant is surgically placed in the jawbone, and it acts as an anchor to stabilize an artificial tooth.
Implants can be used to replace one, some of or all missing teeth and can eliminate the instability associated with removable partials and dentures.
With an overall success rate of greater than 95 percent, dental implants are on the cutting edge of reconstructive dentistry. Advances continue to be made in implant materials, bone-grafting techniques and soft-tissue surgery that further improve the success rate and aesthetics of this type of surgery. Several areas of the body are suitable for obtaining bone grafts. In the maxillofacial region, bone grafts can be harvested from inside the mouth—that is, the posterior or anterior aspect of the mandible and in the third molar region of the maxilla. In more extensive situations, a greater quantity of bone can be obtained from the hip, the outer aspect of the tibia at the knee, or from the cranium.
"Many times, we will avoid a second surgical site and use human bone donated by an organ donor," says Dr. Schelkun. "This bone is specially processed for grafting, making it a safe and effective option in many cases. The results of homologous bone grafts compare well to results using the patient's own bone." The use of adjuvant techniques and bone growth promoting enzymes has also improved the predictability of bone grafting. "We use platelet-rich plasma and newer enzymes that are now available with a suitable carrier model," says Dr. Schelkun. "These include bone morphogenic protein and osteogenin."
These adjunct procedures are beneficial, as are the newer imaging studies and planning guides. "However, they will never substitute for proper surgical technique, in which oral and maxillofacial surgeons are uniquely trained and qualified," says Dr. Schelkun. These advanced and evidence-based procedures are provided routinely on an ever-growing number of patients seen in his practice that are seeking dental implant surgery.
Unmatched Surgical Expertise
In addition to performing orthognathic and dental implant surgery, Drs. Schelkun and Sayles also treat patients who have suffered facial injuries as a result of accidents, offering reconstructive as well as cosmetic solutions, and patients with certain types of head and neck cancer.
"We also treat temporomandibular disorders, which can range from relatively minor to extremely painful and potentially debilitating," says Dr. Schelkun. The largest percentage of their practice is still dedicated to dentoalveolar surgery, most commonly the removal of impacted wisdom teeth. Their medical, surgical and anesthesia training and experience ensure that patient safety and comfort come first, especially with the routine use of outpatient intravenous sedation and general anesthesia.
"There's a lot of routine in our practice, in terms of removing impacted wisdom teeth or other teeth that can't be restored. But in terms of reconstructive work, every case is different," says Dr. Schelkun. "No two fractures or deformities are alike. So, the routine is that every case is different."
Surgical Team and Facilities of Distinction
Because of the volume of work they perform, the two surgeons attribute much of their success to their surgical team, which often includes other medical specialists and nurses, depending upon the complexity of the surgery and needs of the patient.
"The team we have assembled is superlative," says Dr. Schelkun. "All of our staff is certified in basic cardiac life support, and our nurses and surgical staff are also certified in advanced cardiac life support and pediatric advanced life support. We all come together for the same purpose—to deliver the best and safest care possible to our patients."
All three of Dr. Schelkun's facilities hold the distinction of being the only oral and maxillofacial surgery centers in the greater Philadelphia area to be fully accredited by the Joint Commission, a national organization that oversees and maintains strict safety standards for all hospitals and surgical facilities. The process for restructuring the practice to achieve full accreditation was begun by Dr. Schelkun in 1991 when he first entered private practice with Lewis J. Schwartz, D.M.D., who recently retired. Full accreditation was awarded in 1997. As a result of the doctors' reputation, patients have come from as far away as India, Japan, Mexico, England and Canada to benefit from their services.
Drs. Schelkun and Sayles divide their time between two offices in Bucks County at 158 York Road in Warminster and at 853 Second Street Pike in Richboro, as well as one in Montgomery County at 467 Pennsylvania Avenue in Fort Washington. All three sites are fully accredited free-standing oral and maxillofacial surgery centers that provide the full scope of oral and maxillofacial services.
Continuing a Legacy
Dr. Schelkun, while not originally from the Philadelphia area, has been practicing here for 20 years. In Milwaukee, where he grew up, the Schelkun family served as a breeding ground for dental and medical professionals. His father, Peter Schelkun, D.D.S., ran a successful practice as a general dentist and is now, in his mid 80s, an associate professor at Marquette University School of Dentistry, teaching oral diagnosis several days a week. His mother retired after a long career as a nurse, and a number of other family members are either medical or dental professionals.
"I think my father would have liked me to practice in Milwaukee, but I don't think he was too disappointed in the career path I eventually took," says Dr. Schelkun. Dr. Schelkun's interest in oral and maxillofacial surgery took shape at Marquette University School of Dentistry, where he graduated with top honors in 1983. Following that, he completed a four-year residency program in oral and maxillofacial surgery at the University of Missouri - Kansas City/Truman Medical Center, one of the nation's most highly regarded training programs in this specialty. During his fourth year of training, he was named chief resident.
Upon completion of his oral and maxillofacial surgery residency, Dr. Schelkun worked as an attending surgeon at Truman Medical Center. During that time, he realized the importance of obtaining a medical degree to supplement his specialty training. He was accepted with advanced standing to the University of Alabama School of Medicine and graduated with honor and his medical degree in 1990. He then completed a fellowship year in general surgery at the Rush-Presbyterian/St. Luke's Medical Center in Chicago, now known as Rush University Medical Center. This program of study included extended rotations in plastic and reconstructive surgery, craniofacial surgery and otorhinolaryngology.
Dr. Schelkun's practice in oral and maxillofacial surgery has been at the forefront of the specialty since its establishment by Dr. Schwartz in 1967. Dr. Schwartz trained at Sinai Hospital in Detroit, under Dr. Herb Bloom. Under the leadership of pioneers such as Drs. Chalmers Lyons, Fred Henny, James Hayward, Reed Dingman, Bruce Macintosh and Herb Bloom, Detroit became the birthplace of contemporary oral and maxillofacial surgery where the modern curriculum for the training of oral surgeons was developed and standardized. Dr. Schelkun's training, as it happens, also falls under the lineage of Dr. Chalmers Lyons. One of his mentors, David Moore, M.D, D.D.S., trained under Reed Dingman M.D., D.D.S.
When Dr. Schwartz first set up his practice in Warminster, he raised the bar for oral surgery practices throughout the region. He was the first to refer to his practice as "oral and maxillofacial surgery" in 1967. He also was a pioneer in using total intravenous anesthesia in 1989 with Propofol, Alfentanil and computer-controlled infusion pumps. This technique, which has been modified over time, has become the standard in the delivery of outpatient intravenous anesthesia.
When Dr. Schelkun joined his practice in 1991, he again raised the bar of excellence. He was one of the first dually degreed (M.D. and D.D.S.) and dually licensed oral surgeons to enter private practice in Pennsylvania. His mission was, and continues to be, to promulgate the legacy established by Dr. Schwartz in providing the finest, most comprehensive oral and maxillofacial surgery in the area.
Dr. Schelkun is a past president of the Montgomery-Bucks Dental Society and past president of the Delaware Valley Society of Oral and Maxillofacial Surgeons. He has lectured throughout the country and has authored articles in his field. When not in the operating arena, Dr. Schelkun is a devoted family man and father of four who makes his home in Churchville. His wife, Patrice, an artist, is owner of Masterworks Decorative Painting LLC, a mural arts and architectural stained glass company.
He is active in his church community and enjoys sporting activities, particularly skiing, boating, fishing, shooting sports and mixed martial arts.
Dr. Sayles joined the practice in 2010 after graduating at the top of his class from the University of Medicine and Dentistry of New Jersey, and completing his training in oral and maxillofacial surgery at the Drexel University College of Medicine, Hahnemann Medical Center and St. Christopher's Hospital for Children in Philadelphia. With dual degrees, licenses and specialty training in hand, he is now preparing to become board certified in oral and maxillofacial surgery.
He recently passed his certification in anesthesia by the National Board of Dental Anesthesiology. An interesting note: While Dr. Sayles was in high school, he was a highly ranked national and international athlete in the sport of power lifting.
158 York Road, Warminster, 215-672-6560
853 Second Street Pike, Suite A-106, Richboro, 215-355-4500
467 Pennsylvania Ave., Suite 106, Fort Washington, 215-591-3590
Visit OMScenters.com for more information.