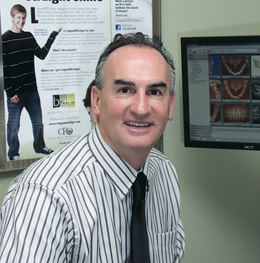 Straight Talk
How Dr. Benjamin Cassalia does wonders for a patient's smile
A beautiful smile creates more than a pretty face. It builds self-esteem and can improve the health, structure and functionality of teeth. Today the good news is that changing one's smile doesn't have to come at the expense of awkward and often painful orthodontic appliances.
"Over the years, advanced techniques have afforded patients all the benefits of a beautiful smile without noticeable braces," says Benjamin A. Cassalia, D.M.D., an orthodontic specialist based in Bucks County.
Dr. Cassalia and his team provide orthodontic services for adults and children utilizing state-of-the-art techniques and technology. From traditional metal and ceramic tooth-colored braces to Invisalign and Invisalign Teen, patients are individually evaluated to create the custom treatment plan best suited for their needs.
As orthodontic techniques have advanced, Dr. Cassalia has been on the forefront of revolutionizing the way to a new smile with LingualWirelign, a concept he introduced more than 15 years ago and has been using to improve the smiles—and lives—of patients throughout the Delaware Valley.
"This is a great option for so many patients," he says. "It's a way to create a beautiful smile in a comfortable and invisible way for patients with minor orthodontic problems and/or relapse from previous orthodontic treatment."
A Revolution Begins
When patients meet with Dr. Cassalia for the first time, they have three key questions in mind about orthodontic care: cost, length of treatment and comfort level. This is probably true at many orthodontic practices. However, for Dr. Cassalia and his team, one of the big questions patients and others ask is this: "What exactly is LingualWirelign?"
Dr. Cassalia explains, "In short, this technique is an innovative way to straighten teeth with the thin super-elastic wires used in every orthodontic practice yet no bulky braces. Within 30 minutes, the wires are bonded directly to one's teeth and activated to produce the desired pressure that moves teeth in the proper direction to straighten them."
LingualWirelign is great for patients of all ages and offers many benefits; the most popular is that this technique is done completely on the back of the teeth. It is invisible to others and even to the patient looking in the mirror. Unlike lingual braces, which use traditional orthodontic appliances behind the teeth, LingualWirelign uses no brackets. Therefore, there is less discomfort, few eating restrictions and a reduction in potential speech difficulties. When wearing LingualWirelign, patients are able to clean and maintain proper oral hygiene easily—a common issue with other orthodontic treatments.
When it comes to the length of care, noticeable results can be seen within a few weeks and completed in months.
"I hadn't been wearing a retainer for years and when I got engaged in September, I called Dr. Cassalia right away," says patient Bree Winslow from Los Angeles. "I thought I'd have to have braces again, but he had great news about LingualWirelign and that no one would see what was behind my teeth on both the top and bottom. The next day I noticed my teeth were straightening and within three days, they were perfect."
LingualWirelign is also a cost-effective option as the technique is less expensive than other clear alternatives for minor tooth movement. Because insurance companies do not specify one form of orthodontic treatment or another, LingualWirelign can be covered based upon one's individual plan.
The Right Choice
Dr. Cassalia stresses that LingualWirelign is not a replacement for full orthodontic treatment. Rather it is a unique alternative and one that also can supplement and enhance previous orthodontic care.
"Teeth often shift once braces are removed," Dr. Cassalia explains. "This can be a natural occurrence over time or in instances when patients may not have worn their retainer properly. LingualWirelign is a great option in these cases."
He adds, "LingualWirelign is ideal for those who have a few crooked teeth and need only minimal movement of the top front or bottom teeth—those we call the 'social six' and that appear when smiling. It has also been proven successful in assisting tooth movement with Invisalign cases."
Alexa Borghi, another patient of Dr. Cassalia, says LingualWirelign was "the perfect way" to fix slight imperfections in her teeth: "The procedure was painless, quick and permanent. Because the wires are behind the teeth, they are invisible, and I've had no problems with eating or flossing. I am thrilled to have found such an effortless and aesthetically pleasing solution."
The use of LingualWirelign is one decided on a case-by-case basis and only after an evaluation of the individual patient.
Where to Begin
For patients of Dr. Cassalia, the process begins the same no matter which treatment is ultimately right for the individual: a thorough exam and consultation.
During the initial 45-minute appointment, patients receive a complete discussion of their medical and dental history. Often, patients come as a result of a dental referral and some of this information may be in hand. At the end, patients leave with a broad range of options with general recommendations. During the second visit and upon commitment for treatment, all X-rays, molds and other needs are gathered to finalize the appropriate treatment plan for creating a healthy, beautiful smile.
"I encourage patients to seek other opinions from reputable orthodontists," Dr. Cassalia adds. "This is their health and their smile. I would do the same and feel strongly that we offer the best possible alternatives and care."
Dr. Benjamin A. Cassalia has two convenient locations—308 North Main Street in Chalfont and 712 Giegle Hill Road in Ottsville—with appointments available Monday through Friday from 8 a.m. to 5 p.m. To schedule a complimentary consultation, call 215-822-6320 (Chalfont) or 610-847-5933 (Ottsville). For more information, visit LingualWirelign.com. Any other clinician interested in learning the procedure can contact Dr. Cassalia at the numbers listed above. LingualWirelign is a registered trademark of Benjamin A. Cassalia, D.M.D., P.C.
Glori Gayster is a freelance writer from South Jersey.
Rob Hall is a freelance photographer based in Plumsteadville.