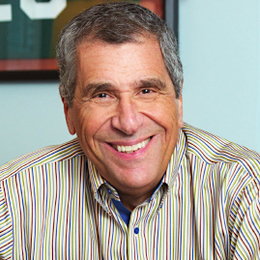 The End of an Era
Although he retired after more than three decades as a fixture in local morning radio, Angelo Cataldi still has plenty to say.
As the host of 94WIP's juggernaut of a morning show for more than three decades, Angelo Cataldi was loud, boisterous, jovial, and at times combative. And his listeners ate it up.
Cataldi, a Rhode Island native, came to Philly in 1983 to work for the Philadelphia Inquirer. He spent a handful of years there before leaving print media altogether at a time when sports talk radio was still in its infancy.

"Nobody goes into radio thinking they are going to do 33 years on one radio station at one daypart," he says. "I got really lucky being in the right city with a loyal fan base that kept me in the business a lot longer than I could've ever imagined."

During a recent interview, Cataldi, a longtime resident of Chestnut Hill, reflected on the memorable moments that have stood out during his longstanding career, the legacy he leaves behind, and what he has in store now that his weekday mornings are free.
Q&A
Was there a moment when it all clicked for you and you realized radio was what you were meant to be doing?
I can say maybe eight or 10 years in, I realized it was the right call. While I was doing pretty well in radio, newspapers were hitting a bad spot and they weren't doing so well. A lot of people I worked with [at the Inquirer], they were getting bought out and the company started cutting staff. … I took this job [at WIP] because they offered me $20,000 more than I was making at the newspaper. I did it totally for the money. It was a temporary move. I said, "Wow, I'm going to make more money, I'll do it." I had no idea what I was getting into.
From the folks who have worked under you, to those who work alongside you, your fingerprints are all over those who cover Philadelphia sports. Do you ever reflect on what you've meant not only to the fans, but also to your colleagues?
I'll turn on NFL Network and my [former] intern Colleen Wolfe is on there. Or I turn on KYW Radio and I can listen to David Uram, who was an intern for us. Zach Gelb is a big national talk show star who was with us. Kyle Neubeck writes for the Philly Voice and covers the Sixers brilliantly, and he's part of our legacy.

I feel unbelievable pride in that because that's the generation we spawned. Those are the people who worked with us, and maybe picked something up along the way. Hopefully they discarded some of the stuff they shouldn't have picked up, because not all of it was good information.

Let's talk about life after radio. Have you thought about anything else, or are you just looking forward to kicking your feet up and spending some more time down in Sea Isle and relaxing?
I'm going to write a memoir. Whether or not it ever gets published or anything happens to it, I don't know. I was a writer a long time ago, and I'm going to get back into that game. And I'm going to talk about what life was like with the most passionate, crazed sports fans for over three decades. There's a lot to tell, and I want to tell that story.
There's been so many memorable moments during your time at WIP. Are there any that particularly stand out that you cherish?
We always knew how we felt would be tied directly to how the teams did. … The Super Bowl [in February 2018], the parade, that's my No. 1 highlight because it was the realization of a dream. I was a long way into my career with no chance for the Eagles to win a Super Bowl, only playing in one the whole time I was [at the station], in 2005. But when they won it, I said I can die happy because I've seen it. I wanted to be part of that. And in 2008, when the Phillies won it, that was spectacular. Those will always be my two best.

Then getting to meet my childhood idol and interview him in the very early years when Wilt Chamberlain came on our show. That's a memory I'll cherish. And I'd be a hypocrite if I didn't mention that we had this event called Wing Bowl, which ran for 26 years and sold out 20,000 tickets for a lot of those years. I realized that it ended controversially and it was really politically incorrect at that point, but I have to acknowledge it was a major part of what we did in the time we were in Philadelphia.
Photo by Alison Dunlap

Published (and copyrighted) in Suburban Life magazine, March 2023.