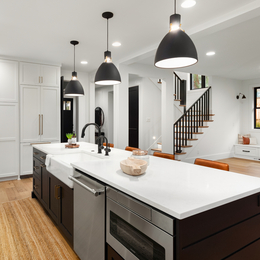 Add It Up
Targeted renovations can make a big difference in terms of how quickly a home sells and for how much.
Whereas some homeowners renovate to tailor a home to their wants and needs, others invest in essential upgrades in order to appeal to a specific audience other than themselves—namely, a would-be buyer. But which renovations can have the greatest impact in terms of how quickly the home moves … and at what selling price?
Abe Thomson is a Philadelphia-based Realtor who represents buyers and sellers in the city, on the Main Line, and elsewhere in the suburbs. He advises homeowners to invest in kitchens and bathrooms because, he says, "they sell the house."

A few words of caution: A homeowner does not necessarily need to invest thousands upon thousands of dollars to make a good impression on would-be buyers.

"A fresh coat of paint goes a long way, but you can't take shortcuts; you have to do the trim, too," Thomson adds. "You can have older cabinets and older countertops, but it's more about when a buyer walks in. They want to feel it can be their home."

Lynise Caruso, an Ardmore-based Realtor with Keller Williams Main Line, says selling a home starts with curb appeal: "When someone walks up to a home and it looks like the exterior is taken care of, they are already excited to go inside." She agrees that up-to-date kitchens and bathrooms can help fetch a higher return. That said, she says homeowners don't have to go overboard.

"The kitchen and baths do not need to be the most expensive products—granite, backsplash, etc.," he says. "Something pretty, white, and simple usually works. Stick with neutral and up-to-date colors, if you have a pop of color, and you should be golden."

No home is perfect, but homeowners should look to establish an emotional connection between a home and its buyer. Renovations that are more utilitarian in nature may be unnecessary.

"A buyer can't see the roof," Thomson says. "Even if a roof needs replacing, if the rest of the house inside is pleasing, they'll take care of the roof later or we can figure that out in the negotiating."

His advice: Enlist the perspective of someone who knows best, meaning a Realtor—particularly one who specializes in working with sellers.

"If you're thinking about selling your home, connect with an agent sooner than later," he adds. "Have an agent walk through the home and give you an evaluation of what you should and shouldn't do in terms of renovations. I've seen too many situations where a seller did XYZ but it didn't make sense in terms of trying to get a better return. Getting an agent's advice is free, and they can make sure you're spending your money wisely."
Published (and copyrighted) in Suburban Life magazine, March 2023.