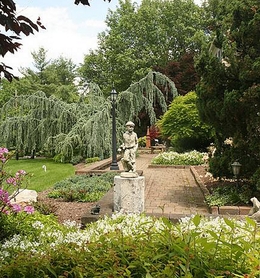 Above and Beyond
With Lawrence Landscapes, clients gain much more than just a beautiful home
From the cozy comfort of her week-old home in Princeton, N.J., Lisa Smukler gazed out a window and watched as the torrential rain from Hurricane Floyd raged. Shortly thereafter, she was stunned as an uninvited guest rushed into the house.
"Water began pouring into the basement through conduits left open by the builder and the cable company," Smukler says, the problem caused by a ruptured water main on her street. "Our house was brand new. I couldn't believe this was happening."
Either Lisa or her husband Andrew could have phoned the cable company to close the conduit, or they could have called the builder to address the problem. What Lisa did instead was contact the one person she knew would respond immediately: Cesar Ortiz, president and founder of Lawrence Landscapes, of Ewing, N.J.
"Cesar showed up at our house in the middle of the hurricane with an umbrella, and his workers fixed everything," says Smukler, her words beaming with satisfaction almost 13 years later. "At the same time Cesar's own business headquarters was being affected by the hurricane, he arrived shortly after we called him and took care of our problem first.
"Lawrence Landscapes did the original grading and planting for our home. But they're so much more than just a company that plants flowers and trees or installs pavers on your driveway. Cesar came out in a hurricane to help us. You can't put a price on what that type of service means."
Neither Ortiz nor any of his employees at Lawrence Landscapes is related to the Smuklers. But the moment clients put their name on the dotted line, they become family. Such customer-first commitment has been Ortiz's mantra since he founded Lawrence Landscapes in 1980.
"There's a personal touch to our company that our clients have come to appreciate and expect," he says. "When you show that commitment and trust, people remain loyal and also tell their friends about us. We're all about making sure the customer is satisfied."
Matters of Trust
Lawrence Landscapes has the skill, staff and experience to give a client's property a look and feel worthy to be featured in an industry periodical. Sure, Lawrence Landscapes offers the full spectrum of landscape architecture, installation and site-management services, but what truly sets the company apart from all others in its field is its enduring commitment to customers and the trust it has earned every day for the past 31 years.
"You can log on to other companies' websites and see beautiful pictures of flowers and trees they planted in someone's yard," says Nanci Angle, a horticulturist for Lawrence Landscapes for 24 years. "But we go beyond that. We take care of all the needs of the client, whether it's stopping water from rushing into someone's house in a hurricane, fixing an electrical problem on New Year's Eve, or getting a bat out of a kitchen in the dead of night."
Yes, a bat. While the Smuklers were out of town one night, the caretaker for their children phoned them about a bat that had somehow gotten inside the home. Lisa's first call was to Ortiz, who was having dinner with his wife. Shortly after Ortiz arrived, and using a cardboard box and blanket, he caught the bat, removed it from the home and released it back into nature a few blocks away.
Angle is the self-proclaimed glue that holds the company together, a moniker to which Ortiz and her co-workers unanimously agree. "Nanci is so much more than a horticulturist," Ortiz says with praise.
"She's invaluable to us due to how committed she is to seeing that the customers are pleased with the work we do."
She is in fine company as part of the Lawrence Landscapes' team. In fact, its staff of core, long-tenured employees—licensed landscape architect Peter Mahoney (19 years with the firm), landscape designer Brett Russ (nine years) and office administrator Karen Bruno (four years), in addition to Ortiz and Angle—is the company's greatest strength and the primary reason for its success. Even some of its laborers—a position known for high turnover among even the most highly regarded landscaping firms—have been with the company for a decade or more. Artisan Roger Nieto, for example, has been working for Lawrence Landscapes for 24 years.
"Our workers are the machine that runs us," says Angle. "Our clients see the same people over and over—year in, year out—for all four seasons; they begin to know and trust that these guys have the same respect and loyalty we have. It's because of this that we've been able to earn [our clients'] confidence in us and their long-term business."
Clearly, Lawrence Landscapes has evolved into much more than a team of landscapers, a talented group they may be; they have become highly trusted solvers of problems—such as when Lisa Smukler needed help while caught in the teeth of a hurricane. And in a world when trust can be difficult to acquire, word travels quickly.
"I've recommended the company to all my friends because of how well they've treated us," says Smukler. "I have one friend who hired a company that was very inexpensive to do plantings all around her house. Well, a storm came and blew down all the trees, and she had trouble getting the company to come out to fix the problem.
"After that, she called Cesar, and she said it was the wisest investment she ever made."
Phil Gianficaro is an award-winning writer based in Doylestown.
Rob Hall is a photographer based in Plumsteadville.