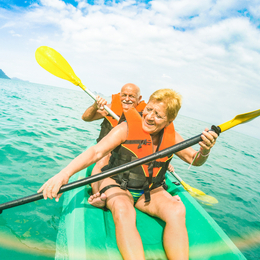 Out and About
Travel and the outdoors help keep us young.
Singer-songwriter Josh Rouse says travel "opens your mind up."
He would know. Born in small-town Nebraska, Rouse has since lived in Nashville, Brooklyn, and, much farther afield, Valencia, Spain. Plus, he's constantly on the road, touring in support of his newest release; he regularly stops in the Philadelphia area, playing venues such as World Café Live and the Sellersville Theater.

Seeing new and unfamiliar places may be part of Rouse's job, but he believes doing so accomplishes several other goals, such as stimulating creativity, spurring gratitude, and exposing him to people who have different backgrounds and perspectives than his own. In other words, travel helps to keep him young.

It has the potential to do the same for the rest of us, too. Consider travel a form of medicine, especially as we age. More frequent annual vacations seem to have a direct positive effect on mortality, according to a study published in Psychosomatic Medicine, with vacationers significantly less likely to die of heart disease. Other studies have shown that travel alleviates stress and contributes to a reduction in conditions such as depression.

Whether due to genetics, good habits, or some combination of both, some people maintain the ability to hike, climb, bike, and otherwise stay on the move with virtually no restrictions into their 80s and beyond. But even those whose flexibility and mobility have been diminished by age can travel safely and happily, with only minor modifications. Experts suggest choosing travel destinations that can be navigated easily, or to consider traveling in groups or going on cruises that can accommodate any particular needs.

Some seniors may get hung up over the headaches and inconveniences built into the process of getting to a destination: fretting over the frustrations of navigating airports, dealing with traffic in an unfamiliar place, thinking about bathroom access, etc. Fear not, the experts say. To begin with, every airport can provide complimentary wheelchair service, when and if needed, and most destinations can accommodate any special needs if requested in advance. It may be helpful or necessary to alter our mindset as we embark on trips, realizing that we may have to travel differently than we did when we were younger.

Just as getting out of town offers its share of benefits, so does spending time out of doors. Each helps take our minds off the issues of the day, and enables us to realize that the world is bigger than the problems that are peculiar to our species.

Activities such as exercising outside, gardening, and birdwatching can have astonishing effects on the human body and the brain: boosting energy, improving memory, and lessening the risks of osteoporosis and rheumatoid arthritis, among other benefits. Getting outside also helps us remain physically active, thereby improving balance and motor skills, promoting cardiovascular health, and even reducing cancer risk.

Suggestion: Considering killing two birds with one stone, so to speak, by traveling to destinations known for their natural beauty—but don't forget the sunscreen. That said, one need not travel as far as Antarctica, Croatia, or the Galapagos Islands to reap the benefits that come from enjoying new places beneath a clear blue sky.
Published (and copyrighted) in Suburban Life magazine, April 2023.