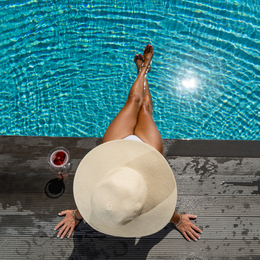 Change It Up
For home renovations both indoors and out, homeowners seek out the expertise of the area's finest craftspeople, artisans, and service providers.
The days have already become more comfortable, the days longer, but those are hardly the only changes brought about by spring's arrival. You might also notice an uptick in birdsong, the increasingly green landscape, and a growing desire to repair, enhance, or reimagine certain parts of the home.
We have officially entered the season of home improvements. While some of us may be tempted to take a DIY approach to, say, removing a tree, installing new siding, or renovating a bathroom, the Philadelphia area has been blessed with many craftspeople whose skills in their particular areas of expertise likely far exceed that of our own. Drive down any suburban street any day of the week and you're liable to see at least one or two commercial vehicles in someone's driveway.

Some of the area's finest contractors, artisans, and service providers are listed here, pertaining to virtually every aspect of the home and garden. Want to convert the downstairs to an open floor plan? Looking for a comprehensive resource for flooring options? Need a party barn built from scratch? All of those possibilities, and more, are covered here.
ACRE Window Replacement
Full-service installer of premium windows and doors with multiple showroom locations in Pennsylvania and New Jersey
(888) 737-5223 | acrewindows.com
Affordable Tree Service
Licensed and insured tree-removal specialist offering pruning and trimming, storm damage clean-up, and other services, all overseen by a certified arborist
(610) 698-6560
B&D Builders
Custom builder of residential, commercial, and equestrian projects known for exceptional craftsmanship and attention to detail
(717) 687-0292 | banddbuilders.com
Better Homes Hearth & Patio
Fairless Hills-based provider of fireplace restoration/replacement equipment, high-quality patio furniture, and related services
(215) 269-9900 | bh-hp.com
C&C Heating and Air Conditioning
Trusted resource for custom-designed heating, cooling, and home-comfort systems for homeowners throughout Bucks and Montgomery counties
(267) 329-4947 | cc-hvac.com
Chester County Bamboo
A locally based leader in the installation, management, and removal of bamboo, rooted in the principles of sustainability, responsibility, and accountability
(484) 321-3439 | ccbamboo.com
Closets By Design
Professional designer and installer of elegant solutions for walk-in closets, home offices, guest bedrooms, pantries, garages and more
(610) 644-4143 | philadelphia.closetsbydesign.com
Colonial Marble & Granite
One of the largest fabricators of stone in the Northeast, perhaps the largest, specializing in countertops and ancillary products such as tile, sinks, flooring, and cabinetry
(610) 994-2222 | colonialmarble.net
Des-Carr Doors
Doylestown-based installer and repairer of high-quality carriage doors, with relationships with some of the most trusted names in the industry
(215) 340-0344 | descarrdoors.com
Diamond Kitchen & Bath
Sought-after designer of beautifully crafted home renovations, with a home-remodeling showroom and design center headquartered in Huntingdon Valley
(215) 752-4400 | diamondkb.com
Dilworth's Custom Design
Full-service provider of custom cabinetry for kitchens, bathrooms, and other parts of the home, family owned and operated in Phoenixville
(610) 917-9119 | dilworthscustomdesign.com
G. Fedale
Delivering superior workmanship and first-class service in roofing, siding, and other products designed to enhance a home's exterior for more than 20 years
gfedale.com
Gehman Design Remodeling
Harleysville-based team of skilled home remodelers with years of experience and a commitment to craftsmanship, led by Master Certified Kitchen & Bath Remodeler Dennis D. Gehman
(215) 513-0300 | gehmanremodeling.com
Harth
Award-winning team of designers, builders, and remodelers, with a decades-long reputation for delivering exceptional quality to homeowners in Bucks and Montgomery counties
(215) 654-0364 | harthbuilders.com
Holland Floor Covering
Family-owned and operated provider of high-quality carpet, hardwood, and tile, among other flooring options, with showroom locations in Newtown and Wayne
(215) 774-2385 | (610) 947-6500 | hollandfloor.com
Homestead Structures
New Holland-based creator of custom-designed, high-craftsmanship pool houses, garden sheds, garages, and other structures designed to enhance homeowners' lives
(877) 272-7252 | homesteadstructures.com
JMT Awnings
Family-run resource for retractable and fabric commercial awnings, known for customer service, seamless installation, and products of superior quality
(215) 659-5239 | jmtawnings.com
John Byrne Painting
A trusted name in interior and exterior painting services, as well as specialty services such as carpentry and restoration, serving Philadelphia, the suburbs, South Jersey, and more
(610) 337-3711 | (609) 391-7788 | johnbyrnepainting.com
KS Pools and Patios
A Bucks County-based design-build group specializing in transforming homeowners' landscapes through inground pools and high-quality outdoor spaces
(215) 720-1991 | kspoolsandpatios.com
Lemus Construction
A local leader in roofing and exterior renovation solutions for residential and commercial properties in the Philadelphia area
(215) 996-9966 | lemusconstruction.com
Main Line Gardens
Professional designer of residential landscapes and hardscapes (patios, retaining walls, etc.), with a full-service garden center in Malvern
(610) 644-2300 | mainlinegardens.com
Mainline Outdoor Living
High-quality sheds, garages, outdoor furniture, chicken coops, and more, available at its family-owned retail location in Honey Brook
(717) 858-2425 | mainlineoutdoorliving.com
Ski Barn
A provider of premium outdoor furniture, grills, and umbrellas, among other summertime accessories, at locations throughout the area from April through August
skibarn.com
Steady Tree Service
A specialist in large tree removal, also offering pruning, crane service, stump grinding, storm damage, and more
(484) 602-8685
Sunrise Exteriors
Serving the five-county area surrounding Philadelphia for nearly 30 years, offering roofing solutions (cedar, slate, copper, and more) with superior service and craftsmanship
(717) 330-8989
Ted's Pools
A leader in luxury outdoor living for more than 40 years, providing residents of Bucks, Chester, Delaware, and Montgomery counties with beautifully designed in-ground swimming pools
(610) 359-1301 | tedspools.net
Published (and copyrighted) in Suburban Life magazine, April 2023.